Deutsch, Español, Ελληνικά, Français, Hausa, Igbo, Indonesian, Italiano, Kiswahili, Kreyòl, Malagasy, Melayu, Português, Русский, Soomaaliga, Tagalog, Việt, Türkçe, Yorùbá, தமிழ், नेपाली, 中文, اردو, 한국어, 日本語, العربية, فارسی, עִברִית, हिन्दी, ไทย, বাংলা, తెలుగు, ગુજરાતી, ລາວ, ਪੰਜਾਬੀ, සිංහල, پښتو
Last updated:
30 October 2017
The World Central Kitchen operates in countries affected by humanitarian crisis and chronic food insecurity. It was founded by the internationally known chef and social activist, José Andrés. The creation of WCK was inspired by the a recent collaboration with Solar For Hope providing earthquake relief in Haiti.
Their efforts focus on feeding vulnerable people, supporting the local agricultural economy through local food purchases, and promoting nutritious foods, recipes, and environmentally sustainable cooking fuels and technologies.
News
October 2017: Response to the food crisis in Puerto Rico - The World Central Kitchen has been on the ground in Puerto Rico since 25 September 2017, and has served 1.9 million meals. Initially organizing eighteen satellite kitchens, as of 26 October 2017, the WCK has begun to focus on the most vulnerable citizens, the sick, elderly, and those in the most remote locations. Read more...
November 2014: José Andrés discusses solar and efficient cooking in Time Magazine - As part of the "What I'm Thankful For" series, José Andrés explains that he is thankful that his family has a simple and safe method to cook their food, and how solar cooking and other fuel-efficient cooking methods are bringing this benefit to the world's poor, for whom access to traditional cooking fuels is becoming more difficult and expensive every year. Read more...
December 2013: Chefs at the World Central Kitchen in Haiti show off their new parabolic solar cooker for use at their commercial kitchen.
World Central Kitchen
November 2012: Solar cooking advocate Manolo Vilchez writes from Spain, that Washington, D.C. celebrity chef and Global Alliance for Clean Cookstoves Culinary Ambassador José Andrés visited the country of his birth last August to be honored for his humanitarian and international culinary achievements. While in Spain, Andres demonstrated once again his commitment to solar cooking, which he discovered after a huge snowstorm in Washington, D.C. knocked out power and closed roads for several days in 2010, and Andres discovered that he could cook delicious food in the middle of winter with his parabolic solar cooker. "Cooking food with the solar energy is unsurpassed for the pleasure of using a clean, renewable source of energy," said Andres, while showing his countrymen in Bullas, Murcia, how to cook with an alSol parabolic solar cooker. Andres was fresh from his recent trip to Haiti, where he has trained eighty young people at a school in Fond Verrettes to use the alSol parabolic solar cookers he has brought to Haiti in cooperation with the Spanish NGO CESAL. His students are also learning about other clean cooking systems. The students recently experimented with making espresso using their parabolic solar cookers. Andres, founder of the World Central Kitchen, is also interested in promoting solar food dehydration. He is currently investigating the use of this green energy technology to help Haitians dry fish. AlSol Tecnologias Solares designs, manufactures and distributes solar parabolic cookers and solar food dryers with the development support of Gehrlicher Solar Spain.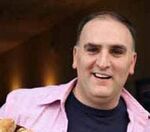 November 2010: Celebrity chef helps in Haiti. This past year José Andrés, an internationally known chef and social activist, has been doing his part to help the people of Haiti. When he had lost power at his own home for a few days, following a severe snowstorm, he discovered the magic of solar cooking. He was amazed how efficiently a parabolic solar cooker, which had been given to him and had sat unused, performed on a cold but cloudless day. In spring 2010 he was part of a team from Solar For Hope, which headed to Haiti to help with earthquake relief. As part of their efforts they distributed parabolic solar cookers and provided training. He feels the parabolic cooker is well-suited to prepare the traditional local fried food recipes. Andrés believes a pressurized cook pot is also a valuable asset to promote with solar cooking. It can shorten cooking times, and provide additional cooking, once the pot is removed from the oven. Listen to a recent interview with José about the project. Inspired by his initial experience in Haiti, José created the World Central Kitchen, a foundation focused on feeding vulnerable people, supporting the local agricultural economy through local food purchases, and promoting nutritious foods, recipes, and environmentally sustainable cooking fuels and technologies. José is returning to Haiti, and the World Central Kitchen, in partnership with Grameen Creative Lab, is planning to build a commercial kitchen with the capacity to feed 10,000 people daily. The goal is to create a sustainable "social business" for the people that have the least. They plan to serve a nearby orphanage, school, hospital, and local residents. Solar cookers will be play a central role in the project.
April 2010: A Solar For Hope team headed for Haiti to help provide earthquake relief. As part of their efforts, they distributed ten AlSol 1.4 parabolic solar cookers. The package included accessories and equipment for cooking with retained heat, and also workshop training for preparation of indigenous foods. Noted international chef and social activist, Jose' Andre's, was part of the team that also included writers, environmental activists, and members of Engineers Without Borders.
Articles in the media
See also
Audio and video
04:02

We are World Central Kitchen
External links
Contact
Email: info@worldcentralkitchen.org
Web: http://worldcentralkitchen.org
Twitter: @WCKitchen Instagram: https://instagram.com/wckitchen/
Ad blocker interference detected!
Wikia is a free-to-use site that makes money from advertising. We have a modified experience for viewers using ad blockers

Wikia is not accessible if you've made further modifications. Remove the custom ad blocker rule(s) and the page will load as expected.