Factors for success
Unwavering belief that solar cookers can improve lives and environments.
From the start Vajra Foundation has considered solar cookers to be an appropriate technology for the Bhutanese refugees. Whereas other solar cooking projects have folded after minor setbacks, Vajra Foundation has fully supported the project from day one. As stated in a Vajra Foundation report, "How can one expect local people to be in favor of solar cooking when the NGO introducing it does not support it fully?"
Continuous drive to adapt and improve the technology
As the program has progressed, adjustments have been made to the solar cookers to better meet the needs of the users and assemblers. Local materials have been used when possible to help lower costs. Design modifications — like cooker frame adjustments — have been incorporated as needs were assessed. Perhaps most importantly, the hay box was introduced as a compatible technology, addressing the need for warm food after sundown as well as the need to share solar cookers between families. Vajra Foundation believes strongly in pairing hay boxes with solar cookers, stating, "They are two sides of the same coin: one cannot go without the other."
Willingness and ability to incorporate user feedback.
Refugees have been involved in the project from the start, setting up user meetings, trainings, etc. Feedback from the users is incorporated into the project plans, helping to identify technological and programmatic areas for improvement.
Strong teamwork between cooperating partners
The relationship between the Holland branch and the Nepal branch of the organization was critical. While VFH had access to funds and specialist knowledge, the Vajra Foundation Nepal (VFN) knew how to best incorporate solar cooking into lives of Nepalese and Bhutanese refugees. While VFH solicited and organized volunteers, VFN hosted them with great care and was eager to learn from them. The chairmen of both foundations, Ramkaji Paudel and Maarten Olthof, were the backbone of the project. Jointly, the two visited partner agencies, refugee camps, workshops, etc., and solved issues that arose. Importantly, responsibilities were given to staff members, such as Dor Bahadur Bhandari, and to the refugees, who did the fieldwork and organized solar demonstrations and lunches that ultimately convinced authorities that the project was worth supporting.
Monitoring, follow up, and evaluation
With proper monitoring, follow up, and evaluation, useful program adjustments are made continuously. Regular visits with the new solar cooks highlighted areas of need, as did feedback from user group meetings. Weather records were kept for purposes of determining actual solar cooker use versus potential solar cooker use. Funds were tracked and adjustments made to maximize their use.
Audio and video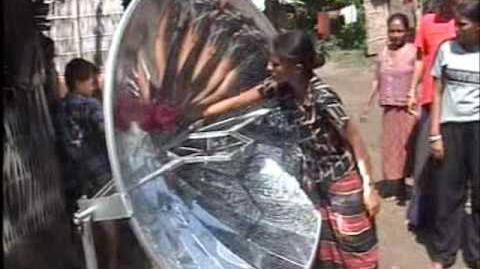 External links
Contact
Maarten Olthof
Varja Foundation Holland
Oudegracht 246-B
3511 NV Utrecht Netherlands
Tel: +31 619400886

Email: info@vajra.nl
Web: http://www.vajra.nl