Welcome to the Solar Cookers World Network
Thank you for creating your account on the SCWNet wiki. We would like to know about your experience with solar cooking. Please email me at webmaster@solarcookers.org.
If you have useful information to add, please feel free to edit any of our existing articles by clicking the "Edit" link at the top of any page. After you have made your changes, click the "Publish" button.
If you are a solar cooking promoter or manufacturer and you want to create an article about yourself, your NGO, or your business, become an SCWNet member by filling out this short online form. The only requirement for membership is that you agree to keep your article up-to-date.
In order to make editing easier for you, we are creating a series of short YouTube instructional videos. The first in the series illustrates how to log in and then make an edit to your Wiki page.
Basic editing video: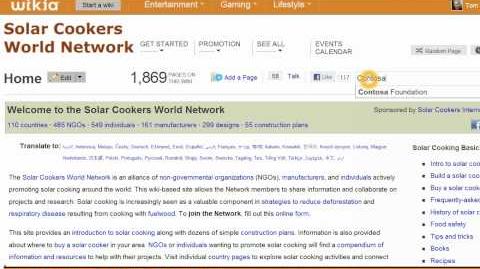 You will find specific help about working on this wiki here.
Feel free email me anytime if you need assistance.
Tom Sponheim
Solar Cookers International
webmaster@solarcookers.org