Welcome
Hi, welcome to Solar Cooking! Thanks for your edit to the Conical Ground Cooker page.
Please leave a message on my talk page if I can help with anything! -- Tom Sponheim (Talk) 12:36, March 29, 2011
Water bottle heater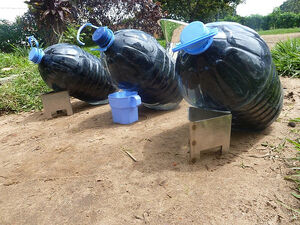 Hi, Magnar, Have you tried having the bag as a loose fit on the bottle and spread out wide and hanging down as far as possible ? That would mean more plastic surface to collect heat and hopefully the heat will rise and heat your bottles even more. In that case, at the tropics, you might need the bottle on a stand and maybe tilted back with the bag put down over the top of the bottle and then tied at the bottom.
Would be an interesting comparison test. One with a tight bag and one with a loose fit black garbage bag.
Thanks
Brian
Hello Brian
I have tried to fill the bags with different ammount of water. The bottle to the right have about 2 liters in the bag. In the bottle in the middle the black bag has about 5 liters of water and in the bottle to the right there is about 8 liter of water in the black bag. The bag with 8 liters of water gave the best result. Then there are also other alternatives. I can use a bigger black garbage bag and fill all the water inside of it og nothing outside the black bag. I have not tried this yet, but will soon do it. It is also possible to leave some airspace between the bottle and the black plastic bag. As air isolates better than water, temperature is likely to rise. A loose bag might also work well, but I have not tried it yet. Try it out yourself as well and let see how high the temperatur gets. It is likely that loos fit bag will work out better than at tight bag because sunlight will bounce back and forth between the folds in the bag and this will decrease reflections and loss of energy. In my example the plastic bag is big enough to fill the whole plastic bottle makin it all black. But when there are folds they seems even darker than where the bag is tight. The reason for this might be that less light escape through reflections. But only tests can give us the full answer. Did you also check out my bloggpage here: http://solarcookers.ning.com/profiles/blogs/water-heating-with-a-plastic?
I add your comments also there to inform members of the page. Hope this is ok.
best,
Magnar
Questions for my project
Hi,
I'm an 8th grader doing a project on solar cooking and I recently stumbled across your deep double funnel design. I was wondering about a couple of things and I would love if you could get back to me soon. First, how did you come up with the disign. Also, would it be more efficient to add a third ring and why, and finally, what design did you use to hold objects inside it, and what would you recomend for holding water.
Thank you.
Ericthebuilder 00:11, January 4, 2012 (UTC)