Deutsch, Español, Ελληνικά, Français, Hausa, Igbo, Indonesian, Italiano, Kiswahili, Kreyòl, Malagasy, Melayu, Português, Русский, Soomaaliga, Tagalog, Việt, Türkçe, Yorùbá, தமிழ், नेपाली, 中文, اردو, 한국어, 日本語, العربية, فارسی, עִברִית, हिन्दी, ไทย, বাংলা, తెలుగు, ગુજરાતી, ລາວ, ਪੰਜਾਬੀ, සිංහල, پښتو

Dum mia dua provo por uzi mian Fun-Panelon (hieraŭ la 15-an de Julio), mi uzis nian bakujan termometron por fari mezurojn.  Ĉi tiu speco da termometro havas sondilo anstataŭ esti al-hokita aŭ staranta termometro: la sondilo havas longan kunpremeblan draton kiu portas la signalon al la elektrika legilo.  Estas plurajn jarojn depost kiam mi faris iu ajn formo de vara sciencia eksperimento kaj ĉi tiu evidentis kiam mi nefaris noti la precizan tempon je komenco.  Tamen estis generale apud 1315 (la unua horoj kaj 15 minutoj posttagmeze).   Longitudo kaj latitudo proksimume: 32° 44.6'N, 117° 12.2' W (ne, se vi serĉi ĝin je Google-Mapoj, tiu ne estas mia domo).
| Tempo | Temp. | Komentoj |
| --- | --- | --- |
| 1315 | 77°F / 25°C | |
| 1403 | 166°F / 74.4°C | Ĝustigis bakujon iomete por centri ĝin en ĝia ombro. |
| 1414 | 192°F / 88.9°C | Mia filino faligis la bakujon.  Kiam mi restarigis ĝin, la temperaturo estis falita al 181°F/82.8°C. |
| 1418 | 185°F / 85°C | |
| 1430 | 215°F / 101.7°C | |
| 1435 | 217°F / 102.8°C | Denove ĝustigis bakujon. |
| 1445 | 224°F / 106.7°C | Haltis mezuradon.  Kiam me fakte elprenis la termometra sondilo (kaj, denove, mi ne ekmarkis la tempon), ĝi staris je 226°F / 107.8°C, do mi ne kredas ke mi atingis la maksimuman temperaturon tiun, kiu la bakujo povas atingi.  Sed je ĉi tiu punkto, estis tempo por movi al fazo n-ro du el la posttagmezaj agadoj: kuiri ricon por vespermanĝo. |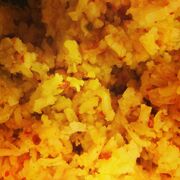 Por la kuira fazo, mi faris ricon.  La
recepto por rico
asertas, "Kiam oni kuiras ricon en sola kuirilo, oni uzas malpli grandan akvon ol per laŭkutima forno ĉar neniu el la akvo perdiĝis dum la kuira procezo" kaj ankaŭx donas proporcion de 3:2 (tri tasoj da akvo por du tasoj da rico).  Mi uzis rican mikson: Mahatma Hispana Rico.  La instrukcio bezonis 1 2/3 tasoj da akvo, kaj la 3:2 proporcio estis pli ol ĉi tiu per la kvanto da rico en la sako, do (kiam la "vi uzos malpli grandan akvon en sola bakujo" menseco, mi restis kun la kvanto, kiun demandis la instrukcio.  La rico finiĝis tute bongusta post 2 horojn kuirado, se iomete malseka -- denove diris la Plibona Duono ke ĝi perfektis, sed por la sekva provo mi varŝajne malgrandigi la akvon iomete.
---
On my second attempt to use my Fun-Panel (yesterday on July 15th), I used our oven thermometer to take readings.  This is the type of thermometer that has a probe, rather than a hook-on or stand-up thermometer: the probe has a long compressable wire that carries the signal to the electronic read-out.  It has been many years since I conducted any kind of true scientific experiment and this was obvious when I failed to note the exact time at start.  It was pretty close to 1315 (1:15pm), though.  Longitude and latitude approximate: 32° 44.6' N, 117° 12.2' W (no, if you look it up in Google Maps, that is not my house).
| Time | Temp. | Comments |
| --- | --- | --- |
| 1315 | 77°F / 25°C | |
| 1403 | 166°F / 74.4°C | Adjusted oven slightly to center it in its shadow |
| 1414 | 192°F / 88.9°C | My daughter knocked over the oven.  When I had it all upright again, the temperature had dropped to 181°F/82.8°C |
| 1418 | 185°F / 85°C | |
| 1430 | 215°F / 101.7°C | |
| 1435 | 217°F / 102.8°C | Adjusted oven again |
| 1445 | 224°F / 106.7°C | Stopped measurements.  When I actually took out the temperature probe (and, once again, didn't glance at the time), it was at 226°F / 107.8°C, so I don't think I hit the maximum temperature that the oven could reach.  But at this point, it was time to move on to phase two of the afternoon's activities: cooking rice for dinner. |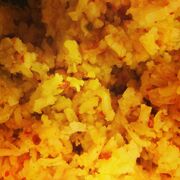 For the cooking phase, I made rice.  The
rice recipe
both states, "When cooking rice in a solar cooker, one uses less water than on a conventional stove since none of the water is lost during the cooking process" and also gives a proportion of about 3:2 (three cups water to two cups rice).  I used a rice mix: Mahatma Spanish Rice.  The directions called for 1 2/3 cups of water, and the 3:2 ratio would have been more than that given the amount of rice in the bag, so (with the "you'll use less water in a solar oven" mentality) I stuck with what the mix called for.  The rice turned out quite nice after 2 hours of cooking, if a little moist -- once again, the Better Half said it was perfect, but for the next attempt I'll probably cut the water a little.
Ad blocker interference detected!
Wikia is a free-to-use site that makes money from advertising. We have a modified experience for viewers using ad blockers

Wikia is not accessible if you've made further modifications. Remove the custom ad blocker rule(s) and the page will load as expected.