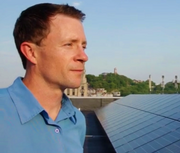 Patrick is passionate about play, yet remains focused on solutions for our time.  Since 2000, Patrick's work with green building and solar energy has given him a broad base of experience on what's needed to fuel our lives. While volunteering with non-profits, Patrick has facilitated energy and social innovations in the developing world.   Patrick is a veteran solar engineer with extensive small business, project management, and sales experience.  Patrick's entrepreneurial spirit and determination will drive the company and its capabilities in all business facets.
The GoSun Stove is a versatile and powerful little solar cooker that can cook a meal in only 20 minutes, safely sizzling at up to 550°F, and all without the use of fuel.  
We can't wait to hear your results and ideas related to this innovative cooker.
Our SCI Wikia link is: GoSun Stove
For more information visit our website at http://www.gosunstove.com.
To learn more about Patrick's solar consultancy business check out: http://www.appliedsunshine.com
Thanks for taking the time to check us out,

Patrick, Founder and Inventor