Translate to:
Česky, Dansk, Deutsch, English, Français, Hrvatski, Italiano, Nederlands, Norsk, Polski, Português, Русский, Română, Suomi, Svenska, Tagalog, Türkçe, العربية, Български, ‪中文(中国大陆)‬, Ελληνικά, हिन्दी, 日本語, 한국어
We invite you to take a
short survey
to help us improve this website.
Last updated: June 17, 2009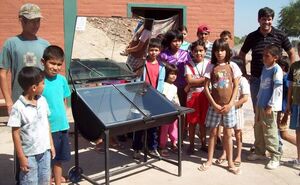 La Facultad de Ingeniería de la Universidad Nacional del Nordeste (UNNE) fabrica cocinas y calefones solares para elevar la condición de vida de poblaciones de escasos recursos económicos. De este modo, también se tiene en cuenta el cuidado del medio ambiente y el uso de recursos renovables en un marco de sustentabilidad.
[This text was borrowed from http://www.universia.com.ar/materia/materia.jsp?materia=26658.]
External linksEdit
Email: webmaster@unne.edu.ar
Web: http://www.unne.edu.ar