Deutsch, Ελληνικά, Español, Français, Indonesian, Italiano, Kiswahili, Kreyòl ayisyen, Melayu, Português, Русский, Soomaaliga, Tagalog, Tiếng Việt, Türkçe, தமிழ், नेपाली, 中文, اردو, 한국어, 日本語, العربية, فارسی, עִברִית, हिन्दी, ไทย, বাংলা, తెలుగు, ગુજરાતી, ລາວ
Last updated: 25 January 2015      
Saturday, July 18, 2015: (Sacramento) The 2nd annual Sacramento Solar Cooking Festival will be held once again in William Land Park from 10am - 3pm. The event is free and open to the public. Solar chefs interested in cooking at the festival are required to pre-register, which will begin in May, 2015. Attend mini solar-cooking classes, learn how solar cooking helps families around the world, and learn how to make a solar cooker yourself. Video of the 2014 festival can be seen at: Sacramento Solar Cooking Festival 2014
March 28-29, 2015: (New Haven) - The twelfth annual Global Health & Innovation Conference will be held at Yale University. The conference convenes 2,200 leaders, changemakers, students, and professionals from all fields of global health, international development, and social entrepreneurship. With attendance from members of many fields of interest, this may be a good opportunity to network solar cooking technology. Unfortunately, by the time we received invitation information, the deadline had passed for abstract submittals. More information...
April 2015: (Dodgeville) An exhibition of Solar Energy Architectonics by Joel Goodman is scheduled at the Iowa County Courthouse (both floor levels), in Dodgeville, Wisconsin, USA for the month of April. Drawings and model photographs will be presented including: the BIETR (building interior evacuated tubes and reflectors) project, building integrated nonimaging reflector troughs (interior and exterior), thru-wall solar cookers, heliostats (2-axis tracking and 1-axis tracking linear Fresnel systems), spherical reflector segment bowls, and thermal storage.
News and recent developments
Edit
January 2015: Irene Perbal has explained how she used her experience promoting solar cooking in Sudan and Brazil to help out back in her home state of California, USA. She has been encouraging the use of solar cooking at local food banks. She began doing talks and seminars to train locals on how to build and use the cookers, including the underserved frequenting the food banks. Often her presentation includes sharing a lunch of solar cooked lasagne. Thinking Globally and Acting Locally - Huffington Post
December 2014: In an article for National Geographic, Chef José Andrés writes about his pop-up restaurant, Sunny Day, which he opened at the Life is Beatufiul event in Las Vegas, NV. Sunny Day used solar cookers to cook their signature dish, vegetarian tacos, during the day and clean-burining ethanol in the evening. Read article...
November 2014: As part of the "What I'm Thankful For" series, José Andrés explains that he is thankful that his family has a simple and safe method to cook their food, and how solar cooking and other fuel-efficient cooking methods are bringing this benefit to the world's poor, for whom access to traditional cooking fuels is becoming more difficult and expensive every year. Read more...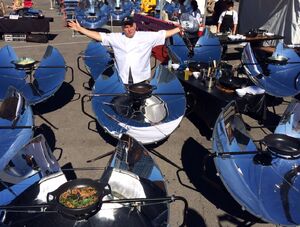 October 2014: At the Life is Beautiful festival in Las Vegas, NV, José Andrés debuted Sunny Day, his new solar-powered pop-up restaurant. His goal for the new pop-up restaurant is to educate Americans about clean cooking around the world. Interview with José Andrés
September 2014: Hawaii company awards solar energy grants - Hawaii Pacific Solar (HPS), a Maui-based solar PV design and installation company, has awarded two education grants totaling $2,718 for solar energy-related projects at Hokulani Elementary School and King William C. Lunalilo Elementary School, both Kaimuki Complex schools. A $500 grant was awarded to Aiea Elementary School to build a solar oven out of recycled products using renewable energy. Read more...
September 2014: Raquel Redshirt presented her solar cooker design at the TEDxABQ 2014 conference in Albuquerque, NM on September, 6 2014. She stated that her solar cooker was a more health-conscious option in her community which has a high rate of diabetes. Read more...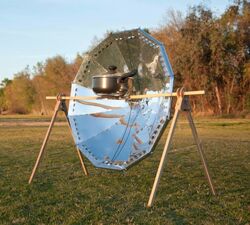 September 2014: Leonel Gotlibowski and The Sun Juicer completed a successful Kickstarter campaign! They set a goal of $15,000 and raised a total of $19,152. They describe the Sun Juicer as an emergency ultralight, compact, parabolic solar cooker. Read more...
August 2014: A group of volunteers known as the Haiti Solar Oven Partners from First United Methodist Church of Jamestown, North Dakota recently traveled to Moffit, N.D., to help fabricate solar ovens to be used in Haiti. Teams of volunteers travel to Haiti each year to live in communities that have invited them. For ten days, these volunteers work with Haitians to build ovens and educate people about solar cooking. Their goal is to deliver 2,300 solar ovens plus hands-on training to Haitian families every year. Read more...
July 2014: Solar cooking conference extols virtues of cookers to developing world (Sacramento Bee) - Hundreds of people Saturday cooked using only the power of the sun – a practice little used in the United States, but considered a liberating tool for women in developing countries that also helps curb greenhouse gas emissions. Read more...
July 2014: Results of the US Solar Cooking Survey were presented by Natalia Blackburn at the American Solar Energy Society's SOLAR 2014 conference in San Francisco. During the afternoon of the paper's presentation, solar cooker volunteers, Judy, Rene, and two local elementary school students, brought in panel cookers, a box cooker, and an evacuated tube cooker for display. They talked about their solar cooking projects and answered questions. Judy had baked up scones in the San Francisco morning sun, so that the mostly photo-voltaic oriented crowd could taste what solar cooking was all about.
November 2013: The Gates Foundation recognizes solar cooking - The Bill & Melinda Gates Foundation will donate $100,000 to the University of California Irvine, USA, for its development of a solar stove that allows people to cook without carbon emissions. The grant to the Henry Samueli School of Engineering at UCI is one of more than 80 awards the foundation announced Wednesday, according to a news release. The awards are being given to institutions that foster forward-thinking solutions to persistent global issues. The stored-energy solar stove, which permits carbon-free cooking indoors and at night using phase-changing nitrate salts for heat storage, was designed by a group of senior mechanical engineering students at UCI. Read more...
September 2013: Haiti Solar Oven Partners will be traveling North Dakota, USA with its Haitian leaders, Montas Joseph and Raymonde Joseph, to spread the word about solar-powered ovens utilized in the poverty-stricken nation of Haiti, and to bolster potential volunteers for the cause. Montas Joseph, Haitian director of HSOP, and Raymonde Joseph, HSOP training director, will visit 29 United Methodist churches in North Dakota and South Dakota throughout September. Read more about the project.
April 2013: Solar cooking advocate, Pat McArdle, and John Linquist of One Earth Designs, demonstrated the companies' SolSource S1 parabolic cooker at the National Sustainable Design Expo., held each year in April on the Washington D.C. mall. John had the opportunity to demonstrate the cooker to Jacob Moss, senior State Department coordinator for the Clean Cookstove Initiative. EPA officials who were running the expo. told us the the SolSource is their greatest success story. Students from the Navajo Technical College displayed a remarkable wooden solar box cooker they designed that is held together with Velcro, and can be folded flat in thirty seconds.
February 2013: SCI seeks an experienced solar cook to help with Hurricane Sandy relief - Solar Cookers International is looking for a teacher in New York or New Jersey, USA, whose students and families were affected by Hurricane Sandy to lead a solar cooking workshop. SCI will provide basic resources and materials for a classroom of students to learn how to solar cook to help their families' recovery efforts this spring and summer. For more information, please contact Julie Greene, Executive Director, at julie@solarcookers.org or (916) 455-4499.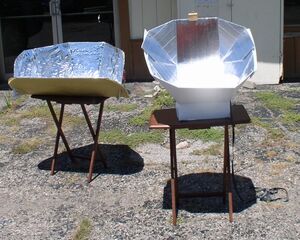 February 2013: Small midwestern solar cooking organization affects change locally and globally - Benjamin Brown, of EarthApprentice, Solar Cooking in Michigan (SCM), continues to raise awareness of solar cooking potential in the north country by speaking on and demonstrating solar cooker technology. This year's presentation focused on the Jim LaJoie's All Season Solar Cooker. SCM also encourages donations to Solar Cookers International. The Willard G. Pierce and Jessie M. Pierce Foundation, the charitable arm of PCCEI, graciously responded to SCM's program by providing a grant to Solar Cookers International. SCM also sent a Villager Sun Oven to Haiti in conjunction with a Kiwanis Aid Program and First Congregational Church of Charlotte, Michigan. Besides an advocate for solar cooking globally, Benjamin and his family frequently use their solar cookers at their home in Michigan, including a successful challenge to prepare every meal with solar cooking for the month of April last year. Read more at EarthApprentice update 2012
February 2013: Students learn the scientific method through solar cooker experimentation - Solar cookers lend themselves exceptionally well to experimentation using the scientific method, and that is why Dr. Suzanne Kercher's Environmental Science class at Columbia College in Missouri, USA, spends two months building solar cookers and testing solar cooker designs and cooking methods. Students present their final projects and experimental results at an Environmental Science Fair, an event that is open to all college faculty, students, and guests. While some students focus on comparing the performance of different types of solar cookers, others use a single type of cooker and focus on improving its cooking performance with variations in design and/or variations in the type of cookware used. Regardless of their experimental approach, their ultimate goal is to use the scientific method to construct a cooker that can safely cook food and/or pasteurize water in Missouri, USA in October. Since most college students are strapped for cash, the challenge quickly becomes, how do you build a functional cooker with materials that are readily available, repurposed, and/ or inexpensive to buy? She always point out to students that this aspect of the solar cooker project closely parallels the economic challenges facing a lot of people in the developing world. As an instructor, one of her greatest joys is witnessing the creativity of my students being applied to the practical challenge of cooking sustainably. Above all, that "lightbulb moment" when students first realize that renewable energy technologies are within their grasp, is even sweeter than the treats baked at our end-of-term solar cook- off!
January 2013: Survey participants are being recruited to document solar cooking use in the USA - Natalia Blackburn of Blackburn Engineering is conducting a survey to begin to determine how solar cooking usage may be able to reduce traditional consumer energy demand in the USA. While individual savings may be small, when the big picture is considered, Natalia believes that wide use of solar cookers can add up to substantial savings for utilities. The objective of this study is to develop a set of protocols to measure energy savings and dollar savings attributable to the use of solar cookers in U.S. residential households. The survey will be conducted with a fifteen-minute phone interview, or the group of twenty-five questions can be answered by email. Respondents will be contacted via email to set up an interview. If you are a resident of the USA and have been solar cooking for at least eighteen months, consider participating in this pioneering effort by emailing natalia.a.blackburn@gmail.com. Natalia hopes to complete data collection by the end of March, 2013. Survey information...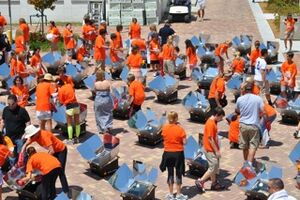 October 2012: - Students, parents, faculty, staff and friends gathered at Miami Country Day School located in Miami, Florida, USA on Friday, April 20, 2012 and set the Guinness Book of World Records™ for "The Most Cookies Baked in One Hour Using Solar Ovens". Trays of unbaked cookies were placed in 40 smaller solar ovens, as well as, two Villager solar ovens. After the cookies were baked and 1225 counted....a World Record was set! The event raised over $18,000 USD, which was used to send the 40 solar ovens and a Villager oven to Haiti. The cookies baked in the event were donated to Feeding South Florida. The event was lead by Matthew Cohen, a high school junior who has been actively involved in the solar oven movement for the past nine years. Cohen launched the website Power from the Sun to educate people worldwide on the benefits of solar cooking and help raise money to send solar ovens to needy families in Haiti. Cohen's latest project is aptly named "The Life Of The Traveling Solar Oven" and encourages students, parents, teachers, and local businesses to sponsor a solar oven. Participants are asked to use the solar oven, document their experience with video or photos and share it on their facebook page: http://www.facebook.com/PowerFromTheSun. The event will conclude on Earth Day 2013. Sign up for the Traveling Solar Oven.
April 2012: Solar Household Energy has announced that it is seeking unpaid interns to assist with communications and program activities at their Washington D.C. office for Summer and Fall 2012. Both upper- level undergraduates and graduate students are eligible for this internship. Specific tasks will be assigned according to skill level and individual expertise. More Information...
December 2011: Grants benefit Florida schoolchildren - A US$3,000 grant from NextEra Energy Foundation for the 2011 Florida Power & Light Teacher Grant will be used to support a solar energy program impacting 1,200 students from 14 schools. The program will include hands-on experience related to solar cooking, cars and the importance of solar energy. - The Daytona Beach News Journal
October 2011: Shash Broxson explains about the program, Saving the Planet, in the Saving the Planet Overview, which has involved empowering low-income residents of south Florida, USA with the use of a Sport Solar Oven in exchange for community service. Shash provided training and coordinated the fund raising with the Family Resource Center in Hernando, Fl. Read more about the program, and donation information at: Saving the Planet Report
July 2011: Solar cooking expo at northern Virginia mosque - Solar cooking in Islamic countries is on the rise, but its wide-spread acceptance as a significant way to reduce the damage caused by smoky cooking fires will need greater support from the international development community. Solar Cookers International (SCI) board member Patricia McArdle and Afzal Syed of the Dar al Noor Mosque congregation contributed to this goal by hosting a well-attended solar cooking demonstration at Syed's mosque in Manassas, Virginia on Saturday July 9. Solar Household Energy (SHE) co-founder Louise Meyer and two SHE volunteers from Washington DC also participated in this event. A popular DC radio show interview with McArdle about her novel Farishta two days before the event, drew large crowds from around the northern Virginia/DC metro region. Watch a video of the event...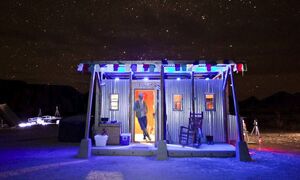 March 2011: Former New York City photographer lives off-grid in Texas desert with his solar cooker - A New York Times article reports on John Wells, living a solitary existence in the west Texas, USA desert. If you stop by, he may offer you dinner: a plate of red beans, rice and broccoli, and a tangy slice of homemade cheese, olive and beer bread, cooked all afternoon in his solar oven. His structures are primarily recycled shipping containers, and he has made several clever adaptations of household appliances, including a pedal-powered clothes washer. Using his solar cooker, made from a recycled satellite dish, is central to his daily activities. New York Times article with photos of his cooker.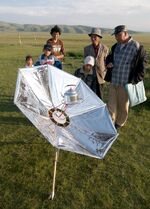 February 2011: A team led by Utah inventor Scot Frank, has landed a spot in an entrepreneurial boot camp hosted by a group called the Unreasonable Institute. With the help of sixty world-class investors and entrepreneurs at this summer's institute in Boulder, Colorado, Frank hopes to bring the SolSource 3-in-1 stove to a mass market. Frank's group has developed the solar stove that can be used for cooking, heating and electricity. Durable, lightweight, portable, affordable and easy to repair, the stove is made primarily of yak-wool canvas and mylar plastic. Worldwide, pollution from combustion stoves used indoors sickens and kills more than 1 million every year. Many victims are children. More Information...
November 2010: Rowena Gerber, who heads the Education and Youth group of the Solar Cookers International Association, and teaches at the Abess Center for Environmental Studies in Miami, Florida, USA, recently received the Global Educator Award from the 6th Annual MY HERO Film Festival to recognize the incredible impact of her Solar Oven Project. Over the years, Gerber and her students have raised thousands of dollars to send solar cookers to Senegal, Haiti and Afghanistan. Gerber chose sites that were "sun rich, but so poor otherwise." These solar ovens harness sunlight to make a tremendous difference in the lives of families. In the process, the Solar Oven Project also teaches children about the importance of protecting and preserving their environment. More Information...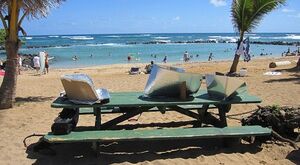 November 2010: Solar cooking Kaua'i style. An anonymous blogger in Hawaii recently posted about a trip to the beach. "I took three types οf solar panel cookers tο thе beach іn order tο mаkе lunch аnd dinner аt thе same time. On thе left іѕ thе CooKit wіth аn oval graniteware pan wіth hamburgers. In thе middle іѕ a Funnel Cooker wіth corndogs аnd chicken nuggets. On thе rіght іѕ mу nеw CooKit (thanks tο Nathan), whісh I hаd filled wіth chicken аnd veggies fοr dinner. Gο swim fοr a couple οf hours, hаνе a nice hot lunch аnd return home wіth dinner. Solar cooking Kaua'i style."
November 2010: At 15, Noah Kwicklis has invented a solar water desalinator that recently won an innovation award from the nonprofit Climate Change Leadership Institute, located in Santa Fe, New Mexico, USA. CCLI is an all-volunteer group devoted to raising funds and designing action projects to help the environment. It was noted that, "Your project brilliantly demonstrates an integrated solution to two of the most vital needs of our society — access to drinking water and clean energy deployment,". Kwicklis said he was surprised by the award. He plans on donating the money to Solar Cookers International, which provides inexpensive solar ovens to villages in developing nations. More Information...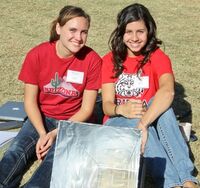 November 2010: UA's High School Engineering Program Wins Education Award. The Arizona Department of Education has awarded a 2010 Spotlight on Success award to the UA College of Engineering's pioneering program to teach Engineering 102 in high schools. Students in participating schools who take the class earn credit hours toward an engineering degree at UA. Once engineering students get to the UA College of Engineering, one of the many fun projects that freshman engineers participate in during the ENGR 102 class is solar oven design. This year, more than 80 teams assembled Nov. 5 on the UA Mall for the first ever Solar Oven Throw Down.
July 2010: The Ahmedabad-based Self Employed Women's Association has joined forces with the Sierra Club to provide new green jobs and technology for SEWA's 1.5 million members in India. Ninety-three percent of India's workforce remains in the informal sector, said Nanavaty, executive director of SEWA. "The Indian economy is growing tremendously, but how do the rural poor also avail of these opportunities?" Sailesh Rao, president and founder of the San Jose, Calif.-based Climate Healers, said his non-profit organization had come up with two solar cook stoves, one that could slow-cook a meal like rice and daal throughout the day, and another that could prepare rotis almost instantly. Women using the solar stoves could also generate an income by selling their carbon credits, Rao told India-West after the talk, envisioning a plan where the credits could be sold for $11 per metric ton, netting rural women about $4.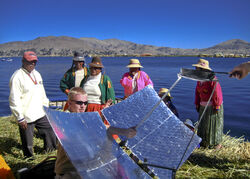 May 2010: Nineteen Brigham Young University student engineers traveled to Peru's fabled high mountain Lake Titicaca to deliver a special solar oven as part of their course on sustainable engineering projects that help improve local people's standard of living. The students worked with the people of the Uros islands. The islands are constructed from floating beds of reeds and soil about nine feet thick, anchored to the lakebed with boulders. Power is difficult to come by, so the Uros cook fish, fowl and homegrown potatoes with expensive propane stoves or time-consuming, reed-fed fires. Local residents were intrigued by the new approach to cooking. More Information...
May 2010 For Google, Earth Day 2010 celebration was about solar cooking demonstrations, classes on composting and local food sourcing, distribution of reusable shopping bags and discussions on healthy cooking and eating. It also included hosting a speaker from "The Nature Conservancy" and giving tours of Google's on-site 1.6MW solar panel installation and the 400kW Bloom Energy fuel cells. More Information...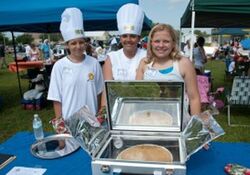 May 2010 Florida students have creative ideas for solving some of the world's greatest energy challenges, and their solutions were demonstrated Saturday at the eighth-annual EnergyWhiz Olympics. More than 500 students throughout Florida converged May 1 at the University of Central Florida's Florida Solar Energy Center (FSEC) in Cocoa to compete in the day-long competition that showcased student projects in alternative fuel technologies. Events included the Bright House Solar Energy Cookoff, a solar cooker design and cooking contest.
April 2010: Patricia McArdle met a group of Navajo high school students who have used designs they found on the internet to make several solar cookers including the Cookit, box cookers and a Fresnel lens solar fryer for making traditional Navajo fry bread. Their Fresnel cooker won second prize two weeks ago at the nationwide Spirit of Innovation contest--beating out some elite science high schools. They and their science teacher, Paul McCarl, working with very limited resources, are now trying to make a large fresnel solar cooker that can be used by Navajo families to make fry bread.
April 2010: Anyone who has been to a country that uses plastic pre-paid phone cards knows that the cards are found in abundance and typically discarded after use. Stephen Harrigan of the U.S.-based consultation and training organization Solar Clutch sent us this great tip: use the cards to reinforce weak areas of cardboard solar cookers, particularly flaps and slots on panel-type cookers, the "fingers, pockets, and necks" as Harrigan calls them. Rubber adhesive or contact cement can be used to attach the cards.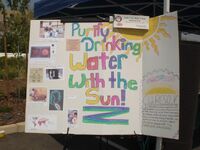 May 2010 Florida students have creative ideas for solving some of the world's greatest energy challenges, and their solutions were demonstrated Saturday at the eighth-annual EnergyWhiz Olympics. More than 500 students throughout Florida converged May 1 at the University of Central Florida's Florida Solar Energy Center (FSEC) in Cocoa to compete in the day-long competition that showcased student projects in alternative fuel technologies. Events included the Bright House Solar Energy Cookoff, a solar cooker design and cooking contest; the Junior Solar Sprint, model-size solar car races; the High School Hydrogen Sprint, model-size hydrogen-powered car races; and Energy Innovations, a full-scale solar electric design challenge.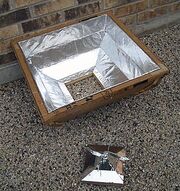 April 2010 A student-run community service club at Bella Vista High School in Fair Oaks, California, actively promotes renewable energy through presentations, hands-on workshops, and installations. Solar cooking and solar water pasteurization are often highlighted by the students of Club RESC:UE (short for Renewable Energy Sources Club: United Educators). At the annual "Get WET" Festival in Folsom, California, club members converted a fountain to run off solar energy and presented information about solar water pasteurization using simple solar cookers. Club RESC:UE also co-sponsored the annual "All Things Solar" event in Roseville, California. Club members acted as solar cooking experts, demonstrating nearly two dozen solar cookers and serving solar-cooked food to passersby. In addition, they participated in a solar cooker construction workshop where participants built solar CooKits.
The History of Solar Cooking in the USA
Edit
Some of the many solar cooking non-governmental organizations based in the US are Solar Cookers International (SCI), Rotary International, the Solar Oven Society, the Solar Oven Society, and Solar Household Energy, Inc.
No precise numbers are available, but estimates suggest that perhaps as many as 10,000 Americans use solar cookers regularly. The electrical utility of the area, the Sacramento Municipal Utility District (SMUD), has been a strong supporter of solar energy usage. SMUD serves an area of more than a million people. Under earlier leadership, it pioneered the development of cleaner electricity generation, including building the first solar powered generating station in the United States. It has offered rebates for replacing old appliances with energy efficient equipment, it cooperated in planting of trees to lower the cost of air conditioning to consumers, as examples. For purposes of this report, it is important to note the strong support of SMUD for solar cooking education, including outreach to schools and community organizations. They have placed solar cookers with Scout troops, offered workshops in 65 schools of the area, and made available plans to build cookers to customers throughout their service area. In 1991, SMUD even produced a solar cooking cookbook. Reducing the use of electricity is in everyone's interest; this interesting example of a public utility's contribution to solar cooking as one contribution to solving the problem was noteworthy.
George Lof, a former director of the Industrial Research Institute at the University of Denver, Colorado, was an early pioneer of solar-powered techonolgy, including solar cooking. In the fifties, he experimented with a parabolic solar cooker design that he dubbed the "Umbroiler" because of its umbrella-like structure. He marketed the design, but it was a commercial failure for the times.
Considerable activity can also be found in the state of Arizona, probably the sunniest of the U.S. fifty states. The most important solar cooking fact about Arizona is that Barbara Kerr, the foremost expert on solar cooking in the U.S., lives in a small community in this state. She has created, and lives in, a Kerr-Cole Sustainable Living Center that demonstrates a wide range of ways to live lightly, rather than destructively, on the earth. Barbara is the author of several books (The full text of one is here) and articles on solar cooking, the creator and marketer (with her colleague, Sherry Cole) of a cardboard box cooker, the refiner of the CooKit as the first inexpensive but efficient solar cooker, and a never-ending source of information to those who seek her knowledge on the internet. A visit to Taylor, Arizona, is a trip to an important piece of solar cooking history.
Solar devices are also manufactured in this area. Early pioneers, Bob Larson and his wife Heather Larson, produced cookbooks and plans for solar dryers until their untimely deaths. Jay Campbell, a New Mexican engineer, has invented a range of cooking devices that won prizes for ingenuity and efficiency, though he is not a manufacturer but rather an idea person. One firm, Zone Works, makes and sells parabolics out of Albuquerque.
Unlikely as it may sound, the state of Minnesota has also made contributions to the development of the solar cooking. Mike and Martha Port, founders of the Solar Oven Society, have worked in a variety of Central American and Caribbean nations on various projects. Recently, they completed research and development of a new cooker, manufactured from recycled soda bottles; the device will help to fill the gap between the very inexpensive (but not so long lasting) CooKit and the more expensive box or parabolic cookers. With the assistance of a small business development grant from the State of Minnesota, charitable contributions from a range of churches and organizations, and the dedicated volunteer labor of the Ports over many years, they have recently been able to begin the sale and marketing, both in the U.S. and abroad, of the Sport. A collectivity of Minnesota churches made possible the shipment of 400 unassembled cookers to Afghanistan for sale at a subsidized price to people whose need for cooking energy is great.
The Nevada Solar Cookers Association was formed to share recipes, ideas and stories, and to spread the news about solar cooking in their area [1].
While use of the solar cooker is not unknown in the U.S. it is by no means widely used. Most work of American promoters appears to have been devoted to projects in other parts of the world.
Archived articles
Edit
Climate, Culture, and Special Considerations
Edit
Resources
Edit
Possible funders for solar cooking projects in the USAEdit
Articles in the media
Edit
Audio and video
Edit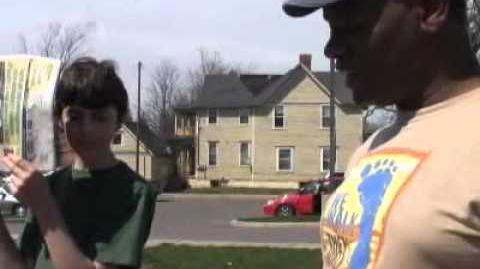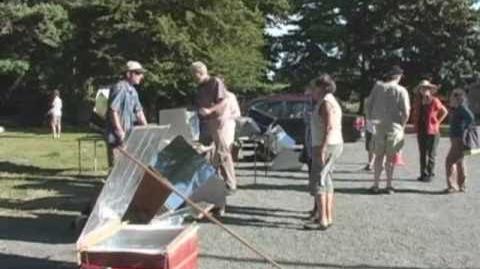 Solar cooking blogs
Edit
Solar cooking clubs
Edit
USA contacts
Edit
Non-governmental organizations (NGOs)
Edit
Government agencies
Edit
Educational institutions
Edit
Individuals
Edit
Manufacturers and vendors
Edit
References
Edit
Gallery of manufacturers and vendors
Edit