Deutsch, Español, Ελληνικά, Français, Hausa, Igbo, Indonesian, Italiano, Kiswahili, Kreyòl, Malagasy, Melayu, Português, Русский, Soomaaliga, Tagalog, Việt, Türkçe, Yorùbá, தமிழ், नेपाली, 中文, اردو, 한국어, 日本語, العربية, فارسی, עִברִית, हिन्दी, ไทย, বাংলা, తెలుగు, ગુજરાતી, ລາວ, ਪੰਜਾਬੀ, සිංහල, پښتو
Last updated:
21 December 2017
| | |
| --- | --- |
| | Solar Cooking Festival 2014 |
Events
NEW: 

10 March 2018, Saturday: (Sacramento) - Solar workshop for educators: For grade levels 3-12+, participants at the SMUD workshop will learn about the history and science of solar thermal technology, which will include solar cooking. Held at SMUD facilities at 6301 S Street from 9am-3pm, the focus will be on how educators can best bring these concepts into their classrooms. More information...
See also: Global Calendar of Events and past events in USA
News
July 2017: Old school bus becomes a solar dryer - The resourceful staff and students at the remote Kua O Ka La Public Charter School in Pū'ala'a, Hawaii, have converted an old school bus into a solar food dehydrator. Off grid, a primary goal at the school is to be able to run everything with solar power. More information...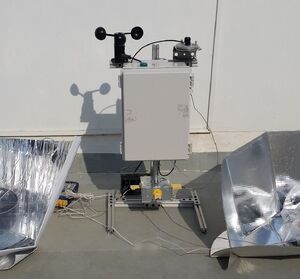 June 2017: Solar Cookers International (SCI) launches pilot solar cooker testing centers in California and New York - The purpose of this pilot project is to check the repeatability, reliability, and reproducibility of results from SCI Performance Evaluation Process (PEP) testing stations for solar cookers, irrespective of location. SCI's pilot testing centers are located at different latitudes and at different elevations. The two locations also experience different weather conditions. The solar cookers, the cookware, and the testing instrumentation, however, are the same at both locations. This pilot project is testing sets of three types of solar cookers: reflective-panel cookers, box ovens and parabolic reflectors. The PEP results provide cooking power measured in Watts, which is only one of many ways to evaluate solar cooker performance. In June, weather conditions at SCI's pilot testing centers are well suited for testing solar cookers according to the ASABE S580.1 protocol for Testing and Reporting Solar Cooker Performance. This protocol requires that outdoor ambient temperature must be between 20 - 35 °C (68 - 95 °F). This temperature range is generally available at both SCI pilot testing centers between the vernal (spring) equinox and the autumnal (fall) equinox. Testing days within the required temperature range should also be clear days with consistent solar energy. SCI welcomes others to join this pilot solar cooker testing project to validate the reproducibility of the SCI PEP testing stations. By using the same instrumentation, results have a consistent format for data comparison. Potential project partners can access the assembly manual for the SCI PEP testing station, available as open-source content online at SCI's PEP web page. To join SCI's pilot solar cookers testing project, email info@solarcookers.org
May 2017: Solar cooking project builds on STEAM - Middle school students in Springfield, Oregon, USA, were exposed to a multi-facetted lesson plan, with their challenge to design and build their own solar cooker. The lesson met the requirements for STEAM recognition. To qualify, a project typically integrates each of the core classes, including math, science, language arts, and social studies. STEAM stands for science, technology, engineering, art and math. Read more...
March 2017: Solar Cookers International is nominating a team of solar cooking experts for the UNHCR Energy Expert Roster to provide solar cooking consultancy to refugee camps.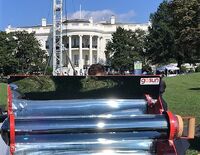 September 2016: The PPG Foundation has provided financial support for a solar oven engineering/science project for second-grade students in Texico, Illinois.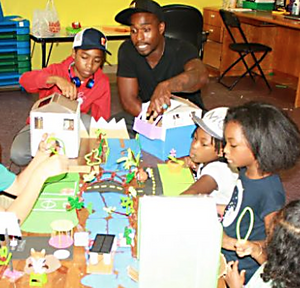 August 2016: Children learn about their solar future - At a weeklong day camp in Minneapolis, Minnesota, USA, young participants learned how solar energy will integrate into their coming lives. They learned to build solar lanterns, design a solar oven to bake a cake, and working in teams, design their own solar-powered devices. Read more...
July 2016: Solar cooker manufacturer receives rational certification as a women's business enterprise - WBENC's national standard of certification is a meticulous process including an in-depth review of the business and site inspection. The certification process is designed to confirm the business, in this case Solavore, is at least 51% owned, operated, and controlled by a woman or women. Read more...
October 2015: University of Arizona students have "Solar Oven Throwdown" - UA faculty have designed a course that includes a solar cooker contest for students who are considering a career in engineering, be they freshmen at the UA or upperclassmen at certain local high schools. It is a chance to learn about how engineering works by working through design and construction of a device with a team. Read more... - Arizona Public Media
July 2015: Tracking solar cooker headed to middle school - The Civano Middle School located in Tucson, Arizona, USA, will be receiving a tracking solar box cooker for fall semester. Students will be able to learn firsthand about solar cooking. The cooker and tracking system has been designed by C. Alan Nichols, an engineer from the Tucson area. Read more about the system at The Tracking Solar Cooker.
June 2015: Solar cooking meets the tech community - Chef José Andrés invited Kirk Smith, a Professor of Environmental Health Sciences, at UC Berkeley, USA, to join him at a panel discussion for environmentalists challenging the tech community held in Silicon Valley, California. Dr. Kirk has discounted solar cooking in the past, but now feels it is a viable part of the clean cooking solution to help preserve the environment and improve the health of the many cooks cooking over open fires. Dr. Smith and Andrés called on the audience to go back to their employers – the technology companies of the Bay Area – and apply as much innovative thinking to clean cooking as has been applied to electric cars and evolving the jet engine. Delicious solar-cooked mushroom tacos were prepared on the grounds outside of the conference. More information
January 2015: Irene Perbal has explained how she used her experience promoting solar cooking in Sudan and Brazil to help out back in her home state of California, USA. She has been encouraging the use of solar cooking at local food banks. She began doing talks and seminars to train locals on how to build and use the cookers, including the underserved frequenting the food banks. Often her presentation includes sharing a lunch of solar cooked lasagne. Thinking Globally and Acting Locally - Huffington Post
December 2014: In an article for National Geographic, Chef José Andrés writes about his pop-up restaurant, Sunny Day, which he opened at the Life is Beautiful event in Las Vegas, NV. Sunny Day used solar cookers to cook their signature dish, vegetarian tacos, during the day and clean-burning ethanol in the evening. Read article...
November 2014: As part of the "What I'm Thankful For" series, José Andrés explains that he is thankful that his family has a simple and safe method to cook their food, and how solar cooking and other fuel-efficient cooking methods are bringing this benefit to the world's poor, for whom access to traditional cooking fuels is becoming more difficult and expensive every year. Read more...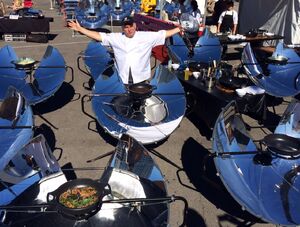 October 2014: At the Life is Beautiful festival in Las Vegas, NV, José Andrés debuted Sunny Day, his new solar-powered pop-up restaurant. His goal for the new pop-up restaurant is to educate Americans about clean cooking around the world. Interview with José Andrés
September 2014: Hawaii company awards solar energy grants - Hawaii Pacific Solar (HPS), a Maui-based solar PV design and installation company, has awarded two education grants totaling $2,718 for solar energy-related projects at Hokulani Elementary School and King William C. Lunalilo Elementary School, both Kaimuki Complex schools. A $500 grant was awarded to Aiea Elementary School to build a solar oven out of recycled products using renewable energy.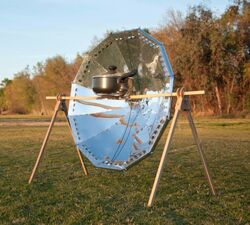 September 2014: Leonel Gotlibowski and The Sun Juicer completed a successful Kickstarter campaign! They set a goal of $15,000 and raised a total of $19,152. They describe the Sun Juicer as an emergency ultralight, compact parabolic solar cooker. Read more...
August 2014: A group of volunteers known as the Haiti Solar Oven Partners from First United Methodist Church of Jamestown, North Dakota, recently traveled to Moffit, ND, to help fabricate solar ovens to be used in Haiti. Teams of volunteers travel to Haiti each year to live in communities that have invited them. For ten days, these volunteers work with Haitians to build ovens and educate people about solar cooking. Their goal is to deliver 2,300 solar ovens plus hands-on training to Haitian families every year. Read more...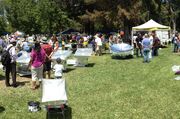 July 2014: Solar cooking conference extols virtues of cookers to developing world (Sacramento Bee) - Hundreds of people Saturday cooked using only the power of the sun – a practice little used in the United States, but considered a liberating tool for women in developing countries that also helps curb greenhouse gas emissions. Read more...
July 2014: Results of the US Solar Cooking Survey were presented by Natalia Blackburn at the American Solar Energy Society's SOLAR 2014 conference in San Francisco. During the afternoon of the paper's presentation, solar cooker volunteers Judy, Rene, and two local elementary school students brought in panel cookers, a box cooker, and an evacuated tube cooker for display. They talked about their solar cooking projects and answered questions. Judy had baked up scones in the San Francisco morning sun so that the mostly photovoltaic-oriented crowd could taste what solar cooking was all about.
History
Some of the many solar cooking non-governmental organizations based in the US are Solar Cookers International (SCI), Rotary International, the Solar Oven Society, and Solar Household Energy, Inc.
No precise numbers are available, but estimates suggest that perhaps as many as 10,000 Americans use solar cookers regularly. The electrical utility of the Sacramento, CA area, the Sacramento Municipal Utility District (SMUD), has been a strong supporter of solar energy usage. SMUD serves an area of more than a million people. Under earlier leadership, it pioneered the development of cleaner electricity generation, including building the first solar-powered generating station in the United States. It has offered rebates for replacing old appliances with energy-efficient equipment, and it cooperated in planting trees to lower the cost of air conditioning to consumers, as examples. For purposes of this report, it is important to note the strong support of SMUD for solar cooking education, including outreach to schools and community organizations. They have placed solar cookers with Scout troops, offered workshops in 65 schools of the area, and made available plans to build cookers to customers throughout their service area. In 1991, SMUD even produced a solar cooking cookbook. Reducing the use of electricity is in everyone's interest; this interesting example of a public utility's contribution to solar cooking as one contribution to solving the problem was noteworthy.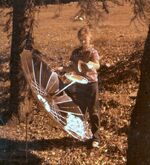 The late George Lof, a former director of the Industrial Research Institute at the University of Denver, Colorado, was an early pioneer of solar-powered technology, including solar cooking. In the fifties, he experimented with a parabolic solar cooker design that he dubbed the "Umbroiler" because of its umbrella-like structure. He marketed the design, but it was a commercial failure for the times.
Considerable activity can also be found in the state of Arizona, probably the sunniest of the U.S. fifty states. The most important solar cooking fact about Arizona is that the late Barbara Kerr, the foremost expert on solar cooking in the U.S., lived in a small community in this state. She created and lived in the Kerr-Cole Sustainable Living Center, which demonstrates a wide range of ways to live lightly, rather than destructively, on the earth. Barbara is the author of several books (The full text of one is here) and articles on solar cooking, the creator and marketer (with her colleague, Sherry Cole) of a cardboard box cooker, the refiner of the CooKit as the first inexpensive but efficient solar cooker, and a never-ending source of information to those who seek her knowledge on the internet. A visit to Taylor, Arizona, is a trip to an important piece of solar cooking history.
Solar devices are also manufactured in this area. Early pioneers, the late Bob Larson and his wife Heather Larson, produced cookbooks and plans for solar dryers until their untimely deaths. Jay Campbell, a New Mexican engineer, has invented a range of cooking devices that won prizes for ingenuity and efficiency, though he is not a manufacturer but rather an idea person. One firm, Zone Works, makes and sells parabolics out of Albuquerque, NM.
Unlikely as it may sound, the state of Minnesota has also made contributions to the development of solar cooking. Mike and Martha Port, founders of the Solar Oven Society, have worked in a variety of Central American and Caribbean nations on various projects. Recently, they completed research and development of a new cooker, manufactured from recycled soda bottles; the device will help to fill the gap between the very inexpensive (but not so long lasting) CooKit and the more expensive box or parabolic cookers. With the assistance of a small business development grant from the State of Minnesota, charitable contributions from a range of churches and organizations, and the dedicated volunteer labor of the Ports over many years, they have recently been able to begin the sale and marketing, both in the U.S. and abroad, of the Sport. A collectivity of Minnesota churches made possible the shipment of 400 unassembled cookers to Afghanistan for sale at a subsidized price to people whose need for cooking energy is great.
The Nevada Solar Cookers Association was formed to share recipes, ideas, and stories and to spread the news about solar cooking in their area. Solar Cooker Review, March 2003.
While use of the solar cooker is not unknown in the U.S., it is by no means widely used. Most work of American promoters appears to have been devoted to projects in other parts of the world.
Archived articles
Climate and culture
Resources
Possible funders
Project evaluations
Reports
Articles in the media
NEW: 

December 2017: The Sun Shines in Denver - Green Fire Times

NEW: 

December 2017: Arkansas Sixth-Graders Design Ovens for Uganda Community - USNews
July 2017: Summer-long solar cooking study - Arizona State University
June 2017: Baked to take first place in Science Fair
February 2017: Workshop on solar power at i3 Academy yields lessons about benefits of alternative energy - Palm Coast Observer
August 2016: Just-B-Solar Camp introduces youth to their future - MSR Online
August 2016: Bolivians' kitchens become a passion for San Clemente teen - The Orange County Register
July 2016: Local retired professor looks to improve solar cooking - 22News - WWLP.com
April 2016: Baking a carrot cake on a boat led to buying a company - Star Tribune
April 2016: Back to the future: A solar oven project (food waste recycling) - The Tiger
April 2016: Churchville-Chili solar cooker team wins ASU Tech Challenge - Gates-Chili Post
April 2016:  These Clark entrepreneurs have some big ideas (Sun Top Solar Cookers)- Clark University
December 2015: Solar Cooking Goes Mainstream - EcoWatch
October 2015: UA Students Make Tasty Treats in 'Solar Oven Throwdown' - Arizona Public Media
September 2015: Why not sun-roasted chilies for Presidio, Texas? - Big Bend Now
August 2015: Only the sun, Local green builder gets community cooking with solar power - Chico News & Review
July 2015: Solar cookers sizzle in Sacramento heat - The Sacramento Bee
July 2015: Solar academy under way at Cal Maritime - Times-Herald NEWS
July 2015: Everyday Solar Cooking - Mother Earth News
June 2015: Bloomfield fifth-graders create solar ovens - NorthJersey.com
May 2015: Glenpool students celebrate end of school with solar cook-off - Glenpool World.com
May 2015: Friendship students win award for oven design - Olean Times Herald
March 2015: Solar Cooking in the Snow with a Sunny Apple-Cobbler Recipe - Mother Earth News
February 2015: Cedar Rapids engineering major develops solar stoves in India - Iowa Now
January 2105: Thinking Globally and Acting Locally - Huffington Post
October 2014: Using Solar Thermal Technology to Brew Beer in Colorado - Solar Thermal Magazine
August 2014: First United Methodist Church volunteers help with solar oven - The Jamestown Sun
July 2014: Solar ovens may stimulate student appetite for STEM - University of Arkansas
July 2014: Ask James Dulley: Solar ovens are simple to make, easy to use - Rapid City Journal
July 2014: Solar cooking conference extols virtues of cookers to developing world - Sacramento Bee
June 2014: Young chefs harness solar power - Daily Press
June 2014: Solar Cooking: The No-Fuel, No-Emissions Way to Make Dinner - Edible Manhattan
May 2014: Solar ovens yield sunny side-up s'mores at WMS - Woodbury Bulletin
May 2014: Solar Cooking in Third World Countries - Digital Journal
January 2014: SUNY students build solar CooKits - Observer, Dunkirk NY
October 2013: Cooking biscuits on the UA Mall - Daily Wildcat.com
September 2013: Haiti Solar Oven Partners visits the Black Hills to gain support for its mission - Rapid City Journal
September 2013: Solar slow food - Chico News & Review
September 2013: Haitian to say thanks for solar ovens - The Bismarck Tribune
August 2013 Cooking Cookies with Solar Power - PBS Kids Zoom
August 2013: Get Cooking With a DIY Solar Oven - AARP Blog
July 2013: Solar stove with humble beginnings in Himalayas is now in Utah - The Salt Lake Tribune
June 2013: Northville Students Harness Solar Power for Tasty Treats - Northville Patch
June 2013: Faith effort creates solar ovens for Haiti - The Bismarck Tribune
May 2013: Two UI professors work to create inexpensive solar cooker - The Daily Iowan
March 2013: Bedford family helps Nicaraguan villagers use solar cooking - Bedford Journal
March 2013: Resident uses solar oven to eat healthy, reduce bills - Peoria Times
March 2013: Hewlett-Packard alum sets out to change world with Nepal solar project - Mercury News
November 2012: UA Hosts Solar Oven Bake-Off - Arizona Public media
October 2012: A Solar Stove for Haiti -The Sag Harbor Express
December 2011: Solar cooking works, from sunny Brazil to Seattle - Crosscut.com
August 2011: Sunny side up; Oak Park, California resident reminds us of the simplicity of solar cooking - Sacramento News & Review
August 2011: Cinnamon Buns in the Solar Oven - Phoenix New Times
July, 2011: Calabasas, CA Youth Help Raise Global Awareness - Calabasas Patch
July 2011: Solar cooking a boon to the homeless - Recordnet.com
May 2011: Sun-baked meals gaining popularity - Utah Daily Herald
January 2011: New Jersey high school sophomore recognized for raising funds to purchase solar cookers for African refugees. - NJToday.net
November 2010: Energy Justice Conference at CU-Boulder focuses on putting plans into action - Daily Camera
September 2010: Ashland Middle School kids cook with homemade solar ovens - Ashland Daily Tidings
September 2010: Plant City farmer lassos solar energy - St. Petersburg Times
September 2010: The Art of Solar Cooking - East Bay Express
July 2010: Teachers get lesson of their own - MidlandsConnect.com
July 2010: 'Air-friendly' cooking for July 4 weekend - ABC Channel 15 Arizona
February 2009: These cooks busiest when sun is shining - San Diego Union-Tribune
January 2009: The dish on solar cooking: Local group touts the benefits of the sun's power - Sacramento News & Review
August 2008: Galley of the sun: Backyard cooks go solar - The Arizona Republic
August 2008: Energy a DNC theme - Steamboat Pilot & Today
August 2008: Hands-on engineering, campus visit inspire former refugees - News at Princeton
June 2008: Here comes the sun - The Record
June 2008: American Wins UK Insurance Institute's Talent Prize for Solar Oven - Insurance Journal
April 2008: Arnold Schwarzenegger Tastes Solar Cooking: "Fabulous!" - Energy Seeds
February 2008: Learning to cook without electricity - Deseret News
January 2008: Sharing his daily bread - Student teaches Africans to bake using solar ovens - Fort Wayne Journal Gazette
July 2007: Cooking With The Sun: Solar Cookers Get Put To The Test - America's Test Kitchen
July 2007: Conservation Saves More Than the Environment - The Washington Post
May 2007: Sacramento's Solar Cookers International uses the sun to improve quality of life, one village at a time - Sacramento News & Review
January 2007: CNN Money features Sun Ovens
January 2007: Here comes the sun with its power - The Washington Times
Audio and video
Solar cooking blogs
Solar cooking clubs
Contacts
SCI Associates
NGOs
Manufacturers and vendors
Individuals
Government agencies
Educational institutions
See also
References
Ad blocker interference detected!
Wikia is a free-to-use site that makes money from advertising. We have a modified experience for viewers using ad blockers

Wikia is not accessible if you've made further modifications. Remove the custom ad blocker rule(s) and the page will load as expected.