Last updated: October 1, 2015      
See also: Global Calendar of Events and Past events in Uganda
News and recent developmentsEdit
September 2015: Katherine Russell, a 21 year old woman from Summerville, South Carolina, USA, is working to bring solar cookers to the Nazareth Children's Home in Nyendo, Uganda. After her initial visit to Uganda in 2014, Katherine met John Martin, who lives in Walterboro, South Carolina and is an experienced solar cooker builder. Katherine and John have held workshops to build solar cookers in South Carolina and plan to distribute them to the Nazareth Children's Home along with pots, pot holders, and oven bags in 2016. Read more...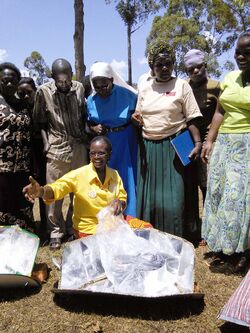 February 2015: "Mama Solar" celebrates 20 years of spreading solar cooking in East Africa - To mark 20 years of work to disseminate solar cooking in Africa, Faustine Odaba, Director of Natural Resources and Waste Management Alliance (NAREWAMA), traveled to Uganda for 10 days to give presentations on solar cookers, fireless cookers, and gasifiers. Esther Nattabi of Awamu Biomass Energy, Kampala assisted Faustine with the presentations.
April 2014: Building material supplier in Kenya imports solar cooker supplies - Roger Haines reports that Global Hardware, Ltd., a prominent Nairobi, Kenya building supply company, globalhardwarekenya@gmail.com, has agreed to purchase a large quantity of reflective foam insulation and polycarbonate plastic film for resale at low cost to solar cooking entrepreneurs. This is expected to reduce to less than $10 the wholesale cost of materials in Nairobi for the newly-designed Haines Solar Cooker. The hope is that the availability of these inexpensive materials will promote the creation of new solar cooking entrepreneurs in East Africa. Haines' San Diego Rotary Club will purchase materials for 500 of the new cookers for distribution by the Rotary Club of Gulu, Uganda.

March 2014: Cooking Resource Center under construction in Biharwe - Kawesa Mukasa, director for the Solar Connect Association, reports that construction is underway for the Renewable Energy for Cooking Resource Center located in Biharwe, Uganda. The center will provide all types of fuel efficient cook stoves, both solar and biomass, and will be fabricated at the center. The center will also distribute information on renewable energy for cooking and train young people to create small scale enterprises in fabrication and distribution of solar cookers and efficient biomass stoves. The construction of the Renewable Energy Center is being funded by SCA with support from Solar Cooking Netherlands and Wilde Ganzen.
August 2013: Uganda NGO with proven profitability plans for expansion at new location - Henk Crietee, from Solar Cooking Netherlands, was in Uganda for two weeks in early August to evaluate Solar Connect Association (SCA) project activities. During Crietee's visit, a piece of land was secured in Mbarara, on which SCA will construct a building to house a new Renewable Energy Center. Integrated solar cooking appliances will be produced, advertised and sold from this new location, which will offer better exposure for their products to local residents, tourists, and political opinion leaders. While SCA has shown itself to be relatively self sufficient in terms of covering operation costs, through the sales of solar cookers, hay baskets and rocket stoves, they cannot afford yet to construct a new building. Participation by Solar Cooking Netherlands with help in securing the land has been appreciated. Donors wishing to help contribute to the building construction can contact Solar Cooking Netherlands. This fledgling effort is another example that demonstrates solar cooking, and related integrated cooking methods, can be a successful business by incorporating local manufacturing, sales, and long term consumer support.
February 2013: Solar Connect Association has made a lasting impact on people's lives in Uganda - They have a production facility for solar cookers, hay baskets and WAPIs, as well as a retail outlet, in the Mbarara district of western Uganda. The facility in Mbarara is now self-sustaining financially, after years receiving support from donors, by being able to sell their products for a modest profit. Solar Connect Association has now opened a new distribution center in Kampala. The Kampala distribution center will help reach the rest of the country, South Sudan, Eastern Congo, as well as Rwanda and Burundi. They still need some logistical support from any donor, in the form of a distribution van/pick-up vehicle for this Kampala Distribution Center. Selling from nine store in various villages, the association has sold 770 solar panel cookers, 770 WAPIs, 301 hay baskets, 37 solar box cookers, 846 Rocket Stoves, and 42 parabolic solar cookers in the second quarter of 2012. They seek collaboration with stakeholders worldwide, who share the dream of making the 3-stone cooking fire a thing of the past in Eastern Africa. Read more at Solar Connect Association: Integrated Cooking in Uganda 2012
The history of solar cooking in UgandaEdit
A number of small and medium scale projects have been initiated in Uganda, a country frequently touted as making good development progress, economically and politically. Interestingly, several of the small projects have been undertaken by organizations serving disabled persons. One, led by Amos Byakagaba, coordinator of the Welfare Society for Disabled People, demonstrates a range of solar cooker types in many public venues. They have targeted 23,000 families in Uganda as appropriate for training in the use of solar cookers (Solar Cooker Review, November 2001). A similar organization, Disabled Technicians of Uganda, also demonstrates and promotes solar cooking (Solar Cooker Review, September 1997).
Another project includes UltraTech, which is a company selling Global Sun Ovens, with plans to collaborate in manufacturing when demand is sufficient. An active organization, The Creative Center of Mbale, has taught many people to make and use solar cookers in the Mbale Solar Cooking Project
Substantial momentum appears to have occurred in this country, with the creation of a national promotional group, the Solar Connect Association (SCA), headquartered in the Kampala area. This group has been in existence for nine years, and reports that they have taught 20,000 persons to solar cook, and have produced 10,000 solar cookers in that time. They even have recruited and trained employees of the Virunga National Park Environment Project, located in the Democratic Republic of Congo, home of the famous mountain gorillas.
SCA has utilized solar box cookers and also has assisted in the distribution of the parabolic cookers of EG Solar in Germany. The most commonly used, the real "workhorse", is the inexpensive cardboard CooKit that can be made by individuals for an expenditure of 60 cents. In 2004,1,161 new trainees were reported, with 1,354 various types of cookers made.
The solar devices are not only used to feed households, they are also employed in income generating activities, including baking cakes and bread, canning fruits, and pasteurizing water. The group's leader, Kawesa Mukasa, credits the work to his meeting Ulrich Oehler, a legendary figure in solar cooking and the founder of the ULOG group, in Switzerland, then researching many sources for additional information. One person can truly make a huge difference.
A rather unusual project has also been reported in Uganda. The Health Technology Development Centre of the Ministry of Health of that nation reports successful use of solar cookers as sterilizers, as well as preparers of food in hospital and health centres. They have also developed a pasteurizer for use in purifying water for hospital use. Attempts to disseminate solar technologies have been slower than desired, and therefore they have also attempted to analyze barriers and consider methods to eliminate those barriers. Those methods have included collaboration with various international/national institutions, use of local materials that fosters job development, and the development of local standards for construction and installation of the technology.
This group believes in the technology and suggests that creative means to disseminate solar cooking more broadly will be needed, including demonstrations and multiple training opportunities.
It has been recently noted that in the villages of Kikokwa, Ruharo, Biharwe and Orukiga Refugee Settlement in Mbarara in Western Uganda, women trained by th Solar Connect Association use solar cookers quite frequently in the dry season and even in the rainy season when the sun comes up. The total number of participating households in these four villages will reach over 2000 by the end of 2007.
[Information for the above section was taken originally from State of the Art of Solar Cooking by Dr. Barbara Knudson]
Archived articlesEdit
Climate, culture, and special considerationsEdit
Solar Cookers International has rated Uganda as the #8 country in the world in terms of solar cooking potential (See: The 25 countries with the most solar cooking potential). The estimated number of people in Uganda with fuel scarcity but ample sun in 2020 is 7,500,000.
In rural areas, access to energy services remains very poor as the appropriate mechanisms are still missing. Only 5% of the rural population is connected to an electricity supply and 93% still rely on biomass for cooking.[1]
ResourcesEdit
Possible funders for solar cooking projects in UgandaEdit
Articles in the mediaEdit
Audio and videoEdit
04:10

Solar Tyre Oven for under $5 - How to make a cheap solar cooker - Tire Oven
06:25

Sun Ovens
03:36

African Diaspora Brings Business Home
Uganda contactsEdit
Manufacturers and vendorsEdit
Government agenciesEdit
Educational institutionsEdit
IndividualsEdit
ReferencesEdit