USA news archive
Comments

0
1,781pages on
this wiki
Deutsch, Ελληνικά, Español, Français, Indonesian, Italiano, Kiswahili, Kreyòl ayisyen, Melayu, Português, Русский, Soomaaliga, Tagalog, Tiếng Việt, Türkçe, தமிழ், नेपाली, 中文, اردو, 한국어, 日本語, العربية, فارسی, עִברִית, हिन्दी, ไทย, বাংলা, తెలుగు, ગુજરાતી, ລາວ
November 2009: Over the past several years, research architect Joel Goodman has conceptualized a number of interesting ways to incorporate solar cookers into buildings, outdoor furniture, and other public and private spaces. His recent work has focused on reflector designs for use with Solar Household Energy's HotPot™ — a custom black metal pot suspended inside a transparent glass bowl that creates an insulating air space around the pot. Goodman's latest idea consists of a modular solar cooker that could be used independently or in conjunction with additional reflectors. The basic four-sided solar cooker uses principles of non-imaging CPC (compound parabolic concentrator) optics to control the distribution of light and maximize the amount of sunlight that hits the black surfaces under the HotPot. A cross section of the cooker's reflectors looks like a rounded "w" with the cooking vessel resting on the middle hump at a height somewhat lower than the end points. Goodman says the solar cooker could be built in two parts, so that a weighted middle section holds the HotPot while the surrounding reflectors could be removed and used at night to amplify indoor lighting. For user comfort, Goodman suggests that a raised cart could be built to house the basic reflector unit and support additional reflectors. Cooking power also could be boosted by utilizing Goodman's concept for 'one-sided' CPC reflectors that are part of exterior building walls or outdoor furniture. He envisions one or more solar cookers pushed up against one of these walls, which in turn direct additional sunlight onto the pot. Reported in the November 2009 Solar Cooker Review.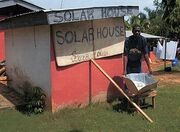 November 2009: It all started with a 20-minute cross-town taxi ride. Steven Watson, a resident of New York City, and Frank Otchere, a resident of New Jersey (USA) and Osiem, Ghana, met in early 2003 in Otchere's taxi. Watson, a cultural historian and psychologist, likes to learn from conversations with taxi drivers. He also, as it happens, has an interest in solar cooking. Otchere is the "Nkosuahene" of his village, the chief in charge of development. In just a few short years, Watson and Otchere have organized medicine contributions for Osiem, built the first public toilets, and established what Watson calls "the best library in the region." Now they are working to bring simple solar cooking technology and know-how to the community. After initial failed attempts at building a solar cooker, Otchere went to Washington D.C. to learn from Solar Household Energy. Louise Meyer and Darwin Curtis gave him some pointers, and Otchere was then able to successfully construct and use a solar CooKit in Ghana. He chose the CooKit because it could be made inexpensively from aluminum foil and recycled cardboard and required only a blackened cooking pot and a transparent plastic bag. Otchere repeatedly demonstrated the CooKit's performance by preparing and serving local foods — rice, plantains, yams, and palm nuts — to his neighbors each day for lunch. The two questions he received most were "Will I get sick if I eat this?" and "Is this magic?" Otchere responded "no" to the former, and told them that food cooks by the "magic of the sun." According to Watson, "the people in Osiem are convinced that solar cookers work; they have seen it and they have eaten the food from CooKit." Over 60 solar cookers have already been built by villagers, and are being sold for about $5 each. "Even though they understand that it will be economical and helpful over time," writes Watson, "it is still difficult for villagers to afford the CooKit." Otchere and Watson believe that solar cookers should not be given away free of charge. They are exploring solutions to this problem. One suggestion is to generate more local income by building CooKits in Osiem and offer them for sale, along with training, in larger towns and cities like Accra and Kofuridua. Another idea is to offer solar cookers in exchange for work done in the local community. Otchere has met with Dr. Mercy Bannerman, who has worked for several years to reduce guinea worm infections and other waterborne pathogens in Ghana through the use of solar water pasteurization (see the April 2005 Solar Cooker Review article "Solar cookers: a tool for guinea worm prevention"). Otchere and Bannerman agreed to cooperate in promotion of solar cooking in Ghana — Bannerman focused in the Upper East, Upper West and Northern regions; Otchere in the Eastern, Ashanti and Brong-Ahafo regions. Reported in the November 2009 Solar Cooker Review.
August 2009: This is the story of an inspired and entrepreneurial Junior High class from the B'nai Israel Congregation in Sacramento: Congregation B'nai Israel (CBI) decided to make solar cookers as their community improvement project last year, and Wendy Fischer's 7th grade class purchased solar cooker pots for use in constructing solar cooker kits to contribute to a Loaves & Fishes (L&F) homeless project. The program started in 2008 when Dave Brubaker had the notion to teach the kids about solar cooking as a way to save energy in Sacramento during good weather, lessen their carbon footprint, and start expanding the vision of ecologically friendly living in novel ways. At Dr. Rachel Weinreb's suggestion, Bob Metcalf instructed the class on water pasteurization procedures and the importance of safe water in developing countries, expanding the class' vision of how solar cookers could help refugees in Darfur--a special social outreach of Reform Judaism. The cooking packages made for Loaves and Fishes contained: 1 solar cooker, 2 clothes pins, 1 three lb. black cooking pot, 1 turkey size roasting bag, and instructions and recipes for using the cookers. During the initial solar cooker give-away at L&F, the 7th-graders used old bicycle boxes to build the solar cookers, which, while environmentally friendly, were not foldable, and therefore not as useful to the homeless as they would have liked. (It's hard to carry a fully open CooKit on a bicycle!) Next year, CBI will modify the plan so that the cookers are more foldable (like the commercially made CooKit) or made out of attachable pieces, perhaps using Velcro to hold parts together. The Congregation's 7th grade Sunday School class is it's oldest class before the students become either Bar or Bat Mitzvah and move into other activities oriented towards teenagers ~ the connection with Solar Cookers International (SCI) was a direct result of the class's desire to find a worthy, community-based project that would support an identified need in the Sacramento area.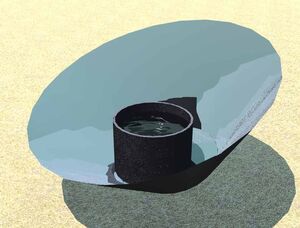 July 2009: John Tillman and Drew Durbin, both recent graduates of Brown University, learned about solar cookers while building and testing biogas stoves in Tanzania. They were inspired, and in 2008 formed SolarCycle, an organization that develops low-cost solar cookers and water pasteurizers that reduce environmental damage and health problems associated with cooking smoke and contaminated drinking water. According to SolarCycle, Tillman and Durbin designed a "revolutionary material" consisting of three layers: a substrate of fused recycled plastic grocery bags, a reflective layer of postindustrial metalized packaging film, and a transparent protective layer. The material can be used to build durable, inexpensive solar cookers and pasteurizers that "turn an urban trash problem into a potential solution for diarrheal illnesses and respiratory diseases." SolarCycle's cooker is stamped out of a sheet of SolarCycle reflective material and assembled into the shape of an inverted cone with a flat bottom. The cone is 3 feet in diameter at the top, 9 inches in diameter at the bottom, and stands two feet tall, while the sides are angled 30 degrees from vertical. The cooker is expected to cost about $5. The SolarCycle team has entered social entrepreneurship business plan competitions at numerous universities and has been extremely successful, winning first prize at Rice, Colorado State University, Georgetown, and the University of Wisconsin, as well as beating out over 1,000 entries for the Chartered Insurance Institute's "Big Idea" competition. SolarCycle's winnings — in excess of $70,000 — have enabled it to open an office and purchase industrial machinery. SolarCycle is currently field testing its solar cookers and methods in Pemba, Mozambique.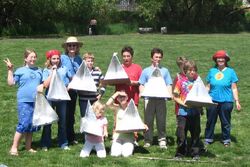 July 2009: Writer and avid solar cook Sharon Cousins helped kids make her "EZ-3" solar cookers as part of a Roots & Shoots club project at Lena Whitmore School in Moscow, Idaho. The students used the cookers to make individual pots of soup at their year-end school picnic. Cousins says the students are "all excited by this new potential for summer fun, as well as excited to learn about what a help solar cookers can be in many parts of the developing world, and how much they can help the environment." The EZ-3, shown with additional front reflector, is completely enclosed in a transparent, heat-resistant bag Cousins says the EZ-3 cooker, which is similar to the Pyramid cooker that ClearDome Solar Thermal used to produce, is an "ideal cooker for youth projects, as it is easy to make, is easy to aim using the shadow, and it works well."

It is made by cutting out the corner of a cardboard box diagonally, lining it with foil, and slipping the entire cooker and pot inside a large, transparent, heat-resistant bag, such as a Reynolds® 19 x 23.5-inch turkey size oven bag. The bag is then closed tightly along the back of the cooker with clips. With this size bag, the length of the cooker's bottom edges can be 12 to 13 inches, and the height can be 17 to 18 inches. (Box flaps can be taped upright if necessary to achieve proper height.) An additional reflector can be added to the bottom front of the cooker, and adjusted up or down to direct more sunlight onto the pot. "This is a surprisingly efficient little cooker for up to one quart of food," says Cousins. "[It] works very well with either small, dark pots or pint or quart cooking jars." Cousins also wrote to thank Solar Cookers International for its work and its Solar Cooking Archive (solarcooking.org), where she discovered solar cooking while researching one of her novels. "That was the birth of my advocacy and what has become my passion for cooking with sunshine."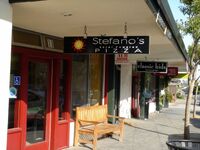 *July 2009: Solar cooking is usually done in relatively simple solar thermal devices that convert sunlight into heat energy. Stefano's Solar Powered Pizza in Mill Valley, California, however, "solar cooks" using photovoltaic panels that power electric ovens. In 2004, they installed a 26.5 kilowatt system that generates 100% of their electric needs. Though the system cost $111,000 (after rebates), their monthly electric bill dropped from nearly $1000 per month to less than $10. They expect the system to pay for itself in about nine years, long before the 40-year estimated lifespan is reached.
July 2009: California's Governor Arnold Schwarzenegger, Food Network celebrity chef Guy Fieri, and state lawmakers were among the hundreds of people to sample solar-baked sweet potato fries at the California Agriculture Day celebration in March 2008. The event was held on the lawn of the state capitol in Sacramento, just a few blocks from the headquarters of Solar Cookers International. The fries were prepared by students from Evergreen Sixth Grade Academy in Paradise, California, and students from Plainfield Elementary School in Woodland, California, using 16 Global Sun Ovens® purchased through a PG&E "Bright Ideas" grant.

This program funds environmental projects in schools, and helps students get hands-on experience with renewable energy. As part of the project, Evergreen students sell solar-baked goods to raise funds for solar cooker distribution in Africa. Amy Behlke, a teacher at Evergreen, summarized the day as follows: "Our students were thrilled to serve Governor Schwarzenegger some of our solar-baked fries and tell him about our solar oven project. The students working at the serving table, Jennifer and Serenity, were very professional and did an awesome job talking to the governor, as well as all of the other visitors to our booth. Other students kept an eye on the food as it cooked in the sun and talked to passers-by about how the solar ovens cook food using only energy from the sun. Watching our students educate others about the importance of conservation and renewable energy was a powerful experience!"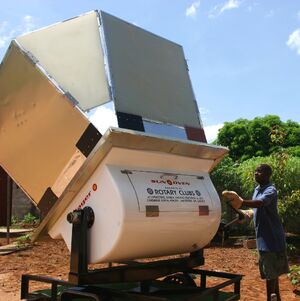 July 2009: While studying lemurs in Madagascar, veterinary scientist Rita Riewerts began to develop a passion for humanitarian work. She saw that health care was not readily available and that poverty was rampant. Riewerts later organized a group of medical students to bring medical supplies to remote villagers in Africa. Riewerts and the students were "blown away" by the malnutrition they witnessed, the lack of clean drinking water, and the hours or even days women spent searching for firewood to cook over. Riewerts vowed to help these villagers find solar solutions to these problems. Riewerts returned to Africa again, this time brining along a solar cooker. She traveled through several countries, teaching about solar cooking and demonstrating solar cookers at orphanages and schools. While at an orphanage in Zambia, Riewerts saw a large Villager Sun Oven®. She was "overwhelmed with the excitement of the children who proclaimed they used their oven every day." Riewerts returned to the United States and formed a nonprofit organization called the Sun Catchers Project (SCP). SCP will work to supply village-size solar ovens to orphanages, schools and hospitals in developing countries; to practice and promote the responsible use of solar energy through integrated cooking; and to improve the health of children and future generations by creating efficient, sustainable cooking methods. SCP will initially work with three African organizations: Usa River Children's Centre in Usa River, Tanzania; Friends of Mulanje Orphans in Mulanje, Malawi; and Kikunduku Schools Project in Kikunduku, Kenya.
March 2009: Indiana native Dusty Breeding first visited Africa in 2006, working with orphans and other malnourished children. He was so moved by the heartbreaking conditions he experienced that he decided to put his culinary arts background to use to help the children learn to bake bread for their own nourishment and to help lift themselves out of poverty. The nonprofit organization Breeding founded, LifeBread, Inc., is dedicated to empowering the people of impoverished nations through nutritional education and food preparation training as a means to curb the severity of world hunger. Breeding is enthusiastic about the use of solar ovens in his programs, and hopes to eventually equip an orphanage with a large commercial model capable of baking 400 loaves of bread daily. During one trip to Uganda, Breeding planned to use a solar oven made out of a 50-gallon drum to help students bake rolls for 200 campers.
March 2009: In the summer of 2007, Luke Hill – then age 13 – earned first place in the North Carolina state 4-H competition for his presentation about solar cookers. He discussed why solar cookers are important, how to build them and how to use them, and displayed three different models of solar cookers. After this success, Hill approached his county 4-H office with a community service project proposal to build solar cookers for the developing world. Over 20 youth collaborated on this project, building a total of 11 solar cookers that would later be sent to South Africa by a local Baptist men's association. Special guest speakers from South Africa told the youth about life in South Africa, and the daily struggle that many families go through just to cook their food or get health care services.
August 2008: Solar Cookers International is seeking experienced solar cooks to conduct solar cooking demonstrations in communities across the U.S. as part of the ASES National Solar Tour the largest solar energy event in the world. Saturday, October 4, 2008. More information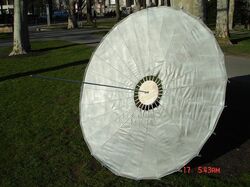 July 2008: In an project designed to help villages in the Himalayan mountains, MIT students, with help from students at Qinghai Normal University in Tibet, created a new type of solar cooker. The prototype was constructed from yak-wool canvas panels stretched over bamboo ribs and faced with reflective Mylar. The MIT students report that the cooker may cost as little as $17 with an additional $9 for a coil to allow the unit toheat a home. The project is part of a collaboration, called One Earth Designs, between MIT student Scot Frank and Wellesley student Caitlin Powers to develop technology for use in rural communities which reside in high altitude zones. For more information, see MIT Students Create $17 Solar Cooker.
June 2008: Solar Cookers International was recently honored by the Center for African Peace and Conflict Resolution (CAPCR) at California State University Sacramento (CSUS) for bringing the benefits of solar cooking and water pasteurization to over 30,000 African families. Bob Metcalf, president of the SCI Board of Directors and professor of microbiology at CSUS accepted the award at the center's 17th annual Africa Peace Awards dinner. Other honorees included Jeanette Ndhlovu, consul-general of South Africa; Pastor Daniel Gebreselassie, a prison reform advocate from Addis Abba, Ethiopia; and Faye Kennedy of the Sacramento-area Black Caucus/Center for Collaborative Planning. CACPR was established to provide conflict resolution and reconciliation services for agencies, governments, organizations, businesses communities and groups through training, education, research and intervention.
March 2008: As Rotary volunteers, Wilfred and Marie Pimentel travel the world organizing projects and promoting what they call "integrated solar cooking." In this system, a solar cooker is used whenever possible, and a fuel-efficient stove is used the rest of the time. In either case, insulated heat-retention devices ("hay boxes") maintain cooking temperatures after the pot is removed from the heat source. Water pasteurization is also encouraged, using a Water Pasteurization Indicator (WAPI) to determine when the appropriate temperature has been reached. Since learning about solar cooking in 1988 from Solar Cookers International, the Pimentels and the Rotary Club of Fresno, California, have worked with local Rotary clubs to spread these skills in nearly a dozen countries, including Armenia, Bolivia, Ghana, Kenya, Malawi, Zambia, and Zimbabwe. They are currently working on projects in Turkey, Uganda, Rwanda, and Mexico. In 2006 they trained 17 Peace Corps volunteers who are promoting integrated solar cooking in Armenia. Last year, the Fresno club joined with Solar Household Energy (SHE) to conduct workshops in Mexico. Recently, 50 sewing machines were purchased for solar cooking associations in Rwanda to speed the process of making insulation for hay boxes, which are then sold for a profit. Even youth are getting involved; over 100,000 WAPIs destined for overseas projects have been built by high school students in Rotary Interact clubs. In a recent on-line Rotary article, Wilfred Pimentel described the process of working with local Rotary clubs. "We go to a country at the invitation of a Rotary club president and ask him or her about Rotary club support, possible help from nongovernmental organizations, and the availability of foil and cardboard needed to make a simple cooker." The Pimentels have been solar cooking promoters for a long time, and show no signs of slowing down. Maybe it's because they know how important their message is to so many people around the world. "I've seen women take pots out of the cooker, and the steam hits them in the face, and they can't believe that the food is cooked," said Marie Pimentel. "Many of the women don't know what Rotary is, but they take your hand in both of theirs and look at you, and they say, 'Thank you for coming.'"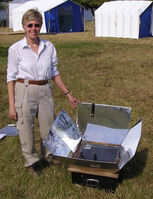 March 2008: Last October, Pat McArdle hosted a two-week working demonstration that featured a variety of solar cookers, fuel-efficient stoves and heat-retention devices during the Transportable Infrastructures for Development and Emergency Support (TIDES) exhibit at the National Defense University (NDU) in Washington, DC. Several hundred military and civilian officials from area agencies visited the exhibit, which was held at Fort McNair. McArdle, a board member of Solar Cookers International (SCI), demonstrated the three common types of solar cookers: panel, box, and concentrator. The exhibit included posters on solar cooker technology and displays of Dr. Bob Metcalf's Portable Microbiology Laboratory and SCI's Water Pasteurization Indicator (WAPI). McArdle tested Anacostia River water and used an AquaPak™ to solar pasteurize the contaminated water. As often occurs at solar cooker exhibits, visitors had to burn their fingers on the steaming pots before they could believe what they were seeing! The weather was excellent, and food was solar cooked and served to visitors every day. On two partly cloudy days, fuel-efficient wood stoves and retained-heat devices were used to finish the cooking of chicken stew, rice, and beans begun in the solar cookers. The TIDES exhibit was repeated for two days in early November at the Pentagon. Cloudy weather unfortunately made it impossible to solar cook. At both exhibits, McArdle explained to visitors the principles of integrated solar cooking: use solar cookers whenever the sun is out, save precious fuel for nights and cloudy days when fuel-efficient stoves are the appropriate technology, and in either case use heat-retention devices to maintain cooking temperatures in pots that have been removed from their heat source. Under the overcast skies at the Pentagon, McArdle was able to cook chicken tajine, lentil stew, and couscous with a fuel-efficient stove, a heat-retention device, and a few small twigs gathered on site. The TIDES exhibit is an effort by Dr. Lin Wells of the NDU to bring together a volunteer cadre of "experts" that can pool their knowledge of easily deployable energy efficient technologies that could be used in disaster and humanitarian situations. The team will be repeating their displays at future events around the country.
November 2007: Rowena Gerber, director of the Abess Center for Environmental Studies at Miami Country Day School, reports that her students' solar cooking activities during Earth Day in New York's Central Park were quite successful. At 6:00 a.m., Paul Munsen, president of Sun Ovens International, set up one of his company's giant Villager Sun Ovens® as a teaser to draw a crowd. ABC television broadcast solar cooking updates throughout the day, at various stages of the process. During one segment, the anchor man was served a solar-cooked breakfast of sausage, eggs and cinnamon rolls! As the day progressed, thousands of people filed by to taste the food and learn about solar cooking. Gerber's students brought some of the solar cookers they had made from recycled materials, and cooked chicken, sausage, hotdogs, corn-on-the-cob, fondue, cookies, bread, and lots of other goodies. Gerber's students collected donations throughout the day as part of an ongoing effort to raise funds to send a Villager Sun Oven® to Mekhe, Senegal, for a program run by Abdoulaye Toure.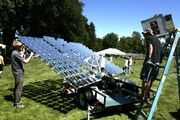 July 2007: Michael and David Hartkop have been selling organic, fair trade, solar-roasted coffee since 2004. Their company — Solar Roast Coffee — recently opened its first cafe, located in Pueblo, Colorado. Using a 7 sq. meter solar concentrator called Helios 3, they can roast 2.5 kilograms of coffee grains in 22 minutes. According to Solar Roast Coffee, their solar roasting prevents about 2 tons of carbon dioxide each year.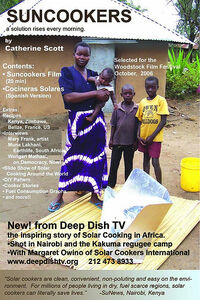 July 2007: The film "Suncookers," by filmmaker Catherine Scott, was selected for exhibition at Ithaca College's 2007 Finger Lakes Environmental Film Festival (FLEFF) in Ithaca, New York. According to its mission statement, FLEFF "embraces and interrogates sustainability across all of its forms: economic, social, ecological, political, cultural, technological, and aesthetic. The festival is in the spirit of UNESCO's initiative on sustainable development." "Suncookers" documents the efforts of Solar Cookers International (SCI) to spread solar cooking and water pasteurization skills in Kenya. The festival describes the film as follows: "'Suncookers' follows SCI's Margaret Owino as she trains people to use solar cookers in Nyakach, Kenya, and at the Kakuma refugee camp in northern Kenya. Small cardboard solar cookers are clean, smoke-free, and better for the environment. Deforestation for cooking has contributed to soil loss through erosion." The film received rave reviews from FLEFF co-directors Patricia Zimmermann and Tom Shevory. Says Zimmermann, "I simply loved 'Suncookers.' It's amazingly engaging, and we found that our faculty in the health school were delighted to find a piece on this topic with such moxie and guts. Everyone wants a sun cooker. … The work has edge and discipline — plus, unlike so many films out there today, we learned so much from it." The film was also selected for inclusion in the 2nd International Film Festival on Water, in Bangalore, India. "Suncookers" is scheduled for DVD release later this summer. Visit FLEFF on the Web at http://www.ithaca.edu/fleff.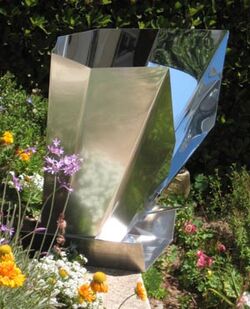 April 2007: ClearDome Solar Thermal in San Diego has added a new product, the SolaReflex Octagon Parabolic Cooker, to its line of top quality solar cookers that will replace it's other solar cookers because it incorporates many of the past cooker's best attributes. As its name implies, the cooker has a single piece, formed eight section flat mirror surface solar reflector that concentrates incoming sunlight from the top and sends it directly down to the cooking pot with a clear glass lid. It replaces their previous Pyramid solar cooker and will soon be replacing their SolaReflex 900 dish parabolic cooker. The top-rated fully weatherproof and wind resistant 95.5% highly polished anodized aluminum solar reflector is connected by removable thumb screws to the formed anozided alumminum support base, and is fully adjustable to all sun angles for very consistant all-day solar cooking with peak dry heat temperatures exceeding 350 degrees F inside the pot--even with no outside clear enclosure surrounding the pot. A number of unique solar cooking options include the unbreakable clear dome pot cover that traps the heat for higher cooking temps and for windy and cold days, a Fresnel Lens solar smoker that smokes wood chips inside the cooking pot, and a hybrid solar cooker container for plug-in Crock Pot cooking after the sun goes down and on cloudy days. More details are shown below. Total weight of the cooker is only 6 pounds, and it can be disassembled for shipping with up to 6 cookers packed in one box. The flat, bendable 2x4' SolaReflex AA reflector panel used in this cooker is also available for solar daylighting and parabolic trough construction.
April 2007: Former Solar Cookers International Executive Director Bev Blum demonstrated solar cookers and built solar CooKits at a conference titled "Killer in the Kitchen: Household air pollution and Appropriate Technology Solutions" held last November in Alabama. The purpose of the conference was two-fold: to spotlight the global problem of indoor air pollution related to smoky cooking fires, and to explore proven appropriate technology solutions. Several technologies were presented, including fuel-efficient Rocket stoves, heat-retention cookers, and solar cookers. Solar Oven Society's Martha Port provided additional information on solar cooking and solar water pasteurization. "There was a strong consensus that the ideal way to address smoke hazards is integrated introduction of fuel-efficient stoves, solar cookers and heat-retention cookers," Blum writes. "It was a great experience." The conference was sponsored by Servants in Faith and Technology (SIFAT), the Sparkman Center for Global Health, and the University of Alabama at Birmingham Framework Program. SIFAT offers courses on a range of topics -- including appropriate technology, international health, and microenterprise development -- from a Christian perspective.
April 2007: ClearDome Solar Thermal is adding a new product to its line of solar cookers: the SolaReflex Pyramid. As its name implies, the cooker is shaped like a pyramid. It consists of a base, three sides, and an adjustable front reflector. The removable, washable base is made of a non-toxic, heat-absorbing black plastic. Two of the three polycarbonate sides are lined with ClearDome's highly-reflective SolaReflex foil, while the third side remains transparent. The cooker's designer, Deris Jeannette, calls the cooker "an enclosed panel-type solar cooker." Like most panel-type cookers, the SolaReflex Pyramid does not have to be rotated frequently since it accepts sunlight from a wide range of angles. Unlike most panel-type cookers, however, it is fully enclosed and therefore does not require the use of a transparent cooking bag. The SolaReflex Pyramid comes in two sizes: a one-liter model that stands 30 centimeters tall, and a four-liter model that stands 45 centimeters tall. Both are available in collapsible and non-collapsible forms. Larger models may be available in the future. Contact: ClearDome Solar Thermal
January 2007: CNN Money features Sun Ovens, January 26, 2007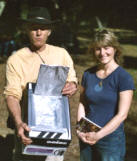 November 2006: Veteran solar inventor Carroll Hampleman recommends aluminized polyester film (Mylar®) blankets as material for solar reflector applications. He tested the 52-inch x 82-inch blanket available for $2.50 from American Science and Surplus and found that, "The material is paper thin, can be cut with household scissors, yet cannot be torn by hand." He measured the material's reflectivity and says, "It is as good as a clean mirror, approximately 86% or higher." Some aluminized polyester films do not retain their reflectivity very well, some melt when used as reflective surfaces inside solar box cookers, and some are difficult to glue to other materials. Solar Cookers International recommends testing samples of these products before committing to production using them. Contact: Carroll Hampelman. E-mail: trackthesun@yahoo.com
March 2006: Christopher Nyerges reports that solar cooker classes are offered at the School of Self-Reliance, an institute that has taught various aspects of solar use for over 30 years. The school offers classes and educational materials on a number of other self-reliance topics, including wild food foraging, primitive tools, orienteering, gardening, and conservation.