Last edited:
23 September 2016
Officially the Tunisian Republic, Tunisia is the northernmost country in Africa and is situated on the Mediterranean coast, midway between the Atlantic Ocean and the Nile Delta.
Events
International conferences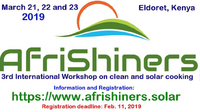 NEW: 

21-23 March 2019: AfriShiners - The AfriShiners 3rd International Workshop is taking place in Eldoret, Kenya. (Unfortunately, registration is full for this event). More information...
See also: Global Calendar of Events and past events in Tunisia
News
February 2013: Engineers Without Borders - Sweden did an evaluation of a solar cooking project that the group had implemented in a refugee camp in Tunisia in 2011. They found that there had been no significant uptake of the technology and that the refugees mostly cooked with LPG. More information... - (English version)
History
Archived articles
Climate and culture
Resources
Possible funders
Construction plans in Arabic
Possible funders
Contacts
SCI Associates
NGOs
Government agencies
Manufacturers and vendors
Individuals
Government agencies
Educational institutions
See also
References