Deutsch, Español, Français, Hausa, Igbo, Indonesian, Italiano, Kiswahili, Kreyòl, Malagasy, Melayu, Português, Русский, Soomaaliga, Tagalog, Việt, Türkçe, Yorùbá, Ελληνικά, தமிழ், नेपाली, 中文, اردو, 한국어, 日本語, العربية, فارسی, עִברִית, हिन्दी, ไทย, বাংলা, తెలుగు, ગુજરાતી, ລາວ, ਪੰਜਾਬੀ, සිංහල, پښتو

Trust in Education is a nonprofit organization operated by Budd Mackenzie, that promotes village-to-village programs and builds schools in Afghanistan. In 2010 they also began to ship a few solar oven kits to the area. The kits were prefabricated by Jack Howell. Howell built five solar oven kits in his garage, and Mackenzie will supervise the set-up of the cookers and provide some training.
Ninety percent of the cooking in Afghanistan is done using fires that burn trees, whose wood is usually collected by women and children. The children can't attend school and the women are being exposed to smoky cooking fires, causing sever respiratory problems. If these cookers are successful, the plan is to build 120 cookers more of these cookers, sponsored by various organizations including the Boy Scouts and local high schools. The solar cookers are a good fit by providing more time for education for the children. Those wishing to help in their efforts should contact Mackenzie.
News and recent developments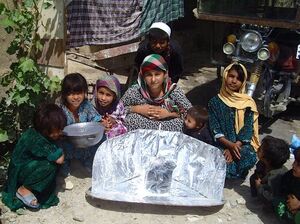 April 2013: Jack Howell reports that once the 100 volunteer-built solar ovens were delivered, a solar box cooker variation with a wooden base and 1" of rigid insulation, refugee families were bused to the Trust in Education office in Kabul, Afghanistan. They were given a four-hour lesson on how to use the solar ovens, and each family was given an oven to take back to their camp. Since this initial project, the new cookers are a CooKit variation, being produced at a local box manufacturing company in San Leandro, California. The reflective material used for the solar panel cookers is recycled Mylar coffee bean bags from Peet's coffee headquartered in Berkeley, California. They are cut open and cleaned by adults with developmental disabilities by the people from Futures Explored in Lafayette, CA. With the reflective interior surface facing out, they are then stapled to the cooker panels by the Afghans. We have delivered 2,000 cookers to Afghanistan and collected over 20,000 bags from Peet's (keeping many Mylar bags from the landfill.) The new cookers are working very well and Afghans love them.
July 2011: Solar Cooking Expo at Northern Virginia Mosque Solar cooking in Islamic countries is on the rise, but its wide-spread acceptance as a significant way to reduce the damage caused by smoky cooking fires will need greater support from the international development community. Solar Cookers International (SCI) board member Patricia McArdle and Afzal Syed of the Dar al Noor Mosque congregation contributed to this goal by hosting a well-attended solar cooking demonstration at Syed's mosque in Manassas, Virginia on Saturday July 9. Solar Household Energy co-founder Louise Meyer and two SHE volunteers from Washington DC also participated in this event. A popular DC radio show interview with McArdle about her novel Farishta two days before the event, drew large crowds from around the northern Virginia/DC metro region. Visitors sampled a variety of traditional and modern foods (lentils, rice, eggs, spiced potatoes, mixed vegetables, dahl, popcorn, chai tea--and for dessert, chocolate, yellow, lemon and spice cakes) all of which were baked, boiled, fried and roasted in the many solar cooker models on display. McArdle also demonstrated a StoveTec rocket stove and a retained-heat cooking basket in her integrated cooking method display. Members of the Dar al Noor Mosque community and other Muslim visitors told McArdle that solar cooking technology would be an extremely useful addition to the cooking devices currently used by people in their sun-drenched, fuel-starved home countries, including Pakistan, Morocco, Afghanistan, Nigeria, Egypt, Yemen, Somalia, Sudan and by Darfur refugees in Chad. The event was initially proposed by Mr. Syed, a member of the Dar al Noor community, who attended a January 2011 solar cooking demonstration at the UN in New York, organized by SCI board member AJ Lederman and hosted by SCI Executive Director AmyJo Mattheis. Soon after seeing that exhibit, Mr. Syed traveled to his home country with several Cookits, which he demonstrated to amazed friends and neighbors in Pakistan. Mr. Syed and his family are convinced that the widespread introduction of solar cooking technology in Pakistan could dramatically reduce the quantities of firewood, charcoal and LPG that are currently consumed at great expense and with serious environmental costs. The many visitors attending the Dar al Noor Mosque solar cooker exhibit agreed, as does McArdle, who has served for the past six months as a solar cooking expert on the Global Alliance for Clean Cookstoves Fuel and Technology working group. McArdle is continuing with her efforts to convince the GACC and the U.S. Department of Energy to give as much support to R&D for solar thermal cooking technology as they are currently devoting to the improvement of wood burning fuel efficient stoves ($12.5 million). Dar al Noor mosque leaders said they would like to host another solar cooking demonstration next year. Under clear blue skies and with large enthusiastic crowds attending the event, Mr. Syed and the solar cooking team were convinced that they had accomplished their goal of spreading the word about solar cooking to a whole new audience.
January 2011: Ninety-five solar box ovens have been assembled and painted. The short term goal is to deliver them to refugee camps in Afghanistan and convince as many Afghan families as possible to use them whenever possible. In the long term, we hope to find a way for Afghans to build and sell solar ovens themselves. More information...
January 2011: A gift from America
September 2010: An initial shipment of five solar cookers have been sent to Afghanistan.
September 2010: Sun Devotee Brings Solar Back
Audio and video
thumb|400px|left|Afgan refugees get lessons in solar cooking, and new cookers to bring to their camps. Nov. 2, 2011

Articles in the media
See also
External links
Contact
Email: trustineducation@gmail.com
Web: http://www.trustineducation.org