Deutsch, Español, Ελληνικά, Français, Hausa, Igbo, Indonesian, Italiano, Kiswahili, Kreyòl, Malagasy, Melayu, Português, Русский, Soomaaliga, Tagalog, Việt, Türkçe, Yorùbá, தமிழ், नेपाली, 中文, اردو, 한국어, 日本語, العربية, فارسی, עִברִית, हिन्दी, ไทย, বাংলা, తెలుగు, ગુજરાતી, ລາວ, ਪੰਜਾਬੀ, සිංහල, پښتو
Last updated:
30 June 2017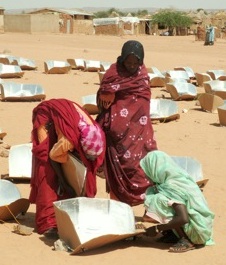 The Touloum Refugee Camp, located in Chad on the Sudanese border, houses more than 23,441 Darfur refugees, mainly women and children. After setting up a large solar cooking project in the Iridimi Refugee Camp in Chad for Darfur refugees, the KoZon Foundation, Tchad Solaire, Jewish World Watch, and Solar Cookers International constructed a manufacturing plant and store room in the Touloum Refugee Camp in March of 2007. Currently, about 5,000 women have been trained to use the solar cookers, and 16,000 cookers have been distributed. (See also November 2009 report from onsite visit to the Touloum Refugee Camp.)
In early 2005, solar cooking was introduced to Darfur refugees living in the Iridimi Refugee Camp in Chad by Dr. Derk Rijks of the KoZon Foundation. Jewish World Watch's Solar Cooker Project (SCP) adopted this endeavor in 2006 and has expanded it to provide solar cookers and training to three refugee camps so far.
Replacement cookers are provided for the families, which are made up of 5-7 people per tent, often one woman as the head of household, with up to three of her own children and three orphans.
The area is devoid of vegetation; there is abundant sun and very little rainfall—between 3" and 5" (7.5 - 12.5 cm) yearly. The main food currently distributed is maize meal, a food the refugees commonly eat. It is sometimes accompanied by a maize-soya-meal mixture, if available. The pulse plants most frequently distributed are yellow and red lentils, white and red beans, and sometimes pigeon peas.
It requires cooking for about three hours, depending on the clarity of the sky. The heat from solar cookers is slow and gentle, so while the food stays longer in the pot, it doesn't stick to the walls or need to be regularly stirred, which is an advantage over the potential to burn food with fire. Women can do other things while the food is cooking, without worrying about stirring. Additionally, there isn't the lingering smell of smoke as there is with a fire--therefore, there is less incidence of respiritory illness and eye infections. Solar cookers are also able to be used to pasteurize drinking water, reducing incidence of water-borne diseases especially in children.
The SCP's partners include Solar Cookers International, which provides technical assistance, the United Nations High Commissioner for Refugees (UNHCR) which manages the camps and coordinates NGO activities, and Tchad Solaire ("Solar Chad"), the NGO that runs the SCP on the ground in Chad.
Organizations providing financial support for this project have included: Netherlands Refugee Foundation, Jewish World Watch, as the North American Coordinator of the Project, the Darfur Assistance Project, the Dora Levit Family Fund, and the Hesed Fund. Logistical and communications support from the UNHCR and CARE is invaluable in continuing project operations.
News
June 2017: Derk Rijks, a longtime participant in solar cooking projects in refugee camps, reports that there is an ongoing solar cooking project in this camp.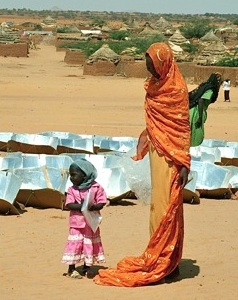 May 2013: Solar cookers preparing food for 130,000 people daily at the refugee camps in Chad - Derk Rijks, a volunteer with the KoZon Foundation, recently responded to Jewish World Watch with this note of appreciation. "Last week I was at the Touloum Refugee Camp. The chief of the workshop, Fatimé, told me there were new arrivals. We walked over to the last of the dunes and there was one woman who had just walked in with four kids, sitting in the sand. Her village was bombed one week ago, and she had fled to escape the Janjaweed, walking for seven nights. Fatimé looked at me, I nodded, 'yes', and in the next few hours she had her cooker and started her solar cooker training, even before she had a shelter. No words needed, no paper needed. That is the way your contribution works." He also explains that in the six camps where they work in Chad, and in the villages of the population around the camps about 29,000 families now do solar cooking, and about 130,000 people are eating solar cooked meals. In this part of the world solar cooking works about 300 days a year. From the empty bags of the food shipped in by the World Food Programme, and the snippets of aluminum foil and cardboard left over from the manufacture of the cookers, the refugees make "thermos baskets" to keep the food, cooked between 1 p.m. and 4 p.m., warm until the evening meal at 5 p.m. or 8 p.m. They do not have to search for wood so much any more and there are far fewer conflicts for that reason. As one of the elected representatives of the women refugees said: "Solar cooking brings us justice and peace".
July 2011: A Goedhart Film production, TAHA CHAMCHIHA Solar Cooking in the Sahel, documents daily life for the Sudanese refugees living in camps in bordering Chad. Tchad Solaire has trained over 12,000 women in the use of simple solar panel cookers. These CooKits have provided the women additional free time normally spent searching for scarce firewood. Within each camp there is a workshop center where cookers are made for distribution to the other residents. Though the cookers are somewhat fragile, the women have appreciated being involved with the process of making the simple CooKits. The film also shows how the companion Guffah heat-retention cooker baskets are being assembled to use with the panel cookers to keep the food piping hot for dinner served in the early evening.
June 2009: Wietske Jongbloed reports that all refugee families in the Touloum Refugee Camp now have solar cookers.
May 2008: In Touloum Refugee Camp, 5,000 women have been trained in solar cooking, and several thousand await training; 500 women continue to be trained to solar cook each month. Forty refugee women work part-time as auxiliary trainers alongside the Tchad Solaire team. Currently 24 women have been trained as solar cooker assemblers, thus providing the women with a new skill and an opportunity to generate income for their families.
The Benefits of Solar Cooking
Solar cooking helps reduce the need for frequent firewood collection outside the relative safety of the camp, reducing the risk of violence towards women and girls.
Two solar cookers can save one ton of wood each year.
There is no need to tend a fire so women are free to do other tasks while food is cooking.
The production of the solar cookers provides income-generating opportunities for female refugees.
Solar cooking, as part of an integrated cooking method, reduces the amount of wood necessary for cooking, helping to alleviate tensions between the refugees and locals, whose already slim wood supply was suddenly impacted by thousands of refugees.
Resources
Articles in the Media
Audio and video
09:59

Solar Cooking in Africa - A Remarkable Technology Transfer
00:37

Les femmes réfugiées du Darfour cuisinent solaire
See also
External links
Contact
See TchadSolaire.
Ad blocker interference detected!
Wikia is a free-to-use site that makes money from advertising. We have a modified experience for viewers using ad blockers

Wikia is not accessible if you've made further modifications. Remove the custom ad blocker rule(s) and the page will load as expected.