| | |
| --- | --- |
| | Last updated: November 7, 2015       |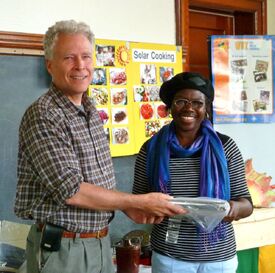 Tom Sponheim, who lives in Seattle, Washington, is the founder and an Administrator of this Wiki. Tom has been involved with solar cooking since 1988. He was the editor of Solar Box Journal until it merged with Solar Cookers International's newsletter Solar Cooker Review.
Tom is the co-inventor of the Collapsible Solar Box Cooker and Easy Lid Cooker.

Articles in the media
Edit
Audio and video
Edit
10:58

Sponheim, Hedrick SCInet Wiki-0
03:13

Tom Sponheim at Sustainable NE Seattle's Solar Cookout
Email: webmaster@solarcooking.org
Twitter: @SolarCookersInt
Facebook: http://facebook.com/tom.sponheim
See this article in our foreign language wikis
Edit