Ad blocker interference detected!
Wikia is a free-to-use site that makes money from advertising. We have a modified experience for viewers using ad blockers

Wikia is not accessible if you've made further modifications. Remove the custom ad blocker rule(s) and the page will load as expected.
Deutsch, Español, Ελληνικά, Français, Hausa, Igbo, Indonesian, Italiano, Kiswahili, Kreyòl, Malagasy, Melayu, Português, Русский, Soomaaliga, Tagalog, Việt, Türkçe, Yorùbá, தமிழ், नेपाली, 中文, اردو, 한국어, 日本語, العربية, فارسی, עִברִית, हिन्दी, ไทย, বাংলা, తెలుగు, ગુજરાતી, ລາວ, ਪੰਜਾਬੀ, සිංහල, پښتو
Last updated:

25 October 2016

      
TinyTech Plants is a manufacturer of a wide range of renewable energy devices including domestic and community solar cookers.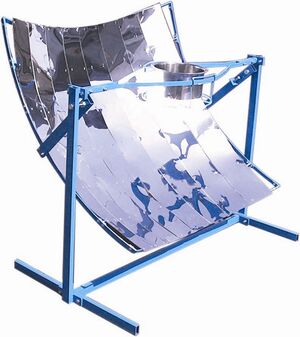 TinyTech Founder and Director, Veljibhai Desai, writes:
I have developed unique small community parabolic solar cooker, which is suitable for refugee camps, mid-day meals, schools, hostels, hotels, restaurants, hospitals, offices, small factories, clubs, associations, communities, small home scale cooking related business etc. Its unique features are:
This is the cheapest and the first folding community solar cooker in the world. So
It can be packed in to cartoon box of size 40" x 12" x 6" (1/150 of assembled volume). 
20 cookers fit in 1 cubic meter. A 20 ft container can hold 400 community cookers.
10 kg of rice cook in 50 minutes, so from 9 am to 5 pm, you can cook about 80 kg of rice.
One cooker is suitable for 30 to 40 persons.
Net weight is 57 kg. With cartoon box, it is 60 kg.
Assemble the entire cooker in 30 minutes. Tying reflector strips takes further 60 to 80 minutes.
The reflector is 2 meters x 1.5 meter = 3 sq meters. Concentration is equivalent to 50 suns.
The entire cooker is powder coated in attractive colours.

COST US$ 240/-.
Cooking Experiments
Date: 10-5-2009. 6.2 kg of rice was cooked in 29 minutes
Weight of empty vessel 550 grams
Weight of dry rice 2000 grams
Weight of rice+water+vessel=7000 grams
Cooking started at 12:02 noon and finished at 12:31 p.m. – total cooking time 29 minutes
Weight of cooked rice+vessel=6750 grams.
Weight of cooked rice 6200 grams.
Temperature recorded 225 degree C.
Date: 11-5-2009.  10.3 kg of rice was cooked in 50 minutes
Weight of empty vessel 1850 gramsWeight of dry rice 3050 grams
Weight of rice+water+vessel= 12,350 grams
Cooking started at 12 noon and finished at 12:50 p.m. – total cooking time 50 minutes
Weight of cooked rice+vessel=12150 grams.
Weight of cooked rice 12150 - 1850 = 10300 grams.
   Our other activities: manufacturing and exporting tiny oil mills, tiny jaggery plants, tiny sugarcane crushers, tiny maize mills, tiny potato wafer plants, solar cookers, steam engines, tiny steam power plants, domestic biogas plants, small wind turbines, human power generator etc. All these items can play very vital role to uplift our common masses. Our domestic parabolic solar cooker is becoming popular and we got overwhelming response. Recently we exported 400 solar cookers to Israel.
News
January 2015: Tinytech Plants is developing large solar baskets - Up to 12 meters in diameter, they are designed to cook for 1500-2000 people in one hour according to TinyTech Plants CEO Veljibhai Desai. At this time, it is one of the largest parabolic solar concentrators being developed in India. Presently, the concentrator has been erected on its foundation. The company is also developing a line of lower cost family-size parabolic solar cookers.
Large Parabolic Solar Baskets
Solar baskets are a type of parabolic solar concentrator with a short focal length, which can be produced inexpensively by village technicians from wood, bamboo and other local materials. The focal point of the largest basket is fixed on the ground and it has no connection with the revolving paraboloid on horizontal axis as well as on vertical axis. It means that for any position of paraboloid, reflection is always on the fixed focal point on the ground and does not require seasonal adjustments. This design is suitable for steam generation, air heating or thermic oil heating for industrial heat as well as power generation. As the focal point is inside the basket, It has a benefit that heat receiver is protected from the wind and convection losses are minimum.
The company makes a variety of solar basket sizes. The smallest version is the 10 sq. mt. basket. It does not require a foundation, and can be erected in a few hours. According to the manufacturer it is capable of reaching a temperature of 490°C(914°F). The basket folds completely for easy transport. The entire paraboloid, revolving stand, foundation stand, vessel stand etc will go into one box of 60" x 30" x 18" which becomes less than 1 cu. mt.
Larger basket sizes sizes are available from the company, including 30 sq.mt. 60 sq.mt., and 120 sq. mt. options. The largest option requires a fixed location with a foundation. As of 2015, TinyTech has produced one 113 sq. mt. basket. Potentially 1000 to 1,200 people could be fed with this reflector.
The main feature of TinyTech solar baskets is simplicity and cheapness. They claim Western world solar concentrators are costing $300USD per sq. mt. of reflective surface, and their solar baskets will cost $100USD or less per sq. mt. of reflector area.
Butterfly reflectors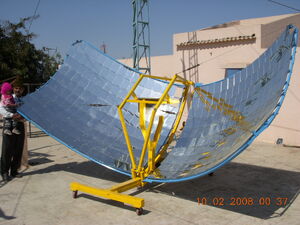 Butterfly style cookers from TinyTech Plants have parabolic reflectors shaped into curved wings

Audio and video
03:34

Solar Basket 10 sq mt Part 1
02:11

Solar Basket 10 sq mt- Part 2
See also
External links
Contact
TinyTech Plants
Tagore Road
Rajkot - 360002
Gujarat
India
Mobile: +91 92 27 60 65 70
Tel: +91 281 243 1086
Fax: +91 281 246 7552
Email: energy@tinytechindia.com
Web: http://www.tinytechindia.com