Last updated: January 1, 2000      
Tianjin Lituo Imp & Emp Co.Ltd is a large company in China that manufactures building materials and systems for alternative energy generation. This includes the production of wind turbines of various sizes, and an array of photovoltaic products. They also produce solar cookers.
Products
We hope to be able to update this page with more information, but included here is a photo of their "butterfly"style cooker design.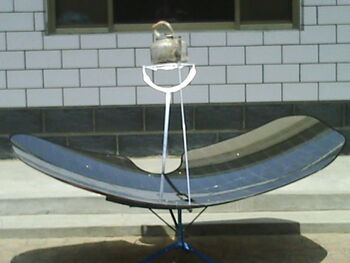 Contact
Tianjin Lituo Imp & Emp Co.Ltd
Tana
China
TEL:86-22-58385961 or 86-15302172275
FAX:86-22-58385967
SKYPE: nana-tjlituo
Email: sale1@tjlituo.com
Web: http://www.tjlituo.com/Product_en.aspx?CR=003