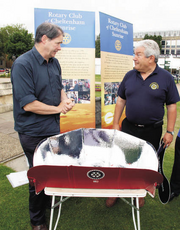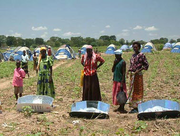 The Sustainability Trust or Rotarians for Sustainability & Carbon Reduction is a global Rotary Club project.
Rotarians around the world are playing their part to create a sustainable planet and provide humanitarian aid. Please support our big push in 2010 to provide solar cooking in AIDS/HIV stricken communities in South African Townships via Grahamstown Sunset and Kirstenbosch (Cape Town) Rotary Clubs.
Visit www.TheSustainabilityTrust.org/projects.htm to learn more about the South Africa Solar Cooker 2010 project and become a Sustaining Member Club or individual by clicking on DONATE. The Trust aims to get Clubs around the world working together on humanitarian projects that will make our planet sustainable for future generations.
Documents
View the full project flyer here
See Also
External Links
Contact
The Sustainability Trust