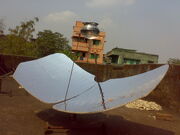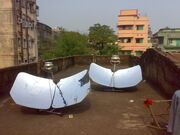 We are in the business of manufacturing of solar thermal appliances. This is the picture of one our product - Solar Butterfly Cooker that we manufacture and market in India. These type of cookers are used for domestic cooking for 6 to 8 heads. The cookers are easy-to-use, economical and very efficient. Butterfly cookers are widely used in India, China and African continent. For community development programs, the low cost and easy to use Solar Butterfly Cookers are very effective tool. Other than free cooking, these type of cookers elevate lifestyle of women by cooking away from smoke and dust of normal kitchen.
Salient Features
Ø A-symmetric double paraboloid dish used to concentrate sun light
Ø Cooks faster than other types of solar cookers of same size
Ø User friendly, easy to use, move and clean
Ø Sturdy design, safe to operate and durable
Ø Effectively useful from sunrise to sunset
Ø Uses highly reflective surface to increase efficiency
Ø Useful for urban and rural areas for cooking for 6 to 8 heads
Ø Boils one liter of water in 15 minutes
Ø Cooks 1Kg rice in one hour
Ø Can be used for frying like gas stove
Ø When not cooking, use the cooker to produce warm water
Ø Can be used to produce potable bacteria free water by boiling
Technical Specifications
Ø Collection Area: 1.8 m2 (0.9 m2 per wing)
Ø Tracking: Bi-directional, manual
Ø Focus: 0.6m
Ø Output : Equivalent to 800 Watt
Ø Support structure: MS with tracking and rolling arrangements
Ø Reflector shell: Light concrete
Ø Reflectivity: Greater than 85%
Ø Net Weight: 30Kg
Benefits
Ø Clean and reliable energy supply for daily cooking
Ø Eligible for Certified Emission Reduction (CER) credits
ØSaves 70% consumption of coal, wood or charcoal
Contact
Please feel free to contact for any further information.
Subhasis Paul
The Paulsons & Co.
6B, Bondel Road
Kolkata - 700019
India
Mobile: +91 9830659495
Email: subhasis.paul@gmail.com