The Bolivia Project
Talk

0
1,877pages on
this wiki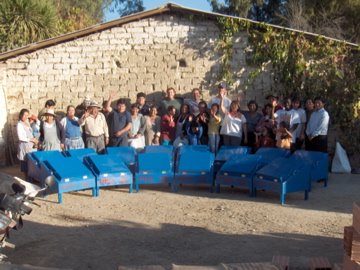 The Bolivia Project
is an
ETHOS
program sponsored project dedicated to combating Indoor Air Pollution (IAP) in
Bolivia
. According to the World Health organization, 90% of rural households throughout the developing world rely on biomass (burnable material e.g., wood, excrement, crop residue, etc.) for their cooking needs. Burning these materials inside the home causes respiratory illnesses that have been devastating to families throughout the developing world. In these areas the respiratory illnesses from IAP have been international recognized as the fourth leading cause of death (behind starvation, unsafe sex, and unclean drinking water). In partnership with (I) Sobre La Roca based in Cochabamba Bolivia, (ii) the University of Dayton's ETHOS program, (iii) the
CEDESOL
foundation,
Michael Vehar
and
Collin Whelley
have created a service project where by they visit rural families and work with them to implement safe cooking technologies that are clean, safe, inexpensive and decrees the need for biomass. Deforestation is also a prevalent problem in the developing world and in South America especially. Alternative technologies decrease the need for wood addressing this issue as well. The project details can be viewed in this promotional video. Michael and Collin have raised money with the help of very generous downers, but continue to raise funds in an attempt to effect change in more peoples lives.
The project was founded in 2006 by Mike Vehar and Collin Whelley and over a 6 month period we were able to provide nearly 400 families with subsidized solar cookers and played a part in helping CEDESOL grow from a foundation that put out less than 400 cookers in 2005 to one that will distribute more than 2,000 cookers in 2007. With additional help from the German GTZ and the United States EPA, CEDESOL hopes to continue its growth and The Bolivia Project would like to continue to play a role in these successes.
In the summer of 2007 we returned to Bolivia where we developed a plan to financially support the long-term sustainable growth of ecological cooker use in rural areas. During this time Dave and Ruth Whitfield (directors of CEDESOL and Sobre la Roca), Mike Vehar (ETHOS director/Bolivia Project volunteer), and Chris Phillips (Bolivia Project Volunteer) worked together to determine a number of priorities for pushing this project forward for a projected 3-5 years.
Our project will focus on solar cookers because they are 100% clean burning and because they currently lack adequate funding. Priorities include 1) subsidizing the price of materials so as to keep cookers available to the people at a price they can afford, 2) subsidizing the price of transportation to the most rural and poverty stricken areas of Bolivia, and 3) promoting educational awareness on IAP and the health/environmental benefits of using ecological cookers. Priorities will be re-evaluated as the project progresses and a proposed budget emphasizing those priorities will be put forth twice annually.
Those interested in donating should follow the link at the bottom of this page. A personal thanks to everyone that has made this effort possible and we look forward to the future successes that we're sure this project will bring with your help.

[Text borrowed from http://www.theboliviaproject.blogspot.com]
Contact
Email: boliviaproject@gmail.com
Web: http://www.theboliviaproject.blogspot.com