USAEvents
Talk

0
1,790pages on
this wiki
Template page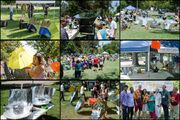 Saturday, July 18, 2015: (Sacramento) The 2nd annual Sacramento Solar Cooking Festival will be held once again in William Land Park from 10 a.m. - 3 p.m. The event is free and open to the public. Solar chefs interested in cooking at the festival are required to pre-register, which will begin in May, 2015. Attend mini solar-cooking classes, learn how solar cooking helps families around the world, and learn how to make a solar cooker yourself. Video of the 2014 festival can be seen at: Sacramento Solar Cooking Festival 2014
NEW: 

Saturday, August 8, 2015: (San Diego) Jim La Joie, designer of the All Season Solar Cooker, will present a 2 p.m. free class about solar cooking at the City Farmers Nursery located at 4832 Home Ave. He will cover the different types of solar cookers available and cooking techniques. When registering for the class you are offered a reduced price on an All Season's Solar Cooker. Sign up for this option prior to the class. More information...
NEW: 

Saturday, April 18, 2015: (Kalamath Falls) A free program, "How to Build and Use a Solar Oven," will be led by Brittany Johansen at 10:30 a.m. in the Klamath County Library, located at 126 S. 3rd St. She will explain the science behind passive solar heating and how to use and build a solar oven.
April 2015: (Dodgeville) An exhibition of Solar Energy Architectonics by Joel Goodman is scheduled at the Iowa County Courthouse (both floor levels), in Dodgeville, Wisconsin, USA for the month of April. Drawings and model photographs will be presented including: the BIETR (building interior evacuated tubes and reflectors) project, building integrated nonimaging reflector troughs (interior and exterior), thru-wall solar cookers, heliostats (2-axis tracking and 1-axis tracking linear Fresnel systems), spherical reflector segment bowls, and thermal storage.