Last edited:
21 September 2016
Events
International conferences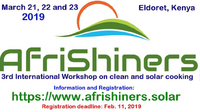 NEW: 

21-23 March 2019: AfriShiners - The AfriShiners 3rd International Workshop is taking place in Eldoret, Kenya. (Unfortunately, registration is full for this event). More information...
See also: Global Calendar of Events and past events in Tajikistan
News
March 2015: Little Earth, a Tajiak environmental NGO, provided a solar cooker to the village of Roshorv (located at an altitude of more than 3000 m) in the Bartang Valley of Tajikistan's Gorno-Badakhshan Autonomous Oblast. Sadarbek Tohirbekov, a teacher of Russian language at the local school, took delivery of the parabolic cooker, though each resident of the village has access to it. Tohirbekov said, "to prepare a lunch or dinner [without a solar cooker], we use about half a kilo of bush kindling and then a couple of kilos of firewood and three kilos of dried manure or coal. For example, just to boil five to seven liters of water requires about three to five kilos of bush. A solar kitchen can greatly reduce the consumption of firewood and other fuels, even if you use it only once a day." Read more...
History
Archived articles
Climate and culture
Resources
Possible funders
Reports
Articles in the media
Web pages
Contacts
SCI Associates
NGOs
Government agencies
Manufacturers and vendors
Individuals
Government agencies
Educational institutions
See also
References