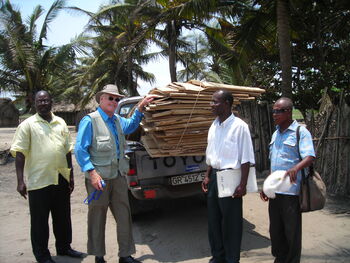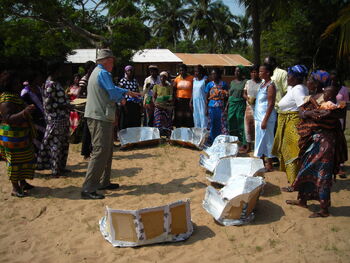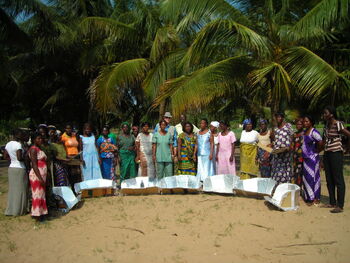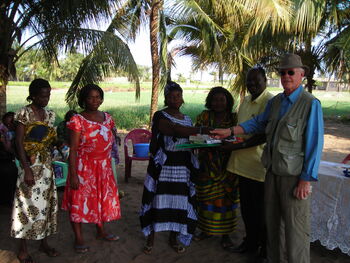 Stephen Pearson has been visiting Ghana, West Africa for over 30 years and still goes there three times a year helping an NGO. During his April 2009 visit he helped train rural ladies in the production of CooKit solar panel cookers. They can now make these unassisted. His recent efforts include the formation of SUN-LIFE, an NGO working in the area to introduce and promote solar cooking.
Stephen Pearson reports: "We build CooKits in pieces use eleven small panels of cardboard. Shops even in rural areas have thin cardstock available as scrap. These can be laminated together using local cassava glue (cassava is grown all over Africa) to form stiff panels, thus avoiding the need to import thicker cardboard. Join the eleven panels together with 2" strips of worn out dress or shirt (using the cassava glue). Protect the perimeter of the 11 panels with more 2"strips (1" front and 1" back to stop delamination of the cardboard). Let each panel dry properly. Then turn it over and glue on the aluminum foil to the side that has no cloth hinge strips."
News and Recent Developments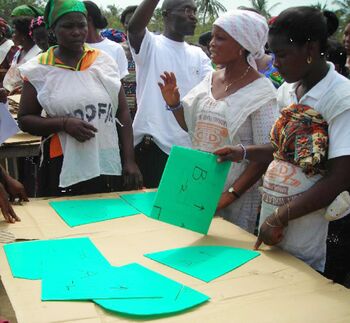 May 2010: The SUN-LIFE sponsored Oven Festival was recently held in the Dangme East area of Ghana (80 miles east of Accra). Quite well attended, there were about sixty ovens on display, all locally made using the CooKit design. The oven components were salvaged and recycled from local materials. Only the aluminum foil, at a cost of $2/oven, needed to be purchased. The event was held in collaboration with the Community Directed Development Foundation, started by Professor Bosompem. Stephen Pearson was the only European present. Other guests included representatives from several government ministries. The festivities began with a procession of local "oven ladies" led by the local brass band. After introductions and speeches, there were competitions and prizes awarded for best oven, best recipes, best group, etc.
Contact