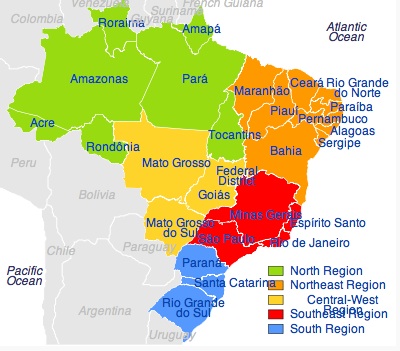 Brazil is made up of twenty-six states and one federal district, which contains the capitial city, Brasília.
Acre (AC)
Alagoas (AL)
Amapá (AP)
Amazonas (AM)
Bahia (BA)
Ceará (CE)
Distrito Federal (DF)
Espírito Santo (ES)
Goiás (GO)
Maranhão (MA)
Mato Grosso (MT)
Mato Grosso do Sul (MS)
Minas Gerais (MG)
Pará (PA)
Paraíba (PB)
Paraná (PR)
Pernambuco (PE)
Piauí (PI)
Rio de Janeiro (RJ)
Rio Grande do Norte (RN)
Rio Grande do Sul (RS)
Rondônia (RO)
Roraima (RR)
Santa Catarina (SC)
São Paulo (SP)
Sergipe (SP)
Tocantins (TO)
Ad blocker interference detected!
Wikia is a free-to-use site that makes money from advertising. We have a modified experience for viewers using ad blockers

Wikia is not accessible if you've made further modifications. Remove the custom ad blocker rule(s) and the page will load as expected.