Deutsch, Español, Ελληνικά, Français, Hausa, Igbo, Indonesian, Italiano, Kiswahili, Kreyòl, Malagasy, Melayu, Português, Русский, Soomaaliga, Tagalog, Việt, Türkçe, Yorùbá, தமிழ், नेपाली, 中文, اردو, 한국어, 日本語, العربية, فارسی, עִברִית, हिन्दी, ไทย, বাংলা, తెలుగు, ગુજરાતી, ລາວ, ਪੰਜਾਬੀ, සිංහල, پښتو
Last updated: 1 June 2016      
01:16

Cocinar al sol

In May 2015 dozens of pupils at the Fray Luis de León school in Valladolid built their own solar cookers and displayed them on Spanish TV.
Events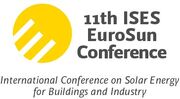 11-14 October 2016 (Palma, Mallorca): 11th ISES EuroSun Conference - The International Conference on Solar Energy for Buildings and Industry is being organized by the International Solar Energy Society (ISES) , Asociación Espanola de Energia Solar (AEDES), and the University of the Balearic Islands. The conference "will be a unique platform to discuss the latest developments with leading solar energy specialists as well as policy makers and industry representatives. The congress will host topic sessions, keynote speakers, plenary sessions and open discussion forums, as well as social events where you will have the opportunity to network, to meet old friends and to make new contacts."
   Conference topics include:

Solar Architecture and Net Zero Energy Buildings
Solar Heat for Industrial Processes.
Solar Thermal Systems: Domestic Hot Water, Space Heating and Cooling
Solar Assisted District Heating and Cooling and Large Scale Applications
Testing & Certification
Solar Thermal Collectors and Solar Loop Components
PV and PVT systems for buildings and industry
Solar Resource and Energy Meteorology
Renewable Energy Strategies and Policies

Wolfgang Scheffler will make a keynote presentation on using solar thermal energy for steam generation. Registration is open until July 10, 2016. More information...

See also: Global Calendar of Events and Past events in Spain
News
May 2015: Dozens of pupils at the Fray Luis de León school in Valladolid built their own solar cookers and displayed them on Spanish TV.
01:16

Cocinar al sol
January 2013: Local electrical engineer promotes solar cooking in Galicia - Javier Diz used the celebration of Magosto to demonstrate roasting chestnuts with a parabolic solar cooker. A creative chef, he also made filoas and polbo to show the usefulness of solar cookers.
November 2012: Solar cooking advocate Manolo Vilchez writes from Spain, that Washington, D.C. celebrity chef and Global Alliance for Clean Cookstoves Culinary Ambassador José Andrés visited the country of his birth last August to be honored for his humanitarian and international culinary achievements. While in Spain, Andres demonstrated once again his commitment to solar cooking, which he discovered after a huge snowstorm in Washington, D.C. knocked out power and closed roads for several days in 2010, and Andres discovered that he could cook delicious food in the middle of winter with his parabolic solar cooker. "Cooking food with the solar energy is unsurpassed for the pleasure of using a clean, renewable source of energy," said Andres, while showing his countrymen in Bullas, Murcia, how to cook with an alSol parabolic solar cooker. Andres was fresh from his recent trip to Haiti, where he has trained eighty young people at a school in Fond Verrettes to use the alSol parabolic solar cookers he has brought to Haiti in cooperation with the Spanish NGO CESAL. His students are also learning about other clean cooking systems. The students recently experimented with making espresso using their parabolic solar cookers. Andres, founder of the World Central Kitchen, is also interested in promoting solar food dehydration. He is currently investigating the use of this green energy technology to help Haitians dry fish. AlSol Tecnologias Solares designs, manufactures and distributes solar parabolic cookers and solar food dryers with the development support of Gehrlicher Solar Spain.
May 2012: The Agencia Española de Cooperación Internacional para el Desarrollo (AECID) has provided 150 solar parabolic cookers to the people of Ouffi Ait – a small, sunny village southeast of Marrakech in Morocco. The introduction of these solar cookers has reduced the amount of time girls must spend collecting firewood, giving them more time to attend school. Working with the Foreign Association XXI and ADMR from Morocco, AECI targeted women as protagonists of a cleaner, more equitable future in their Morocco Solar Cookers for Rural Families project. Read more...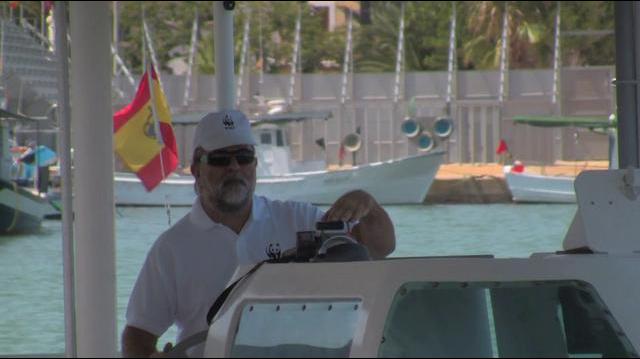 July 2011: The World Wildlife Fund sponsors a boat, the Renowatio, to promote solar energy. They visited Dénia on July 24th, where the crew provided a solar cooking demonstration for the public.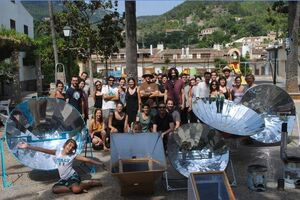 July 2011: see photos of the Second Solar Cookers Meeting in Mallorca on July 10th. It was very successful, with plenty of food for 45 people having a great solar lunch!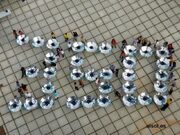 Septiembre 25-27, 2009: Una imágen realizada durante el taller de cocina solar celebrado en el Parque de las Ciencias de Granada, una actividad singular dentro de la celebración de la X edición de Ciencia en Acción. La campaña climática mundial del 350 se presentó a todos los asistentes al taller y gracias a ellos y sus habilidades, se ha conformado con 33 cocinas solares parabólicas AlSol 1.4 la imagen área del 350, ¡ no te pierdas pasar a la acción el próximo 24 de octubre ¡, conoce como en: La ciencia de 350. El número 350 es las partes por millón que muchos científicos consideran el límite máximo seguro de CO2 en la atmósfera. Se puede ver el álbum en total y los comentarios aquí.
Septiembre 22-24, 2007: FESTIVAL SOLAR: Fundació Terra organiza el Festival Solar 2007 en el marco de las fiestas de Barcelona, con una demostración de tecnologías solares aplicadas al procesado de alimentos (cocinas solares parabólicas, hornos SOUL ultra ligeros, catas solares, etc.) y otras actividades relacionadas con las energías renovables y la cultura ambiental. Más información: http://www.festivalsolar.org
August 2006: Miguel Ángel Soria reports that he gave a workshop for students at a school in Castellolí, a small town in the province of Barcelona. He showed a solar cooking video, demonstrated solar cookers, and had the students build scale models. They experimented with the full-sized cooker to bake sweet pastries, though inclement weather postponed the baking. Contact: Miguel Ángel Soria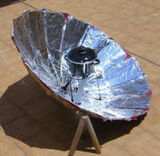 March 2006: Marc Ayats made a parabolic solar cooker by purchasing an umbrella, covering the inside with ordinary aluminum foil and cutting off the handle (because the handle would be at the focal point of the reflector — where you must put your cooking pot). He used ordinary white adhesive to glue the reflective sheet to the umbrella's cloth. He says it is a very simple cooker to make because umbrellas are normally parabolic in shape. He also says it is easy to move — it folds up like a regular umbrella. The pot is held in place with a wire frame used for holding flower pots. Contact: Marc Ayats Plana
History
Archived articles
Climate and culture
Resources
Plans in local languages
Blogs
Articles in the media
External links
Grupo de discusión en Facebook
Audio and video
01:16

Cocinar al sol
01:41

El escenario de cocina solar en el SDE 2012
01:15

Cocina solar con Nóbel de la Paz, Valencia, Greenpeace
Contacts
NGOs
Manufacturers and vendors
Individuals
Government agencies
Educational institutions
See also
References
Gallery of manufacturers and vendors