Last edited:
30 September 2016
South Korea, officially known as the Republic of Korea, has undoubtedly had solar cooking activities take place within the country, but it is in 2011 that information began to be received by the Solar Cookers World Network.
Events
International conferences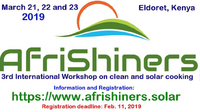 NEW: 

21-23 March 2019: AfriShiners - The AfriShiners 3rd International Workshop is taking place in Eldoret, Kenya. (Unfortunately, registration is full for this event). More information...
See also: Global Calendar of Events and past events in South Korea
News
October 2012: The International Union for the Conservation of Nature (IUCN) has embraced a strong resolution sponsored by Solar Household Energy calling for increased support for solar cooking efforts worldwide. The measure was adopted in September at IUCN's quadrennial World Conservation Congress in Jeju, South Korea. The organization recognized the health hazards of cooking over biomass fires, and the availability of current solar cooking technologies. Efforts continue to develop solar cookers that offer increased efficiency, are cost-effective to produce and distribute, and are sturdy enough to withstand extended use. Read more...
March 2011: Simply Solar started a partnership with Energy Farm, a South Korean company for renewable energy technologies. The first step was training of Energy Farm staff in manufacturing of 10 m² Scheffler Reflectors, held in May 2011 at Energy Farm in Bucheon, South Korea.
History
Archived articles
Climate and culture
Resources
Possible funders
Reports
Articles in the media
External links
Contacts
SCI Associates
NGOs
Government agencies
Manufacturers and vendors
Individuals
Government agencies
Educational institutions
See also
References