Soleil Energie Eternelle
Talk

0
1,972pages on
this wiki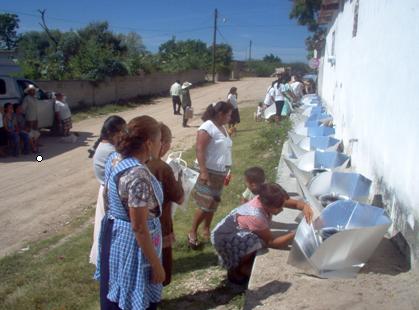 Soleil Energie Eternelle is a group, based in Mexico, witch is working to promote and enable the use of alternative environmental technologies for developing and improving the quality of life in rural and urban populations.
Mission:
Achieve change in the behavior and habits of the population witch have implications for the environment while improving the lives of the population and the country as a whole.
Institute alternative energy solutions to meet 60% of the energy demand for urban and rural populations.
Objectives:
Improve the standard of living, health, and welfare of rural communities by reengineering alternative energy technology.
Decrease the need for cooking with wood by offering alternative solutions.
Save the remaining trees and those that are planted in the future.
Prevent CO2 air pollution created by gas, wood, and charcoal ovens.
[This text was borrowed from http://www.soleilee.com.mx/acercadenosotros.htm]
News and recent developments
See also
External links
Contact
Tel./ Fax: 01 (222) 286-0335
Mobile: 044 (222) 189-48-63
Web: http://www.soleilee.com.mx/principal.htm
Email: soleilee63@hotmail.com or cuellar@soleilee.com.mx