Solario Safe
Talk

0
1,833pages on
this wiki
View this page in:
Česky, Dansk, Deutsch, English, Español, Hrvatski, Italiano, Nederlands, Norsk, Polski,Português, Русский, Română, Suomi, Svenska,Tagalog, Türkçe, العربية, Български, ‪中文(中国大陆)‬, Ελληνικά, हिन्दी, 日本語, 한국어
We invite you to take a
short survey
to help us improve this website.
Last updated: August 10, 2014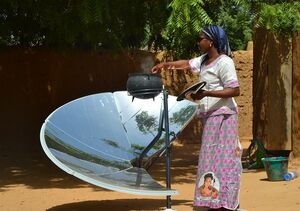 Le four solaire « SOLARIO SAFE » spécialement conçu pour les pays en développement par la société FOCALIS, a été testé au Mali et au Burkina Faso depuis 2 ans (2012 et 2013). Il atteint la puissance nécessaire pour cuisiner pour 10 personnes (6 litres d'eau porté à ébullition dans une marmite n°5 pour la cuisson du tô en moins de 50 minutes = même temps que le feu de bois). L'adoption de cet appareil par les femmes est très rapide.
Actuellement, le barbecue "SOLARIO SAFE" n'est pas à la portée de toutes les bourses des ménages des pays du sud mais nous avons l'objectif de vulgariser son utilisation dans les pays équatoriaux dans les années à venir, pour qu'il puisse atteindre un prix de vente qui leur serait accessible grace à un volume de production suffisant.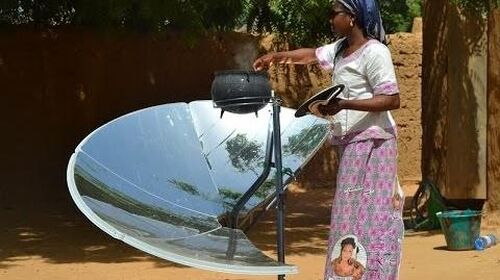 Voir aussi
Edit
See FOCALIS.