Deutsch, English, Español, Ελληνικά, Hausa, Igbo, Indonesian, Italiano, Kiswahili, Kreyòl, Malagasy, Melayu, Português, Русский, Soomaaliga, Tagalog, Việt, Türkçe, Yorùbá, தமிழ், नेपाली, 中文, اردو, 한국어, 日本語, العربية, فارسی, עִברִית, हिन्दी, ไทย, বাংলা, తెలుగు, ગુજરાતી, ລາວ, ਪੰਜਾਬੀ, සිංහල, پښتو
Last updated:
15 October 2014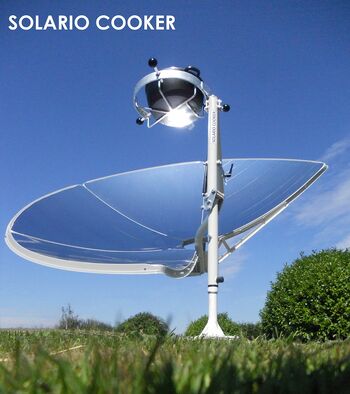 Grâce à un important travail de recherche, FOCALIS vous permet de relever l'un des défi de notre siècle : cuisiner avec le soleil de manière performante, simple et écologique. Sous condition d'avoir un ciel ensoleillé, laissez vous envahir par ce sentiment magique de liberté. [1]
Le Solario Cooker avec ses pétales paraboliques miroirs et son système breveté de réglages en fait le premier cuiseur solaire aux performances aussi élevées que le feu ou l'électricité. Sa robustesse et la qualité de ses composants lui confère une longue durée de vie pour un usage en l'extérieur. Laissez-vous surprendre par son design épuré et innovant.
L'Allumage du foyer est instantané, vous n'avez aucun temps d'attente pour débuter votre cuisson. La haute précision de sa courbe parabolique lui permet de concentrer les rayons du soleil en un point focal pouvant atteindre plus de 1'000°C, tout en étant beaucoup moins risqué qu'un appareil de cuisson traditionnel.
Grâce à sa simplicité de réglage, suivre la course du soleil devient un jeu d'enfant et vous permet de préparez de savoureuses grillades ou faire saisir avec délice, légumes et poisson. Plancha, poêle, casserole, wok choisissez la cuisine que vous aimez. Au choix, vous pouvez faire cuire, mijoter ou frire tous vos aliments. Aussi bon pour l'environnement que pour votre santé, le SOLARIO COOKER, vous permet de déguster une cuisine saine, originale et variée. Grâce à cette énergie naturelle, le vrai goût des aliments est préservé.
Facile à utiliser, facile à nettoyer, Facile à ranger, le SOLARIO COOKER est idéal pour respecter l'environnement efficacement tout en passant de bons moments entre amis et en famille. Son utilisation ludique vous permettra ainsi qu'à votre famille et vos amis de découvrir une cuisine savoureuse et écologique.
La production d'électricité a pollué la terre de nos enfants mais réduire notre impact sur la planète en passant des combustibles fossiles à l'énergie gratuite du soleil est possible !
Le SOLARIO COOKER a été conçu dans le plus grand respect de l'environnement. Fabriqué avec 99% de matériaux recyclables et utilisant le soleil, le SOLARIO COOKER vous permettra de bénéficier d'une énergie gratuite, propre est inépuisable.
En n'utilisant ni feu, ni électricité, vous réduirez votre consommation d'énergie.
Video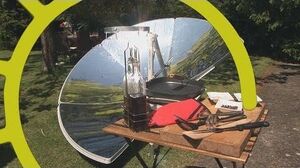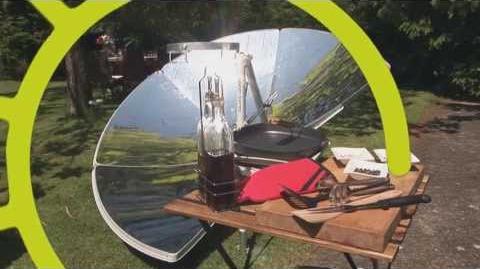 Voir aussi
Contact
See FOCALIS.
Ad blocker interference detected!
Wikia is a free-to-use site that makes money from advertising. We have a modified experience for viewers using ad blockers

Wikia is not accessible if you've made further modifications. Remove the custom ad blocker rule(s) and the page will load as expected.