Deutsch, Español, Ελληνικά, Français, Hausa, Igbo, Indonesian, Italiano, Kiswahili, Kreyòl, Malagasy, Melayu, Português, Русский, Soomaaliga, Tagalog, Việt, Türkçe, Yorùbá, தமிழ், नेपाली, 中文, اردو, 한국어, 日本語, العربية, فارسی, עִברִית, हिन्दी, ไทย, বাংলা, తెలుగు, ગુજરાતી, ລາວ, ਪੰਜਾਬੀ, සිංහල, پښتو
This article is about a group or individual that may no longer be active in solar cooking. It is retained here for archival purposes.


Last updated:
20 January 2011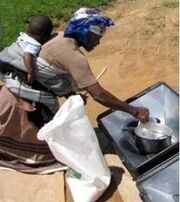 Solar Cooks and Carpenters provides Sun Stoves, training, food, cooking tools, and personal letters to Grandmothers in Lesotho. These items are gifted by people in Canada, mainly through the well-known group of social activists, the "Raging Grannies" of Salt Spring Island.
We have trained 119 grandmothers in Lesotho who are using Sun Stoves to cook meals for themselves and for their grandchildren, to dry fruit, prepare vegetables for canning and, in winter, to heat water for bathing. A Basotho recipe book is in the works.
Most of the grandmothers live in rural settings with little access to large shops and food variety. Most have a small garden of some kind, but very limited food supplies. Last November we met our first 25 grandmothers who live in a suburb of the capital city Maseru. While they have more exposure to and knowledge about other foods and goods, they are very poor and cannot afford the riches they see around them. This November 2010, we met another village group only 17 kilometres outside of the city. This group lives a more communal rural life, sharing the growing and reaping of crops. These grandmothers, a bit younger on average, are also more savvy but live a hard life with few of the amenities available to our host family in town.
The basic food for all Basotho is corn meal which is cooked with water. This is the recipe we make on the first day as it is of utmost importance to the grandmothers. On the second day we make a soya mince (an inexpensive protein alternative) with root vegetables and rice. The third day we make bread, which is more like a steamed rather than a baked bread. Each training day starts between 8 & 9 a.m. The food is generally ready by noon when started early, although ideal sun for cooking is usually between 10 and 2:00. The grandmothers take the meal home. On the last day, the grandmothers take home the suntove, pots, hand towel, a mixing bowl and foodstuffs to reproduce the recipes at home.
This is our current approach that is successful in Lesotho:
A respected community member selects the needy grandmothers to receive the number of sunstoves to be provided for that session;
This community leader provides the gathering location for a three-day training session with access to water and comfort for the trainees and trainers;
Local Basotho act as translators for most of the communication and assist with the preparation and training. At this stage, the translators are becoming more and more the lead trainers. They will completely take over the training activities in the near future. We also have added a presentation made by a grandmother who was a previous recipient. Needless to say, this is a huge success.
Three days of hands-on training is provided. Grandmothers call it "school" and are proud to attend. The project provides the necessary food and utensils each day.
A different local recipe is cooked each day which grandmothers take home.
A Q&A and discussion session is held each day about life, love, Canada, Lesotho and of course, sunstove use and recipes from other grandmothers.
Last year, we successfully introduced a very basic 'science' lesson on how to make a sunstove from a cardboard box, tin foil and a piece of glass. The response was amazing. The grandmothers were very quick to understand the concept and a good discussion ensued. A few has also seen tin foil in a grocery store and asked questions about its feasibility.
On the final day, each Grandmother takes home a sunstove, black pots, food, a personal letter from a Raging Granny or other sponsor in Canada & a 'graduation' gift made by one of the Raging Grannies.
The host grandmothers have now become the "Super Users" who assist other grandmothers with questions and help with the sharing of recipes, ideas and support.
Challenges and Positives
I think what solidified the grandmothers commitment to using the sunstove was finding out how to make the sunstove work for them in their daily lives. After using it for 3 days and seeing the successes each day, they have made it their own. Each time I return, I learn how someone is using it in a new way. The first grandmother-led innovation was to use it to dry fruit, a process that takes 1/3 of the time of what it takes to dry the fruit in the open air. On top of that, the fruit remains clean, because the sunstove lid keeps out the bugs, sand and other air-borne debris. Another grandmother shared her discovery of using it in mid-winter to warm water for bathing although it was too cold to heat food for cooking. Another told us how she prepared her fruit mixture for canning in the sunstove and then finished it over a fire, saving a lot of fuel in the process. So the success really lies in the grandmothers themselves, seeing the value of the sunstove in their everyday life. It starts with the 3 days of training, is reinforced with the discussions and sharing of recipes and ideas and is cemented once they have their own successes at home.
The most obvious challenge is weather. We have had to cancel training sessions due to rain. Like everywhere else, Lesotho's weather patterns are changing. Time periods that were traditionally thought of as hot and sunny have been inundated with rain and cloud. But in everyday life, this is always the challenge for solar cooking. But, when the sun shines………oh my gosh…… the cooking is awesome.
Cultural differences have been less of a problem due to the help of our friends who are locals and our hands-on translators that we have been fortunate to work with, but little things do crop up every now and then. I usually ask and always follow the advice of the local organizer or the translator to deal with any issue.
Finding black pots for use in the sunstoves is a huge issue for us. The best pot is not too thick and heavy; has metal handles and is large enough (3-5 litres) to cook a sizeable amount of pap (corn meal). I found a supplier of cheap aluminium pots in Joburg thanks to our Sunstove supplier, Margaret Bennett. We buy black high heat resistant paint and paint brushes. Then we have to paint them, on the outside only – an awful job. We recently had some pots powder-coated by a paint and body shop. The first batch was well done, but was difficult for the body shop owner to do. The decent price we paid for the trial run is not feasible for the shop owner, so we are back to painting for the time being.
We are fortunate that my girlfriend in Lesotho owns and operates a corner store, on top of being a professor at the university. She is an amazing woman. She arranges for one of her family members to take us to the wholesalers to buy all the food. That allows our dollars to stretch even further.
Challenges for Child-led Households
Children can also be taught to cook for themselves using the sunstove. The biggest challenge to child-led households is that the children cannot be in two places at the same time, so how can they cook the evening meal and go to school? And further, for those who are at home, they may not be able to ensure the security of their cooker.
One suggestion would be for a programme to be run at the school. Sunstoves could be kept and managed at the school by project people. Training and cooking preparation could be done with the children in late morning or over the lunch hour. Project organizers would need to be there on the ground ensuring the safety of the food and sunstoves (another potential challenge for children) while the children go to classes. In this way, children have something to take home with them at the end of the school day. Another option is that they eat the evening meal at school before they go home. The options are what works best for different projects.
For non-child-led households, schools are a great source of community information to help you choose the needy families to whom a sunstove would be gifted. Then again, the school might be a good location for people to gather for training and cooking while their children/grandchildren are in school. The children can then help carry the food home and at the end of training, help carry the whole package home.
Which cooker is best?
We have had many questions as to which Sunstove works 'best'.
The principal reasons that we prefer the South African "Sunstove" over others on the market are its size, portability, durability and price. The SunStove comes with a clear acrylic cover that seals the deal for us. Although other cookers are cheaper, these do not come with lids and require special plastic bags in which the pots are placed. The plastic bags have a shorter lifespan than the SunStove lid. Once we leave the area, we don't worry about bags not being available. This would be devastating to the grandmothers who are relying on the solar cooker as long as the sun is shining. These factors are critical to the success of our programme. The success of this cooker is a credit to Margaret Bennett and her years of testing.
Although we do teach the grandmothers how to make a homemade stove, all of the required materials are scarce. Also, the homemade product, usually of cardboard, is not as durable. If it is caught in one rainstorm, the box is crumbled. The likelihood of securing more materials is slim to none. But for someone who has not received a stove and can be resourceful in finding the raw materials, it is very do-able. An added problem would be in making the box insulated against the constant wind that can cause the sunstove to cool down.
We have not found another product on the market that is as easily portable for the grandmothers or for us. The sunstove is equiped with a very handy rope handle and can be picked up with one hand by even the most challenged grandmother. Because of this, it is not left out for the children or roaming cattle to walk over it. It can be hung on a hook out of the way inside the rondaval or any shelter. It seems to suit the Basotho well. Without the lids, the sunstoves easily sit one inside the other. This makes it easy to deliver by car (Margaret is my witness – was it 8 or 10 in the car?) or by bakkie. They are light enough that I can easily carry 4 at a time.
Other areas in Africa (Botswana, Malawi, Zim etc) enjoy even more heat and sunshine than our grannies do in mountainous Lesotho. Because these cookers are so easily transportable, it would make sense that any such project elsewhere in southern Africa should be successful.
Further Info:
Anyone interested in getting a project off the ground is welcome to contact us at any time.
May the sun shine in your heart and on your suntove.
News and recent developments
See also
External links
Contact