Solar restaurants and bakeries
Talk

0
1,861pages on
this wiki
A number of solar restaurants have been established in various parts of the world as income-producing enterprises.
Recent news and developments
December 2012: In the hot and dry village of Villaseca in central Chile, the sun's rays are hard at work here at Delicias del Sol restaurant, cooking up delectable dishes in the eatery's 20 solar ovens. The ovens were originally introduced to the village as a trial project from the University of Chile and the Institute for Nutrition and Food Technology. Delicias del Sol, which started out with a 16 person capacity, now seats 120. The future looks bright for Delicias del Sol. Read more...
Africa
Solar Project Gambia writes: "The best examples of success is the bakery and the restaurant. They really make solar food popular. Through our daily presentations in the street with delicious cakes and cookies in the solar cookers we could make a lot of people interested and curious. The bakery sets an example of how it is possible to generate an income with Solar baking. Our products are to be found along the coast in different supermarkets, small shops and along the beach. The project's restaurant serves solar baked cakes and pastries in a natural environment. The project is also visited by tourists on city tours. The tours are a great opportunity for the visitors to get unforgettable memories of their holiday in Gambia and bring a small solar gift for their friends and relatives back home from the SPG. The feedbacks is very positive."

Vendors cooking fish with the sun on the beach south of Casablanca, Morocco

Since June 2005 the Bethel Business and Community Development Centre in Lesotho has used this parabolic trough cooker to bake 24-40 loaves a day. Even though the dough is kneaded by hand, an income double that of the minimum wage has been achieved.

Added by

Rolf behringer

This example shows a small bakery in the North of Namibia. The small scale bakery is able to bake up to 100 loaves of bread a day or about 300 little fish-tin rolls. For more info, contact Rolf Behringer.

Added by

Rolf behringer

U.S-based True Vineyard Ministries provides sustainable opportunities for widows and children impacted by genocide, subsequent conflicts, and HIV/AIDS in Rwanda. Its "Bake the Cycle" project is helping to break the cycle of poverty by providing solar bakery jobs to 10 widowed women supporting families in Ruhengeri. The bakery provides a variety of breads to local businesses and families. The women use a commercial-sized Villager Sun Oven® that reaches temperatures in excess of 250°C and can bake hundreds of loaves of bread each day. It has a propane backup system for evening use and during inclement weather. According to True Vineyard Ministries, the project is already having an impact. "For the first time in the widows' lives, they are able to consistently provide food, clothing, shelter, and education for their families."

Camily and Gaudenziah Wedende have started the Seeing is Believing Cafe in Eldoret, Kenya. They are cooking cakes, tea, and other solar-cooked goodies, and selling them in front of their Sun Cookers International business. Tanya Cothran, Director of Spirit in Action, writes about their cafe on the Spirit in Action's blog.
See also
Asia
Europe
India
| | |
| --- | --- |
| In India a Sol-Café was built for a 100-children residential school in village Kothara in the Kutch district. The area is arid and severely short of fuel wood. It has on the other hand, abundance of sun. Commissioned in June 2003, it has been in regular use since. Since that time Sol-Cafés have been built in seven other villages. | Auroville Solar Kitchen, near Puducherry in South India. |
Latin America
The Villaseca Solar Restaurant in Chile uses a dozen or so box cookers and a few parabolic cookers to prepare food for their patrons.

Solar power gives Andean villages a new lease on life - Reuters (Also a Reuters video shows an EcoAndina project in the village of Misa Rumi in Argentina where everything is powered by the sun. Pictured above is the town bakery where 5 kg of bread are cooked every hour.)

Solar Global Gourmet is a restaurant franchise for a business utilizing solar radiation for cooking food. Solar Gourmet is a new brand dedicated to promote and give glamor to solar cooking which represents a system of ecological friendly and healthy food preparation at gourmet levels.

Added by

Tal Blackburn

Solar Women of Totogalpa using their solar box cookers to produce baked goods for sale in Nicaragua

The Solar Women of Totogalpa are soon to open(10/2010) their solar restaurant in Latin America. The restaurant, in the small village of Sabana Grande, will offer solar cooked foods, solar dried fruits and coffee, and will be PV powered..

The Taqueria Poncho, solar street vendor cart is the first of its kind in Oaxaca,Mexico.

Chef Inti Langaney cooks with a parabolic solar cooker at the El Romero vegetarian eco-restaurant in Pinar del Rio, Cuba.




Solar cooking at Restaurant Ayllu in San Pedro de Atacama, Chile.

Nicolau Bussolotti Francine of Pleno Sol, a solar bakery located in Piracicaba, São Paulo, Brazil.

Added by

Pleno Sol Cozinha Solar
Middle East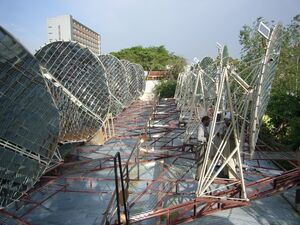 North America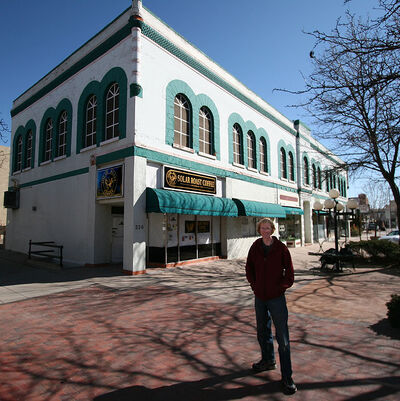 Worldwide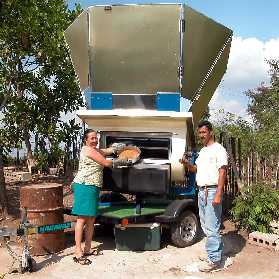 All articles about solar restaurants or bakeries
See also
External links