Deutsch, Español, Ελληνικά, Français, Hausa, Igbo, Indonesian, Italiano, Kiswahili, Kreyòl, Malagasy, Melayu, Português, Русский, Soomaaliga, Tagalog, Việt, Türkçe, Yorùbá, தமிழ், नेपाली, 中文, اردو, 한국어, 日本語, العربية, فارسی, עִברִית, हिन्दी, ไทย, বাংলা, తెలుగు, ગુજરાતી, ລາວ, ਪੰਜਾਬੀ, සිංහල, پښتو
December 2010
Institutional solar cooking gains momentum in India - A news release from the Ministry of New and Renewable Energy in India, reporting on important activities in 2010, states: Solar concentrating systems, comprising automatically tracked of parabolic dishes, have been found to be useful for generating steam to cook food for hundreds and thousands of people in community kitchens especially at religious places such as Shirdi, Mount Abu, Tirupati etc. The world's largest system is functioning at Shirdi for cooking food for 20,000 people/day. These systems have found good applications for air conditioning and laundry also and a few demonstration plants have recently been installed. A total of around 80 concentrating systems of different capacities covering 25,000 sq.m. of dish area are functioning in the country, largely for cooking purpose. During 2010, 15 such systems were sanctioned covering a dish area of around 3000 sq.m. See Scheffler Community Kitchen. This project is included among Most significant solar cooking projects.
The Solar Cookers World Network needs to be heard from. In September U.S. Secretary of State Hillary Rodham Clinton announced the new Global Alliance for Clean Cookstoves, that hopes to raise more than $250 million to help create "a thriving global market for clean and efficient household cooking solutions" benefiting 100 million homes by 2020. She spoke of the urgency to find alternative solutions to open-fire, and dirty-stove cooking. A solar cooker is quite obviously a clean cookstove. Hundreds of millions of poor people live where the sun provides free energy for cooking and water pasteurization. They live where forests have been decimated for use as cooking fuel. Solar cooking is part of the solution. Fuel-efficient stoves do reduce the use of wood, dung, and charcoal and are part of the ongoing solution in partnership with solar cooking and heat-retention cooking. Solar Cookers World Network needs to mobilize to raise a unified voice advocating solar cooking. Solar Cookers International (SCI) and Solar Household Energy (SHE) will coordinate a collective, strategic response and welcome members' assistance. The SCWNet has quietly grown to include about one-half of the world's experts and active promoters of solar cookers and solar food processors. In addition to the above task, our goal for 2011 is to recruit the other half to double SCWNet's response capacity for opportunities like the Global Alliance for Clean Cookstoves. More details and information on participating.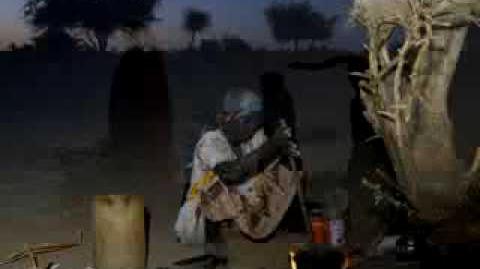 Get Beyond Firewood - A recent video produced by the Womens Refugee Commission is a poignant reminder that the need to get past using firewood as a cooking fuel is great, and immediate. Limited forested areas are being depleted, and the smoke from cooking fires is causing respiratory illness. Also, sadly, women living in distressed areas are putting their lives on the line, facing possible assualt when they leave their homes in search for fuel to simply be able to cook for their families. However, solar cooking has begun to be an important part of the solution. Investigate work being done in refugee camps.
The search for simple, sturdy, easy-to-use solar cookers - The Copenhagen Solar Cooker Light, designed by Sharon Clausson, is a compact, inexpensive solar panel cooker made from durable, reflective vinyl panels. The panels bolt to a base plate, and clip to each other to create the panel cooker shape. Disassembly is quick, and the cooker conveniently packs flat for easy transport. The designer states that the curved shape of the cooker is more stable than typical panel cookers in windy conditions.
Solar cookers and cell phones working together - Climate Healers is a non-profit corporation based in California, USA, that has been formed to combat the climate crisis. Reforestation is a major part of their work. They also work to slow further deforestation in areas where the demand is high for wood and charcoal used for cooking. Initial projects have begun in India. They see solar cooking as an important alternative cooking method to help save remaining forests. When introducing solar cooking to new areas, recruiting local residents to become trainers and mentors for the community has historically been a successful strategy. Climate Healers, however, has taken the innovative approach by creating an incentive based system incorporating cell phone use. Their solution is to provide solar cookers with integrated charging stations, along with cell phones and LED lights at no cost to members of the community. The cell phones are configured to measure the usage of the cookers as they get charged, and then rewards are issued in the form of cell phone talk time proportional to the usage.
November 2010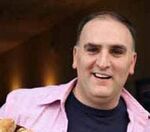 Celebrity chef helps in Haiti - This past year José Andrés, an internationally known chef and social activist, has been doing his part to help the people of Haiti. When he had lost power at his own home for a few days, following a severe snowstorm, he discovered the magic of solar cooking. He was amazed how efficiently a parabolic solar cooker, which had been given to him and had sat unused, performed on a cold but cloudless day. In spring 2010 he was part of a team from Solar For Hope, which headed to Haiti to help with earthquake relief. As part of their efforts they distributed parabolic solar cookers and provided training. He feels the parabolic cooker is well-suited to prepare the traditional local fried food recipes. Andrés believes a pressurized cook pot is also a valuable asset to promote with solar cooking. It can shorten cooking times, and provide additional cooking, once the pot is removed from the oven. Listen to a recent interview with José about the project. Inspired by his initial experience in Haiti, José created the World Central Kitchen, a foundation focused on feeding vulnerable people, supporting the local agricultural economy through local food purchases, and promoting nutritious foods, recipes, and environmentally sustainable cooking fuels and technologies. José is returning to Haiti, and the World Central Kitchen, in partnership with Grameen Creative Lab, is planning to build a commercial kitchen with the capacity to feed 10,000 people daily. The goal is to create a sustainable "social business" for the people that have the least. They plan to serve a nearby orphanage, school, hospital, and local residents. Solar cookers will be play a central role in the project. This project is included among Most significant solar cooking projects.
Clean Currents, a mid-Atlantic states provider of wind power through the electric grid, announced it is partnering with Solar Cookers International for its annual holiday giving campaign. From now through January 12, 2011, which is the one-year anniversary of Haiti's devastating earthquake, they will donate a portion of proceeds from every residential wind power enrollment to the purchase and distribution of solar cookers in Port-Au-Prince, Haiti. According to the Pan American Health Organization (PAHO), only 12% of Haiti's population had piped, treated water before the earthquake, and now the situation is worse. Access to pasteurized drinking water is the most effective deterrent to cholera, which is spreading quickly throughout Port-Au-Prince's slums and displaced persons camps. Solar cookers are an effective way to provide water safe for drinking, off-grid, and without fuel other than abundant sunshine.
Cooking your food with the sun in South Africa, November 27th, 2010 Imagine if you used the sun to cook your food instead of using the electricity or gas? Well, in the sunny balmy climate of Cape Town, South Africa they are doing just that! On November 27, 2010, 1,000 people will sit down for a meal together that will be cooked exclusively with solar cookers. But before the community sits down to feast they will engage in an intergalactic photo shoot. They will create the adjacent image out of the solar cookers and will have a 59 second window where the design will be photographed from a passing satellite. People all over the world are joining this event in South Africa by donating $150 to buy a large solar cooker for this event as way to help find a permanent solution to carbon reduction in the Khayelitsha neighborhood of Cape Town. More information... - 350.org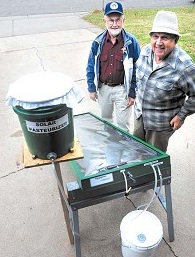 Retired 3M engineers create a solar water pasteurizer for use in Third World countries. Inspired by the potential capacity for heat transfer they saw in plastic political signs, Bob Nepper and Bill Stevenson, long time members of the Solar Oven Society in Minnesota, USA, set about designing their version of a water purifier. Water is first filtered, then passes through a field of channels in a black corrugated plastic collector. When the water reaches 71°C (160°F), and is suitable for drinking, a thermostat will open and allow the potable water to flow into an adjacent bucket. Capacity for the system is approximately four gallons of pasteurized water per hour. For more information on this concept, see Flow-through water pasteurization device, and more on their design at Nepper and Stevenson water pasteurizer.
The Solar Cooker Project helps to improve the lives of Darfur refugees. In May, 2006, Jewish World Watch began a partnership with Solar Cookers International (SCI) and the KoZon Foundation to expand access to solar cookers for Darfur refugees and improve the lives of over 4,000 families at Iridimi Refugee Camp in Chad. The project improves the safety and survival of women in the refugee camps and is run on the ground by the NGO Tchad Solaire ("Chad Sun"). Below is a recent video describing their efforts.
This project is included among
Most significant solar cooking projects
.
October 2010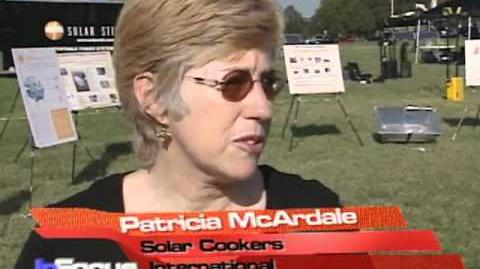 Disaster relief preparedness: Pat McArdle is interviewed about Solar Cookers International's participation at a disaster relief technology gathering held recently in Washington D.C., USA. The goal is to be able to share information more quickly, facilitating faster response times with aid when natural disasters occur.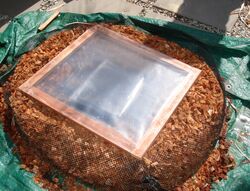 The Solar Nest is a worthy contender for an oven made of the simplest materials. A solar panel cooker can be fabricated with only cardboard, tin foil, and glue, but the Solar Nest can make use of dried ground cover to provide the insulated structure for a solar box cooker. Basically, it involves digging a hollow in a bed of dry wood chips (or other insulating material) and placing the cooking pot on a metal tray down into it. Then create a simple seal over the hollow by placing a wooden frame with plastic sheeting attached on top. Inside, the pot also has a plastic cover laid on top. For areas where it is not possible to use ground cover for insulation, experimentation has been done using shredded coconut husks, held in plastic netting as an alternative. The work and testing of the Solar Nest is being done by Dr. John Barker. See more about the oven and the results of his testing at Solar Nest.
September 2010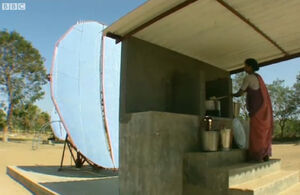 Global Bid to Tackle Cooking Smoke US Secretary of State, Hillary Clinton has announced a global partnership to tackle the scourge of toxic smoke from indoor cooking fires. Cooking smoke is estimated to shorten the lives of 1.9 million people a year; it also contributes to climate change. The Global Alliance for Clean Cookstoves is a partnership between the US government and other nations along with charitable foundations. It is believed to be the first major attempt to tackle the issue worldwide. The project will attempt to build on national programs already underway in India, Mexico and Peru. It aims to introduce modern low-pollution stoves to the homes of 100 million poor people by 2020. Clean stoves run on biomass (with chimneys and clean-burn mechanisms), or gas, or on solar power. Watch BBC video: How solar stoves cut cooking smoke.
Apply for a Partnership for Clean Indoor Air (PICA) award. Gain global recognition for your program's innovative approaches and outstanding results. Entry deadline is November 22, 2010, and awards are to be presented during the 5th Biennial PCIA Forum in Lima, Peru. Apply for an award.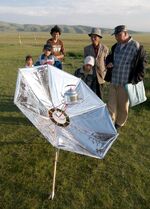 The SolSource solar oven wins 500K EU in the Green Challenge. Once again the SolSource 3-in-1 has impressed the jury, and won the Dutch, Postcode Lottery Green Challenge. The Postcode Lottery Green Challenge award is a startup competition run by the Dutch Postcode Lottery with 500,000 EU ($666,200 US) up for grabs for the winner and 200,000 EU ($260,500 US) for the runner-up. All entries must have the potential to reduce greenhouse-gas emissions in a measurable fashion. From an impressive field of young entrepreneurs, the jury chose 25-year old Scot Frank of One Earth Designs as the winner for his company's SolSource solar oven. The SolSource 3-in-1 combination is a solar cooker, heater, and electricity generator. It was inspired by the time Frabj spent in the Himalayas (the product has been tested there for 3 years), where women spend many hours a day collecting dung and wood fuels for cooking and heating. This process leads to deforestation, and many tribes in the Himalayas are rapidly running out of their traditional fuel sources. Families also breathe toxic indoor air pollution from the fire. Indoor air pollution is one of the world's biggest killers of children under five, claiming 1.6 million lives per year. More Information...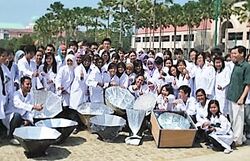 Indonesia: Difficulties faced by rural folk in getting cooking gas supply has inspired Universiti Malaysia Sabah (UMS) students to create solar cookers as an alternative to traditional cooking methods.
Businessman in Chicago Launches Solar Ovens in Uganda An immigrant from Uganda, now residing in Chicago, USA, has used the first portion of a $100,000 business competition prize to begin setting up an operation in his homeland to produce and distribute solar ovens. Ron Mutebi won his prize at the African Diaspora Marketplace competition in Washington in January. Mutebi arranged to ship from Chicago the components for 365 solar ovens and tools to assemble them in July. The shipment is scheduled to arrive in Uganda in October. In November, Mutebi will travel to Uganda to oversee the completion of an assembly plant and the training of staff to produce, distribute and service the cookers, made by Sun Ovens International in Elgin, Illinois. The ovens will appear in Ugandan markets in January 2011.
August 2010
Solar cooking "Avon Ladies" in Zambia - The Solar Health and Education Project (SHEP) began in 2007 to fund solar cooking workshops in rural areas of Zambia, and also with the urban poor in the Livingstone area. The main goal of the workshops was to introduce solar cooking methods to the community in a sustainable fashion. Most at the workshop have little education, but are completely sold on harvesting the sun for their daily needs of cooking fuel. The team, with direction from Alison Curtis, developed a system to appoint a local leader at the workshop to follow-up with a group of participants to help and encourage using the new cookers. Now, three years later, the solar team has ten excellent leaders who take turns spreading the solar news by setting up at shows, events, museum gatherings, school playgrounds, clinics and so on. These unschooled women leaders have learned to fill in a simple form, which SHEP developed with their input, so they have the knowledge to complete a request for funds themselves. The headmaster at the nursery school reads these requests and grants the money from SHEP to hold the demonstration or workshop. The women do the shopping, keep receipts, hold the event and then fill in a very basic report. They are paid for their workshop day @ $2.00 per event. The women are quite resourceful, as they have learned to make Cookits from cartons and reflective Crisp wrappers found in the trash. This project is included among Most significant solar cooking projects.
Solar Cooking in Africa - A Remarkable Technology Transfer
Solar Cookers for Africa: Solar Caravan 2010 - SunFire Solutions is an NGO in South Africa that has partnered with Solar Cookers for Africa to create the Caravan as a way to reach the portions of the population that live in areas typically difficult to reach. It will be a convoy of knowledge, experience, and partnerships in the area of sustainable household and community technologies and practices. The Caravan will start in Mozambique, to eventually cover most of Southern Africa. Far from relying in the knowledge and resources of a few, the Caravan will link experts, product suppliers, communities and funders. Starting in August 2010, a core team of 4 people from 3 countries will start traveling from Johannesburg, South Africa, towards Beira, Mozambique. In each community the Caravan visits, its members will be presented with a flexible curriculum of applied introductory workshops and demonstrations about the core topics and technologies. One fixed workshop module concerns clean energy; another food security, waste management and nutrition. To learn more, see how your experience may be of value, and offer to financial support see: Solar Cookers for Africa: Solar Caravan 2010
July 2010
Dedicated group of women in Nicaragua promote solar cooking over photovoltatics - The Solar Women of Totogalpa is the name of a cooperative made up of nineteen women and one man who are working to promote, produce and do research on renewable energy in the northern province of Madriz, Nicaragua, for the sustainable development of the family and the community. They have been involved in their community for quite a while helping to promote energy production in areas with no traditional source of electricity. Early emphasis was primarily with photo voltaic solar panel installation. After some time, the women agreed that they thought the solar ovens were more a priority, as even with electricity, they were still cooking with wood stoves. Saving the forested areas and smoke elimination while cooking were deemed more important for community health.  Nicaraguans Swap Firewood and Fossil Fuels for Solar Energy - Latin American Herald Tribune This project is included among Most significant solar cooking projects.
.
Save the date! Solar Cookers International invites you to attend Shine On! 2010 celebration to be held Wednesday, August 25, 2010 at 5:30 - 8:00 pm at the Sierra 2 Center, 2791 24th St., Sacramento, CA. Guest speaker is Bob Christopherson whose expertise is in geography, with strong interests in polar regions, global climate change, energy issues, and environmental awareness. Music will be by Bob Wren and the Sacramento City College World Music Ensemble.
June 2010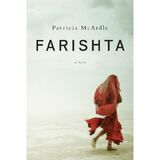 May 2010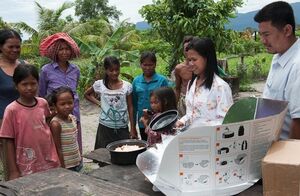 A pilot project has begun in Tamoung Pha-em, Cambodia to introduce CooKit solar cookers to the local community. Similar to many other regions, residents have relied on wood for cooking. The area once surrounded by jungle, has mostly been turned into palm oil fields, leaving scarce wood for cooking. Families have started to rely on kerosene, or walk long distances to get wood. The project is sponsored by Global Roots, a Washington state non-profit. Patrick Firouzian recently traveled to Tamoung Pha-em with the first cooker to demonstrate it's potential. Dany Pan, a village school teacher, will use the cooker regularly and experiment to adapt local food recipes.
A Scheffler Community Kitchen is currently being installed at the Jamhuriat High School for Girls in Afghanistan through the efforts of Solare Brücke. Located in the heart of Kabul, it is planned to be operational in June. The school has an enrollment of 1000 girls and the new kitchen will serve approximately 700 students who have lunch at the school each day. Everyone there looks forward to stop using the wood-fired kitchen stove, and are quite proud that the entire new solar kitchen has been produced in Afghanistan.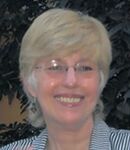 In solar cooking advocate Pat McArdle's novel, inspired by the year she spent in northern Afghanistan with the British Army, the fictional heroine introduces solar cooking to people living in remote villages in the Hindu Kush (just like Pat did when she was in Afghanistan). On Tuesday May 25, Amazon announced that Pat's novel is one of three finalists (out of 5,000 entries) in the General Fiction category of this year's Amazon Breakthrough Novel Award contest. The winner (who will receiving a publishing contract from Penguin Books) will be determined only by the number of votes received from Amazon customers before 11:59 p.m. EST on June 2. The publication of Farishta as a breakout work of popular fiction has the potential to expose millions of readers to sustainable solar cooking technology wrapped in a compelling plot with an international cast of characters. Read an excerpt and vote. If you are already an Amazon customer, voting takes less than one minute.
Asian air pollution (partly from cooking fires) reached the US:
| | |
| --- | --- |
| Air pollution from Asia reaches US shores | With a large ocean on either side of their countries, most North Americans do not consider the fact that the smoke from fuelwood burned in other countries can reach them. This video shows a cloud of carbon monixide migrating from Asia to the US. See Global dimming for more information. |
April 2010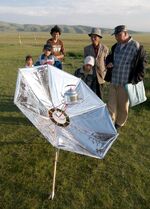 SolSource 3-in-1 wins National Sustainable Design award. The SolSource 3-in-1 combination solar cooker, heater, and electricity generator being developed by Wellesley College, Harvard, MIT, and Qinghai Normal University students has won a P3 national award at the 6th annual National Sustainable Design Expo held at the National Mall in Washington, DC, on April 24-25, 2010. The Expo brings together students, scientists, engineers, and business leaders whose innovative technologies are designed to advance economic growth while reducing environmental impact. A highlight of the Expo was the technologies developed by P3 student teams to address alternative energy, purification and distribution of drinking water, reducing pesticide run-off, green buildings, and more. The student team is working to help bring clean energy to the rural Himalayas. The goal is to promote awareness about energy choices and to make clean energy device manufacture a feasible option for local income generation. They have been working with direction from the non-profit One Earth Designs.
Afghan Scouts Harness Solar Energy - U.S. Army Soldiers are teaming with the Afghan Boy Scouts and Girls Scouts in Kabul, Afghanistan reducing the need to use wood as a fuel source. Through finding an alternate fuel source they are helping to create a cleaner Afghan environment while creating a more economical way of cooking. The solution: a solar oven, a box with a glass lid and reflective panels that absorb energy from the sun, trapping the energy inside the box to heat food and water. Solar ovens can bake, fry or steam any type of food. More Information
March 2010
Mexican teens have constructed their own solar ovens for the school hot lunch program. Utilizing the enthusiastic energy of teens, Peter Edmunds is introducing a solar-powered school hot lunch program into an economically disadvantaged Mexican middle school. The dream that the dusty border town of Palomas will become "the most solar-conscious town in Mexico" is closer to reality with four student-constructed solar ovens in place and in use. Edmunds, 71, a New Mexican retiree, founded the nonprofit organization Border Partners last year to address poverty in the desolate US-Mexico border area of Columbus, NM and Palomas, Mexico. Teens construct solar ovens
The world's largest solar cooking system was recently put into service. It is located in the holy town of Shirdi, India. Feeding the pilgrims that make an annual visit to the town has historically been done with conventional ovens, with recurring issues of fuel supply and air quality. Through the efforts and engineering of Deepak Gadhia and his wife, Shirin Gadhia, they have brought this largest solar cooking installation constructed to date, to Shirdi. They began working on the design in Germany before bringing the technology to India. Deepak is a specialist in energy conservation and management, and Shirin has a doctorate in genetic engineering. They worked with the proven designs of of the Scheffler parabolic solar oven as the basis for their system. The array incorporates seventy-three large parabolic dishes connected and coordinated with a tracking system to efficiently create the steam for cooking. Talking with CNN correspondent Mallika Kapur, Deepak said that "We soon realized what India needed was appropriate technology, not high technology". This region in India benefits from approximately 320 sunny days per year. During the monsoon season the existing boiler is used for cooking for the few days without sunshine. This project is included among Most significant solar cooking projects.
February 2010
February 25, 2010: With hundreds of thousands of Haitians homeless and living in tent camps, Sun Ovens International is continuing to place as many ovens in camps as possible. In late February, Paul Munsen traveled to Haiti and initiated distribution and training in seven tent camps. A committee was formed in each camp to determine who would receive the Sun Ovens and look for ways to increase utilization. At each location many people who were not able to receive a Sun Ovens pleaded for additional ovens. For additional information about Sun Ovens International's work in Haiti, click here. As shown in the photos below, camps are in open fields, schoolyards or anywhere space is available. Previously trained staff from Programme Energie Solaire of the Free Methodist Inland Mission have been employed to conduct training sessions. Paul Munsen loaded his rental car with ovens to take to the camps where he met with a camp committees. Training on the use of WAPIs for water pasteurization was also provided. Children and adults were eager to learn how to cook with the sun. See more photos.
Helping Haiti: Donate $40 to Solar Cookers International's (SCI) Haiti Project to quickly put a solar cooking kit (CooKit, pot, and WAPI) into the hands of a Haitian family affected by the recent devastating earthquake. SC) is partnering with Sun Ovens International and Friends of Haiti Organization to send as many solar cookers as possible to Haiti in a shipping container leaving on March 25, 2010. Donate here!
February 15: Haiti update: Jack Anderson reports: Paul Munsen is going to Port-au-Prince next week to establish some connections with the Free Methodists and others. There could be as many as 80 Sun Ovens there that didn't get crushed or damaged. Right now I am trying to connect with experienced trainers that might take jobs in any of the projects that surface. So it is a planning and capacity building phase that we are in. The energy, consciousness and cooperation among all of our solar colleagues is very inspiring and somewhat humbling in the face of such a huge catastrophe.
January 2010
January 29: Sun Ovens International Update: Much progress has been made in the efforts to expand the use of Sun Ovens to Haiti. On January 28, 2010, 2 large Villager Sun Ovens, 160 Global Sun Ovens, 200 CooKits and 2,000 Water Pasteurization Indicators (WAPIs) have been shipped. In addition, arrangements are underway for 297 Haitian made Global Sun Ovens from the assembly plant in Lambert Haiti to be distributed to families left homeless by the recent earthquake. A shipment of parts to reopen the assembly plant is scheduled for February 8. A partnership has been initiated with Bright Hope International, an NGO which has been working in Haiti for more than 15 years. The majority of the Sun Ovens will be distributed to families living in a tent city which has sprung up at a garbage dump in Port au Prince. Bright Hope is currently providing food and medicine to 429 families at this location. Some of the ovens will also be used in tent cities in Pignon which is 79 miles north of Port-au-Prince and has doubled in size from 35,000 to 65,000 people in the past two weeks. Paul Munsen will be traveling to Haiti in early February to assist in the distribution and training. Bright Hope plans to send additional shipments to Haiti of food, medicine and Sun Ovens throughout the month of February. With hundreds of thousands of Haitians homeless and living in make shift tent camps the need for Sun Ovens is immense. Most of the tent camps and are using charcoal to cook. The smoke in these camps strains the health of women and children who are all ready malnourished and dehydrated. The cost of each Sun Oven with two pots and WAPIs is $199. Donations of any amount will be greatly appreciated. Donations should be made out to Friends of Haiti Organization, PO Box 222, Holland, OH 43528, USA (Please note the donation is for the Sun Oven project.)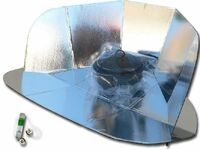 All years
2018
2017
2016
2015
2014
2013
2012
2011
2010
2009
2008
2006-2008
Main article: Solar cooking news archive 2006-2008
1995-2005
Main article: Solar cooking news archive 1995-2005