Deutsch, Español, Ελληνικά, Français, Hausa, Igbo, Indonesian, Italiano, Kiswahili, Kreyòl, Malagasy, Melayu, Português, Русский, Soomaaliga, Tagalog, Việt, Türkçe, Yorùbá, தமிழ், नेपाली, 中文, اردو, 한국어, 日本語, العربية, فارسی, עִברִית, हिन्दी, ไทย, বাংলা, తెలుగు, ગુજરાતી, ລາວ, ਪੰਜਾਬੀ, සිංහල, پښتو

See also Current news or archived news from other years.
December 2008
November 2008
After reading a magazine article that said more fruit on the Big Island is wasted than eaten or sold, Greg Menke had an idea. "We were thinking of the cheapest thing we could come up with, and we ultimately came to bananas," Menke said. The result, an oven that can hold up to 120 loaves of banana bread at a time. "We're looking to partner with coffee shops and other organic producers," Menke said, adding that its likely Kona residents will see the solar oven at the farmers market and area stores in the near future. Menke and Flanders also share some high-minded intentions for their oven. "We'd like to help feed the homeless," Menke said. "We hope people will chip in and donate. We don't need charcoal or wood -- just a sunny day." More info...
The Senegalese Ministry of Biofuels and Renewable Energy is entering into an agreement with Solar Household Energy to produce and sell solar cookers locally. "We hope to make solar stoves available in all 11 regions of Senegal," said Abdoulaye Touré, solar energy specialist at the ministry. More information...
Jimmy McGilligan, Manager of Barli Development Institute for Rural Women originally from Northern Ireland received his medal, OBE an honour bestowed by Her Majesty Queen Elizabeth II of the United Kingdom at Windsor Castle during an investiture ceremony on November 11. "For his services to social causes and the use of alternative energy in rural communities in India", is the recognition of his dedicated service to the rural and tribal women in central India. More information...
The Global Resource Alliance recently organized a workshop in the Lake Victoria region of Tanzania. The workshop was lead by Solar Cookers International East Africa Office. John Amayo was the main teacher. It went really well. There are now small groups in several villages that want to begin building solar ovens and selling them. The sale price is about ten dollars each and the stoves can save end users over $15 per month on charcoal – not to mention preventing deforestation, eliminating deadly indoor smoke and providing nutritious meals with very little attention required. The workshop included delicious solar cooked meals.
Joyce Ong Choon Kim reports: Anyway I would like to say that as we are approaching the end of 2008, I am glad to note that efforts in promoting solar cooking in Malaysia is very encouraging. The Cadet Guides Branch of the Girl Guides Association of Malaysia has been advocating the benefits and fun of solar cooking in its training courses and camps. As a lecturer and Cadet Guides Commissioner under the Ministry of Education, I am very happy to have been actively involved in many of the programs implemented this year be it at institut, zone or national level. As the members in our branch are basically are teacher trainers and student teachers, it is hoped that they will continue to practice and advocate solar cooking to their students and society at large. Here's a brief recap of some of our activities: To celebrate the Year of the Cadet Guides 2008, we brought solar cooking to the orang asli (natives) villagers in Kampung Teluk Tongkah on 22 April 2008. We gave a talk and demonstration as the weather was not favourable for cooking. 270 Cadet Guides and 50 Guiders from the 27 teacher training institute in Malaysia participated in this celebration which was launched at this village. The 353 Cadet Guides from the central zone, who attended the Young Leaders' Course for Cadet Guides course were given a hand-ons session on solar cooking. The course was held from 12 - 15 May 2008 in Morib, Selangor Darul Ehsan. From 20 - 26 June 2008, a jamboree was held by the Teacher Education Division, Ministry of Education for all the uniformed units (Scouts, Cadet Guides, Red Crescent, and others), A total of 1485 student teachers attended the camp. There was much interest and amazement when the Cadet Guides unit did a session on solar cooking. The weather was just glorious for solar cooking. The 46 new lecturers in charge of the Cadet Guides all over Malaysia were given a workshop on solar cooking when they attended the Pre Warrant Training Course in Kuala Lumpur from 16 - 19 September 2008. The response was very good and they collaborated actively to produce some cookers to take back. Sixteen Cadet Guides from the Federal Institut of Teacher Training enjoyed two days of solar cooking when they attended the Basic Camping Course in Bukit Mertajam together with other student teachers from the various uniformed units. Finally I must say that I really do enjoy solar cooking (plus advocating it) and it's all thanks to Barby Pulliam.
October 2008
September 2008
Fatima Jibrell, co-producer and writer of the film Charcoal Traffic, and co-founder of Sun Fire Cooking has been awarded the prestigious 2008 National Geographic Society/Buffett Award for Conservation in Africa, for her many years of struggle against the illicit charcoal trade which is destroying the fragile semi-arid Somali environment and the pastoral way of life.
Google's Project 10100 (pronounced "Project 10 to the 100th") is a call for ideas to change the world by helping as many people as possible. Here's how to join in.
Send Google your idea by October 20th. Simply fill out the submission form giving Google the gist of your idea. You can supplement your proposal with a 30-second video.
Voting on ideas begins on January 27th. Google will post a selection of one hundred ideas and ask you, the public, to choose twenty semi-finalists. Then an advisory board will select up to five final ideas.
Google will help bring these ideas to life. They're committing $10 million to implement these projects, and their goal is to help as many people as possible. So remember, money may provide a jumpstart, but the idea is the thing. Good luck, and may those who help the most win. More information...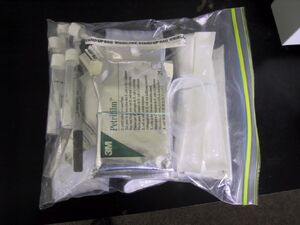 Karyn Ellis reports on how use of the Portable Microbiology Laboratory (PML) helped Kenyan health officials control a recent Cholera outbreak: "With close to a full house thanks efforts made by the Solar Cookers International East Africa Office and Bob Metcalf, twenty representatives from various districts of Ministry of Health (MOH) & Water Resources Management Authority (WRMA) were in attendance as Bob deftly executed an informative full two days of lecture on PML water testing and hands-on methodology. There had been an outbreak of Cholera a few weeks before our Safe Water Workshop, and MOH and WRMA health workers were able to contain the outbreak utilizing the PML to test water in the rural Nyakach region near Lake Victoria. This is a strong testimony to our cause, and such an encouraging step for such an influential government organization to be using the PML officially in their work, where not even a year ago they had no resources of this kind. What a monumental opportunity for the governments of Kenya to demonstrate the practicality and effectiveness of the PML in life threatening situations, and one that will pave the way for implementation in other countries." Read a report of Karyn's recent project work in East Africa.
August 2008
New plans: In early 2008, Teong Tan set a goal to create a functional solar cooker, from a flat sheet of cardboard, by using 25% less material than that required for a CooKit solar cooker. The end result, after about eight month's time, is the Sunny Cooker. The Sunny Cooker, made from a 36" x 36" sheet of cardboard, has multiple triangular shape reflector panels to help focus sunlight towards a cooking pot. It is designed in such a way that its contour can be easily re-shaped, simply by tilting the cooker forward or backward. Altering the contour of the cooker would enable the cooker to become more efficient in capturing the sunlight at different sun angles.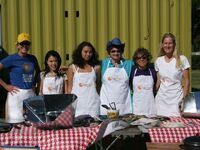 Susan Corbett writes, " A few pictures from the New Energy Station at the Democratic National Convention in Denver. We had about 10 ovens, perfect weather for solar cooking and lots and lots of people. The SunEdison aprons were donated from a local company along with the cookie dough. I wore my Solar Cookers International T- shirt and the yellow SCI hat from Kenya that Bob Metcalf sent to me. Patty and I talked a lot about SCI. Barbara Stribling (the one in the blue cowboy hat), one of SCI's early founders, also came to help. We had about 6-8 volunteers every day from 10am to 4pm. SCI provided water and snacks for the volunteers and will be picking up some of the food demo costs. The first Sunday was by far the most crowded with well over a thousand people. The rest of the week, we had several hundred a day go by. Lots and lots and lots of SCI cards, brochures, and newsletters were given away."
Solar Cookers International is seeking experienced solar cooks to conduct solar cooking demonstrations in communities across the U.S. as part of the ASES National Solar Tour the largest solar energy event in the world. Saturday, October 4, 2008. More information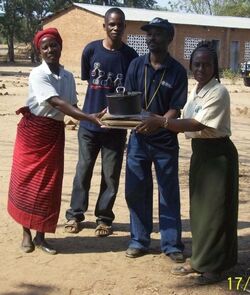 McDonald Ganisyeje reports: "I just had a successful solar cookers workshop at Chapananga area in Chikwawa District, a community surrounding Majete Game Reserve. This was organised through Africa Parks who are managing the Game Reserve. I trained three women trainers and 5 Africa Parks Extension staff on the first day. The following day 28 women turned up for the training, and five AP Extension staff including Stella Mzumara - Africa Parks Extension Co-ordinator. The three ladies, Trainers- Beauty, Beatrice and Selina did a wonderful demonstration of their capabilities to teach and explain some of the issues about solar cooking to the other group of women. The response was very good. Chikwawa District is one of the hottest areas in Malawi, lying along the great rift valley also known as "the lower shire". Sunshine is plenty, which is good for solar cooking. We boiled tea, cooked vegetables, eggs were well boiled (even cracked), and the sweet potatoes well cooked. The rice and beans were the only dishes that didn't cook very well. Rice because of inadequate water was added and the beans needed more than 4 hours. That was a good lesson for the women! All the 28 ladies were given a Cookit each, a heat resistant plastic bag and a black pot which were painted during the workshop. During the training I was assisted by Justin Namizinga, based in Blantyre, is one of the trainers I trained some time back and he is doing a great job! More follow up workshops will be conducted up to December."
July 2008
See also
Ad blocker interference detected!
Wikia is a free-to-use site that makes money from advertising. We have a modified experience for viewers using ad blockers

Wikia is not accessible if you've made further modifications. Remove the custom ad blocker rule(s) and the page will load as expected.