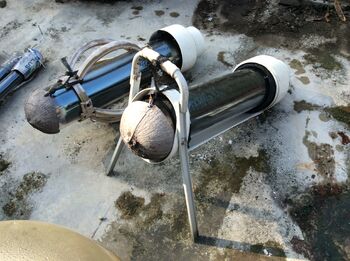 The SaVeTaO (Solar Vacuum Tube Oven) is basically a scaled up version of the SK-TF (Solar Kettle-Thermos Flask) with a bigger opening (Internal Diameter: 4 inches instead of 2 inches) to facilitate baking, cooking and even autoclaving on top of solar boiling and pasteurizing water.
The SaVeTaO is ready for commercial production, the only thing that prevent it from being realized and saving lives in the field in poverty striven and resource poor domains but blessed with rich sunshine resources like sub Sahara Africa is the initial seed capital to manufacture the first 1,000 units of SaVeTaOs.
Any kind soul out there who wants to or knows of someone who wants to be blessed by the poor each and everyday when the poor uses the SaVeTaO to cook, boil, bake and solar autoclave, please feel free to contact Alex Kee to discuss possible collaboration.
Recent news and developments
January 2011: the SaVeTaO is already in commercial production and sales.
Contact
See Alex Kee.