Deutsch, Español, Ελληνικά, Français, Hausa, Igbo, Indonesian, Italiano, Kiswahili, Kreyòl, Malagasy, Melayu, Português, Русский, Soomaaliga, Tagalog, Việt, Türkçe, Yorùbá, தமிழ், नेपाली, 中文, اردو, 한국어, 日本語, العربية, فارسی, עִברִית, हिन्दी, ไทย, বাংলা, తెలుగు, ગુજરાતી, ລາວ, ਪੰਜਾਬੀ, සිංහල, پښتو
Last updated:
26 January 2018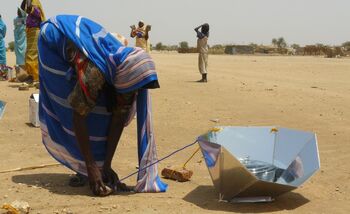 Solar Household Energy (SHE) is a 501(c)(3) charitable non-profit organization established in 1998, working to unleash the power of solar cooking to improve social, economic and environmental conditions in sun-rich areas around the world. This is accomplished through public education, supporting research, and partnering with local organizations to deliver solar cooking where it is most needed.
SHE seeks to introduce solar cooking where it can improve quality of life and relieve stress on the environment. Working with private entities, governments, and NGOs, SHE designs and oversees training and distribution projects in Mexico, Central America and Africa to introduce integrated cooking solutions, which include solar cooking, a fuel-efficient stove and a Heat-retention cooker.
Through field experience and research, SHE perceived the need for a mass-produced solar oven that was durable, efficient, easy-to-use, portable and commercially viable. After years of research the Solar Household Energy completed the HotPot design in 2004. The engineering was accomplished by the Florida Solar Energy Center, and the reflector was designed by Energy Laboratories, Inc., Jacksonville, Florida. Currently, the HotPot is manufactured in Mexico. For information on purchase of HotPots, contact: inquiries@she-inc.org. Solar Household Energy is also constantly working to improve both the HotPot and other solar ovens and developing strategies to to make them available to those in developing countries who can benefit from them most at a price they can afford.
SHE was a winner of the World Bank's Development Marketplace and also received a grant from the US Environmental Protection Agency's Partnership for Clean Indoor Air to introduce the HotPot and train users across Mexico in collaboration with Fondo Mexicano para la Conservación de la Naturaleza (FMCN). SHE and FMCN have been working together for a decade. SHE has also introduced solar cooking projects in El Salvador, Guatemala, Bolivia, Burkina Faso, Senegal, Morocco, Ghana, Cameroon and most recently in Chad.
In 2011, The United Nations High Commissioner for Refugees approached Solar Household Energy to implement a pilot project in the Gaga Refugee Camp in Chad which houses refugees from Sudan. With the assistance of Patrick Fourrier of Bolivia Inti-Sud Soleil of France, SHE delivered HotPot Solar Ovens to 50 households in the camp and trained the users in solar cooking. Initial results showed the recipients using their solar ovens everyday, with great satisfaction, as it saved them from having to leave the camp to collect firewood or from having to purchase it in the local camp market. UNHCR will be be deciding whether to scale up this program to include more households in this camp and in other refugee camps.
Solar Household Energy is also collaborating with the non-profit, Grupo Jaragua, in the Dominican Republic to train in solar cooking and distribute Global Sun Ovens manufactured locally by El Fuego del Sol. Grupo solar cooks in their community centers daily, using the opportunity to educate others about solar cooking. SHE is currently collaborating with The Nature Conservancy on a project to introduce integrated cooking in Haiti, just across the border from the Dominican Republic. The Nature Conservancy wanted to add solar cooking to their ongoing reforestation program in the region to offer more forest and environment-friendly cooking options for the local communities. SHE is providing Sun Ovens from El Fuego del Sol, along with fuel-efficient stoves, to households and providing them with training in solar cooking.
Our programs benefit families in impoverished and environmentally threatened regions of the world by providing the HotPot solar cooker, and training to assure its integration into routine cooking practices.
In El Salvador, women are using the HotPot almost daily. One enterprising woman cooks snacks using the HotPot to sell at local soccer games.
In Senegal, women are buying one-fourth less fuel wood and half the amount of gas for cooking, thanks to the HotPot.
In Mali, an entrepreneur has organized large conferences, training sessions, and attracted national television media attention to market the HotPot.
Most significant solar cooking projects
The HotPot solar cooker introduction in Mexico - Solar Household Energy (SHE), spent several years developing a solar panel cooker called the HotPot, a variation on Solar Cookers International's cooker, the CooKit. In 2003 SHE received a grant from the World Bank's Development Marketplace to mount a HotPot promotion project in Mexico working with the Mexican nature conservancy, Fondo Mexicano para la Conservacion de la Naturaleza (FMCN). By July 2004, 2,000 HotPots had been manufactured and trucked to eight local conservation NGOs that had agreed to participate in the HotPot distribution initiative. Solar Household Energy may be the global leader in promoting solar cooking. See The history of the HotPot project.
News
September 2017: Solar Household Energy has partnered with Lorena Harp to provide solar cookers to earthquake victims in Mexico, as well as launch a new solar cooker social enterprise in the country. The partnership will work to "carry out market research, optimize the Haines Solar Cooker and its pot for adoption by rural women, train solar cooking ambassadors, and establish [Lorena Harp's] business, with the end goal of becoming financially sustainable." More information...
August 2016: Solar cooking volunteer needed -  Solar Household Energy is seeking a volunteer to represent SHE and demonstrate solar cooking at farmer's markets and other community events in the Washington D.C. area. The time commitment will be Saturdays from 8:30am - 1:30pm. More information...
August 2015: Louise Meyer featured in National Geographic - Louise Meyer, founder of Solar Household Energy, gives interview to National Geographic as part of the magazine's The PLATE: Serving daily discussions of food series. Louise discusses how she first became interested in solar cooking and why she feels solar cooking is important, especially in the developing world. Read more...
January 2015: Assessing lasting impacts of HotPot projects - Solar Household Energy is revitalizing relationships with previous partner the Mexican Fund for the Conservation of Nature (Fondo Mexicano para la Conservación de la Naturaleza , or FMCN) to assess long-term project outcomes. FMCN has distributed over 25,000 HotPots in Mexico. Quantifying the lasting impacts of these projects will prove HotPot long-term adoption and durability, demonstrating that the HotPot is a viable clean cooking solution. Read more: Assessing lasting impacts of HotPot projects in Mexico - SHE
January 2015: More HotPot solar cookers for the Gaga refugee camp in Chad - The Lutheran World Foundation, now in charge of environmental activities in Gaga refugee camp, wishes to partner with Solar Household Energy to expand the HotPot project with 2,500 more HotPots--enough to cover 80% of households. Based on the success of the earlier HotPot project in Gaga refugee camp, SHE is also exploring options to introduce solar cookers in Burkina Faso refugee camps.
June 2013: World Refugee Day focuses on the needs of displaced populations - World Refugee Day was established by the United Nations to honor the courage, strength and determination of women, men and children who are forced to flee their homes under threat of persecution, conflict and violence. Even though the day has passed, June 20th, awareness and action are continuing. Universal Giving has organized a group of relief projects to help raise donations. 100% of the donation reaches the intended foundation and project. This year Solar Household Energy is featured among the projects for their work promoting solar cooking worldwide. SHE is a global leader in this effort. Consider helping them. Donation information...
February 2013: Changes are coming to Tilori, Haiti as well. Twenty-five families are learning to cook Haitian meals like soup, beans, potatoes, yucca, plantains and rice with energy-efficient stoves and solar ovens — little or no wood or charcoal is needed. Solar Household Energy (SHE), a U.S.-based nonprofit organization that introduces solar and alternative cooking to communities, recently distributed the stoves that were purchased with Nature Conservancy funding. Louise Meyer, trainer from SHE, will continue to provide on-going technical assistance and encourage the women to support each other as they learn this new way of cooking. Read more at Solar Cookers: Making Life Easier for Women
November 2012: Solar Household Energy has again had a busy summer and fall. Louise Meyer provided solar cooking demonstrations, including to the U.S. Surgeon General, Dr. Regina Benjaminto, and assisted the Nature Conservancy in Haiti to teach the Integrated Cooking Method as part of its larger reforestation program in the region. It is exciting and encouraging to see organizations such as SHE taking the promotion of solar cooking the next step, to increased global awareness. Read more about their efforts...
October 2012: The International Union for the Conservation of Nature (IUCN) has embraced a strong resolution sponsored by Solar Household Energy calling for increased support for solar cooking efforts worldwide. The measure was adopted in September at IUCN's quadrennial World Conservation Congress in Jeju, South Korea. The organization recognized the health hazards of cooking over biomass fires, and the availability of current solar cooking technologies. Efforts continue to develop solar cookers that offer increased efficiency, are cost-effective to produce and distribute, and are sturdy enough to withstand extended use. Read more...
April 2012: Solar Household Energy has announced that it is seeking unpaid interns to assist with communications and program activities at their Washington D.C. office for Summer and Fall 2012. Both upper- level undergraduates and graduate students are eligible for this internship. Specific tasks will be assigned according to skill level and individual expertise. More Information...
March 2012: The IUCN World Conservation Congress is the world's largest conservation event. Held every four years, the Congress aims to improve how we manage our natural environment for human, social and economic development. It will take place from September 6-15, 2012 in Jeju, Republic of Korea. Leaders from government, the public sector, non-governmental organizations, business, UN agencies and social organizations will discuss, debate and decide solutions for the world's most pressing environment and development issues. The upcoming Congress has been approached by Solar Household Energy to present the case for solar cooking. Read more of their proposal.
November 2011: SHE's founding chairman, Darwin Curtis, is meeting this week with officials at the office of the United Nations High Commissioner for Refugees in Geneva, to brief them on our project to introduce solar cooking in the UNHCR Gaga Refugee Camp in eastern Chad for Sudanese refugees. Details of the project introduction are included in the Annual Report. The second follow-up visit to the camp in July provided encouraging news that the households that received HotPots are using them for every mid-day meal and some evening meals as well. The families reported that their wood usage has dropped by 25-40% and their monthly allotment of wood from UNHCR is now lasting them twice as long. The women no longer have to leave the camp to collect scarce fuelwood and put themselves at risk. The participants recommended that all the families in the camp receive their own HotPots. UNHCR's purpose in contracting this pilot project was so they could determine if they would like to scale it up to include more households and possibly more camps. Solar Household Energy Annual Report: FY 2011
October 2011: We would like to let you know that the FY 2011 Annual Report is now available. It provides a summary of some of Solar Household Energy's accomplishments during the year ending May 31, 2011. SHE continues to be actively engaged in promoting solar cooking and helping to get it into the hands of those who can benefit from it most. Below is an update on some of the activities introduced in the Annual Report. Louise Meyer, our director of training and field operations, recently returned from a trip to Tilori, a small community in Haiti on the border with the Dominican Republic. As part of a reforestation project of The Nature Conservancy, Solar Household Energy organized and directed the introduction of Global Sun Ovens and Stovetec [fuel-efficient wood stove]]s for 25 Haitian women from Tilori, and five Dominican women who live nearby and trained them in the use. Combining both the solar ovens and the fuel-efficient wood stoves enables healthy cooking practices in all weather conditions and times of day. "It was a surprise to find a great variety of goods being cooked, far more than had been prepared during the training program that preceded this phase," Louise reports. "Judging from the home visits, the Haitian women felt comfortable using their solar ovens, a totally new cooking technology for them," she adds. We look forward to expanding this project to include more families in Haiti and the Dominican Republic. Solar Household Energy Annual Report: FY 2011
May 2011: Solar Household Energy(SHE) was commissioned to test acceptance of the HotPot solar oven in the Gaga refugee camp in eastern Chad. It shelters 20,000 people from Darfur in Western Sudan. Patrick Fourrier, a French solar cooking expert affiliated with Bolivia Inti Sud Soleil, completed the first phase of the project last month. He will also ensure that local support systems set in place to encourage continued use of the solar ovens are working effectively. Report of the training mission in solar cooking: Gaga Refugee Camp Meanwhile, SHE has begun a cooperative relationship with Grupo Jaragua, a highly respected non-governmental organization in the Dominican Republic, to support a solar cooking initiative. Grupo is aided by a Dominican eco-tourism and solar cooking advocate El Fuego del Sol, which conducts the local assembly and subsidized sale of Sun Oven box cookers in rural communities near the Haitian border. They are also supporting The Nature Conservancy's office in the Dominican Republic to add the integrated cooking method as a component of their reforestation project in Haiti. SHE is working to expand the solar cooking promotion efforts it undertook in Mexico with the Mexican Fund for the Conservation of Nature (FMCN) begun in 2004. They has also been active in the areas of solar cooking advocacy, research and technology development. On the public education front, SHE founding director Dar Curtis is participating as a contributing member of the Technology and Fuels Working Group of the Global Alliance for Clean Cookstoves. This alliance of governments, corporations and nonprofits is promoting cleaner cooking solutions than the open cooking fires and inefficient cookstoves used by three billion people around the world. Solar provides the very cleanest cooking of all cookstoves. Read more in the SHE spring update 2011.
July 2009: Through the Senegal Solar Cooking Initiative, project partners Solar Household Energy, Inc. (SHE) and Tostan will train and equip 2,000 families with HotPot solar cookers. Dozens of villages are participating in the project, and are sending groups of three representatives to be trained. A point person from each village is selected, and is responsible for conducting local demonstrations, distributing HotPots, answering questions, and offering advice. A regional trainer offers further support as needed. Foods that are solar cooked at the demonstrations include fish, rice, beans, millet porridge, and cakes. By mid-2008, 1,000 HotPots had been distributed in the Thies region and 350 in the Kaolack region. The remaining HotPots are slated for the Touba region.
July 2009: Solar Household Energy, Inc.'s Richard Stolz reports that 400 HotPot solar cookers were provided to victims of the floods that ravaged the southern state of Tabasco in late 2007. "In addition to the devastation caused to homes, the floods knocked out Tabasco's electricity and gas distribution plant. As a result, even after flood waters had receded, many residents had no means of cooking food, particularly when firewood was unavailable." The HotPots were made available by two of Solar Household Energy, Inc.'s partner organizations, the Mexican Fund for the Conservation of Nature, and International Logistics Solutions, which manufactures HotPots in Mexico.
November 2008: The Senegalese Ministry of Biofuels and Renewable Energy is entering into an agreement with Solar Household Energy to produce and sell solar cookers locally. "We hope to make solar stoves available in all 11 regions of Senegal," said Abdoulaye Touré, solar energy specialist at the ministry. More information...
November 2008: In late 2006, Acciónatura, a Spanish NGO, approached SHE about implementing a project in Peru with their Peruvian partner NGO. While they had the funding to buy the HotPots and implement the project, they did not have the solar cooking technical expertise. Therefore, they requested in-country technical solar cooking support from Solar Household Energy (SHE). SHE signed a Terms of Reference with Acciónatura to work in a consortium with Asociación de Ecosistemas Andinos (ECOAN) to conduct a solar cooking project. The solar cooking trainings were launched in mid-April outside of Lucre, Peru (about 30 kilometers from Cuzco). During five separate trainings, 100 women learned solar cooking techniques. Traditional Peruvian dishes, estofada (chicken and potato stew), rice, and baked peaches were cooked. All the women were extremely impressed with the ability of the HotPot to cook traditional food. In the coming months, the women will attend follow-up meetings where they will share solar cooking experiences. Additionally, the women will participate in a work-exchange program. In the work-exchange program, the women will plant trees in a reforestation project, conduct solar cooking demonstrations in their communities, and conduct solar cooking demonstrations at a regional food fair.
Fall 2008: Fall Quarterly Newsletter 2008
June 2008: Solar Oven Cooking: A Lucrative Business - News Blaze
February 2008: SHE has launched two new pilot projects in Guatemala with Fundación Defensores de la Naturaleza and Asociación Kajih-Jel. In conjunction with the two NGOs, SHE conducted solar cooking trainings to 75 women in two rural villages. The women were impressed with the exceptionally good flavor of the chicken stew, rice, and plantains cooked in the HotPot. A micro-credit system will allow participants to amortize HotPot payments over time.
November 2007: SHE has launched pilot projects with two new Salvadoran NGOs, Unidad Ecológica Salvadoreña (UNES) and Asociación de Lisiados de Guerra de El Salvador (ALGES). The women participating in the program receive a solar cooking training and hold monthly meetings to share solar cooking experience. One group of women participates in a micro-credit payment program. The other group of women participates in a work exchange program: they conduct solar cooking demonstrations in exchange for a HotPot. Additionally, partner organizations hold a technology exchange between local communities to spread the word about solar cooking!
May 2007: The May issue of House and Garden features an article on solar cooking by Sue Halpern and Bill McKibben. "We are partial to the Solar Household Energy Inc.'s HotPot," the authors wrote. They offered two reasons for their praise: "Buying it supports the work of SHE in less developed regions of the world, especially where forests have been ravaged for cooking fuel, and because it comes with its own cooking pot." The authors stated that solar ovens "haven't reached the mainstream yet," but added that solar cookers "are attracting attention for producing intensely flavored food without match or plug." The article also describes other solar ovens and the use of solar cooking both in the developing world and in the U.S. The article is currently on the magazine's web site
April 2007: Solar Household Energy partners in El Salvador are currently implementing solar cooking pilot projects that their communities have embraced. More than 100 HotPots have been distributed in the past five months! The majority of women use them for cooking on a daily basis, helping to offset the time and money costs of foraging or paying for wood. Solar Household Energy continues to raise funds for this project with the goal of offering more families the opportunity to own a HotPot. Your donation will directly benefit participants and their families. For details about the program please go to http://www.she-inc.org/art.php?id=62. If you would like to make a donation please go to http://www.she-inc.org/contribute.php. (*Please specify that the donation is for the El Salvador program.)
January 2007: The International Relations Center, a nonprofit organization whose mission is to provide information and analysis that increase social and economic justice throughout the world, recently cited the HotPot as an example of an effective solar cooker that is both produced and sold in Mexican communities. Mexico is currently working to structure a national training program to help individuals understand the utility of solar and wind power in cost effectiveness for health and the environment. Read more here.
January 2007: The HotPot will be featured on the Earth Focus TV program in late January. This program highlights the October 2006 Green Festival in Washington, D.C. that promotes a sustainable economy, ecological balance, and social justice. Over 300 exhibitors attended the festival and Solar Household Energy was one of a few organizations highlighted in this program. Please here to see local program times and channels for Earth Focus: Green Festival.
Fall 2006: SHE is in contact with the Agricultural and Rural Development Association (ARA-Ghana). The ARA-Ghana has experimented with the HotPot and considers its quality and design to be very marketable. It is not planning a promotion program.
June 2006: Solar Household Energy, Inc.'s Director of Programs for Latin America and East Africa, Camille McCarthy, traveled to Kenya and Tanzania to meet with governmental agencies, NGOs, and private sector representatives to explore the feasibility of cooperative solar cooking ventures. Many groups expressed interest in SHE pilot solar cooking projects. SHE expects to conduct initial solar cooking training, marketing and sales projects in Kenya and Tanzania in early 2007.
Summer 2006: Solar Household Energy's first bulk delivery of HotPots arrived this summer in Mali, West Africa. The container of 1,000 cookers was purchased by a Malian energy services company which has promoted solar cooking in Mali for a number of years and will be a regional distributor of HotPots. To learn more about our West Africa programs, go here.
Reports
June 2008 - May 2009 fiscal year: Read more here.
Articles in the media
Audio and video
See also
Buying a HotPot
Contact
Solar Household Energy, Inc.
3327 18th St. NW,
Washington, DC, Maryland 20010
USA
Email: info@she-inc.org
Web: www.she-inc.org
Facebook: https://www.facebook.com/SolarHousholdEnergy
Twitter: @SolarHousehold
YouTube: https://www.youtube.com/user/SolarHouseholdEnergy