Solar Fire
Talk

1
1,853pages on
this wiki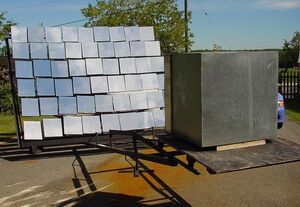 Solar Fire
concentrators are present in
Mexico
,
Cuba
,
Mali
,
France
,
USA
,
Haiti
and
India
. Related models, the
Helios
,
Vesta
,
Prométhée
, and
SFP32
have been built by motivated individuals and/or organizations.
Solarfire.org , a collaborative Open Site serves to develop and talk about Local Solar Concentrators that can replace fires of fossil fuels, wood and other biomass for agriculture and small industries with good results.

News and recent developments
January 2013: Eerik Wissenz spoke at the Open Knowledge Festival held in Helsinki, Finland last September about the potential for solar power as an energy resource. Typically, Solar Fire technology has used steel frameworks to support an array of flat panel mirrors, which simulate the performance of curved parabolic solar cookers. The scale of the equipment is determined by the the intended uses, including cooking and agricultural processing on the domestic and village scale, and for local industrial activities. The most recent design has reduced steel use by over 70% by using wood or bamboo rows to support the mirrors. Unlike other large scale concentrators, Solar Fire consists of no curved metallic pieces, but is a simple frame with rows of mirrors, each flexed and inclined to concentrate sunlight either onto a boiler placed at the top of a tower or into an oven at ground level. Eerik Wissenz at the Open Knowledge Festival
January 2011: Eerik Wissenz builds a 32 square meter array that will power a 2 hp steam engine called FP32, in North India with Tinytech.
January 2010: Eerik & Eva Wissenz build a 9 square meter array called Prometheus9, in North India with Tinytech.
Audio and video
thumb|400px|left|Assembly and performance of the Solar Fire P32 concentrating reflector.

See also
External links
Contact