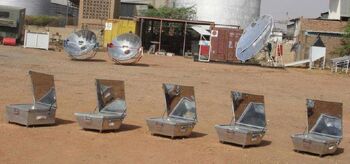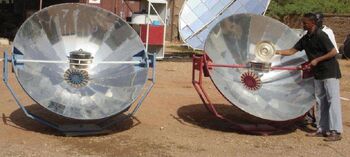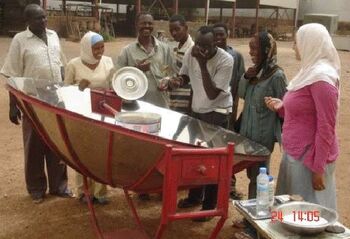 Solar Energy Enterprises Co Ltd (SEEC) is a private company in Sudan working in steel fabrication and special adapted technologies, like solar and renewable energy and rural water supply and clarification facilities. In addition, the company offers a range of specialized scientific and engineering consultancy services, specially in environmental protection issues.
The company was established by Dr. Salih Hamadto, a former professor of physics in optics, in 1985. SEEC is also considered a leading private-sector establishment concerned with scientific and industrial research and development, and the training of high-grade technical personnel. Through its close association with the scientific and academic community, the company has also provided a number of contracting and consulting services in the areas of solar energy utilization and rural community development.
These projects have included:
A solar cooker program begun in 1990, to provide the local design, manufacture and dissimenation of solar thermal utilities, like domestic dish cookers, domestic hot water systems, water distillers, food dryers and large-scale community kitchens, with units cooking three meals a day for a thousand people.
The design, procurement and installation of solar electric systems, like solar pumps, lighting and telecommunication units, cathodic protection systems, etc.
Rural drinking water projects; with clarifiers, towers, tanks, and delivery systems.
As a matter of policy, and as part of its mission, the company sponsors young Sudanese scientists, students and technicians. Over the past years, over (160) B.Sc. graduation projects and (26) M.Sc.'s were sponsored, to degree attainment. Hundreds of technicians (welders, fitters and sheet metal workers), mostly interns from vocational training institutes, have also been trained in their workshop. The solar cooker program has included the manufacture of three different configurations. A box cooker, a parabolic cooker, and a large scale community and institutional size cooker utilizing a Scheffler style collector.
The box cooker was developed with UNIDO for use in Darfur. It is an innovative (proprietary) all-metal design, with no wood or cardboard used in the construction. It is rugged, portable, with user-friendly simple controls. With it's modular design, replacement parts are readily available. The parabolic dish style cooker is 1.8 meters in diameter, with a double axis manual tracking system. It incorporates a stainless steel reflector and can reach quite high temperatures quickly.
The large Scheffler style cookers are a proven design, and (SEEC) has successfully completed installations in a number of facilities in the area.
News and recent developments
October 2011: SEEC reports they have introduced solar cooking to over 1000 people since they began teaching in 1985.
May 2010: Solar Energy Enterprises Company sponsored a solar lunch in Khartoum with a public demonstration. Lunch was served to 200 people. More Information and photos...
May 2010: As part of it's continual program of training students, Solar Energy Enterprises Co Ltd (SEEC) has sponsored a B Sc graduation project in Khartoum, Sudan to research revenue-generating cooking using the recently developed SEEC solar box cooker. Two fifth year students produced quality pumpkin jam and cookies. Their project established cooking procedures for users. The results were backed by proper biochemical and microbiological analysis at the university labs. More Information with photos... [Note: Only fruit should be canned in a solar cooker without pressure. See: Canning]
External links
Contact
See Salih Hamadto.