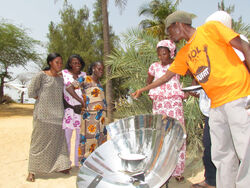 Solar Cooking NV was founded in 2011 to give a firm footing to the launch of the SolarCooker Eco3. We want to contribute to sustainable development in general , and the shift to renewable energy in particular. Therefore, we will focus on developing products, projects and awareness campaigns on energy issues and climate change and make them accessible with concrete, and smart solutions in solar energy.
Worldwide there are already many ongoing initiatives in renewable energy. Everyday cooking is however a neglected issue until now. That's why we hope we can make a big difference in this area, both in the South and here. Solar Cooking NV also wants to deploy these activities in developing countries and therefore chooses to support financially the project Sol Suffit of Natuur.koepel association.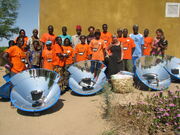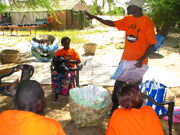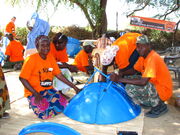 Recent news and developments
December 2011: 630 SolarCooker Eco 3 were shipped to Senegal (so even more than originally planned!). In the next months, they will be introduced in Dakar and in 8 villages next to the national park of the Djoudj. Local volunteers participated in work shops to learn technical skills and correct handling of the solarcookers. They will be guide the introducting in the different villages. Cooking demonstrations were also very succesfull. We also made the trainees familiar with the method of retained heat cooking. We found it quite easy to make good quality hay baskets with cheap baskets(locally made) and empty rice bags filled up with dry hay.[1]
November 2011:

Centre for Change Foundation teaching in Ghana in November

Added by

Dirk Van den Bogaert

Last month our distributor Centre for Change was active in schools in Ghana to teach children to understand solar energy, and how to cook with the SolarCooker Eco3.
October 2011:

The 5th of October 2011, 630 SolarCooker Eco3s left our warehouse east of Flanders, Belgium headed to Dakar, Senegal. We will distribute them in the region of Djoudj, located at the border of Mauretania and Senegal, an area protected by Unesco. Day to day life for families living in Djoudj is very hard, due the fact that fuelwood and other fossil fuels are virtually unavailable anymore. Deforestation has turned this region into a scary desert. With the help of Sol Suffit, we try to educate local people to change there behaviour and mentality towards nature. The SolarCookerECO3 will help the local people in Djoudj to prepare food using only the radiation of the sun. In that way the children, daily walking around finding wood to prepare food, are capable to go back to schools, and the earth is protected for worse on a low scale in Senegal. Follow us during our trip in Senegal from the 20th of November. Sunny regards, Dirk Van den Bogaert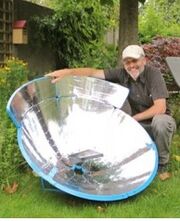 September 2011: SolarCooker Eco3 was a great success at the GLEE fair in Birmingham. The SolarCooker Eco3 was introduced recently on the market during the International Glee Fair in Birmingham UK. The stand had a lot of visitors all over the world. Main interest came from Japan, Australia, Africa and som Asian regions. A distribution agreement was already signed with a company based in Ghana. Several proposals are under investigation for USA Florida, Botswana, Australia, Japan and Israel. We believe the SolarCookerEco3 had a great launch on the fair , the expectations for the coming months are great. Pictures of the fair you can find on our website. For more info about our distributor in Ghana follow this link.
Audio and video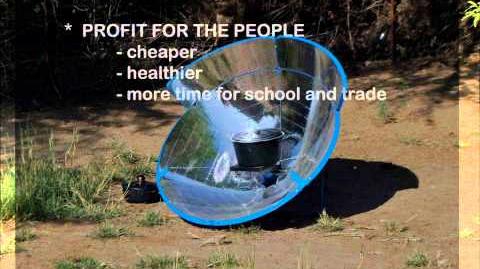 November 2011 Centre for Change teaches in Ghana
External links
See Also
Contact
SolarCooking NV
Zelebaan 124
9160 Lokeren
Belgium
Tel.: + 32 494 645 633
Email: info@solarcooking.be
Web: http://www.solarcooking.be/en/over-ons