Solar Cooking:This week's featured article/2007-10-28
Talk

0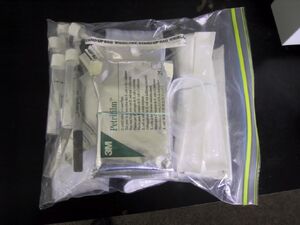 The Portable Microbiology Lab (PML) was designed with portability and ease of use in mind. Containing the best tests for E. Coli that the water and food industries have to offer, each PML includes 25 water tests with sterile plastic pipettes, collecting bags and a portable UV light, all of which are carried in a gallon sized zip lock bag.
Solar cookers and microbiology are two topics that Solar Cookers International (SCI) founding member and current board member Bob Metcalf has been passionate about for over two decades.
Using the principles and methods from food microbiology, which Metcalf teaches at California State University, Sacramento, he has developed the Portable Microbiology Laboratory (PML) for water testing and the Water Pasteurization Indicator (WAPI) to aid in the process of pasteurizing water with solar energy. Both these innovations have been incorporated into SCI's Kenya projects to improve public health.
Metcalf's Portable Microbiology Laboratory (PML) and WAPI innovations are working to address the water problems by empowering the local population to identify contamination and teaching them a method for making water safe to drink.
Metcalf is also excited that the PML helps demystify microbiology. "In doing the test, one sees how an invisible E. coli cell develops into a visible blue colony of a billion cells overnight," he explains. "This helps people understand how a few typhoid bacteria could grow explosively in their intestines in a similar way."
<Continue reading the full article>