Solar Cooking:This week's featured article/2007-06-03
Talk

0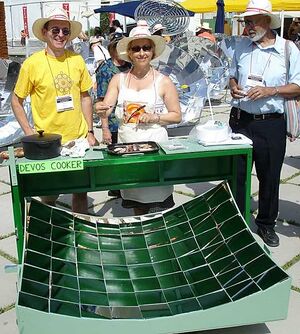 The Devos cooker is a parabolic solar cooker with a table to protect the cook.
Main advantages: the Solar Cooking Table allows dishes to be cooked with an open focus, and at high temperatures, in complete safety.
Applications in Africa : all the dishes can be cooked: tô, different doughs (breads, pastries, porridges), rice with fish, and fried food.
Applications in northern countries: as a barbecue or as a fryer.
As a cooking table: It is possible to access the dish during the cooking, at all times. It allows the cook to knead dough or stir the food while it is heating. It allows the regulation of the temperature and heat during the cooking.
As a barbecue: it can cook ribs of beef, pork chops, sausages, kebabs, and grilled meat, with a special plate. It can also cook French fried potatoes, fritters, Spanish churros, doughnuts, and all sorts of frying.
The Solar Cooking Table, with a particular size, has given the following results in west Africa:
in Senegal, it cooked rice with fish.
In Burkina it cook rice, pasta and fritters.
Rice for 10 people cooked in 1 hour.

<Continue reading the full article>