Solar Cooking:This week's featured article/2007-05-20
Talk

0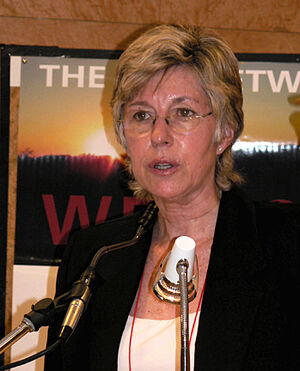 Patricia McArdle, a staunch advocate of solar cooking, joined the board of Solar Household Energy and Solar Cookers International in 2007 to help promote the production of clean, safe, distributable, and renewable energy. She describes her "solar cooker epiphany" in this way.
It was a cool, sunny day in a village in Northern Afghanistan. A small group of men standing in front of the governor's house watched in silence as we arrived for our meeting. (Women are not allowed out in public unless the gathering is all female). Before going in to see the governor, I poured a bottle of water into a black pot, put the pot inside a transparent oven bag, placed the bag in my homemade CooKit, turned the CooKit to face the sun.
When we came out of the meeting 90 minutes later, the pot was steaming and the crowd had swelled from 10 to about 40 men. Where was the fire? It looked to them like magic even after I explained how it worked. The pot was clearly very hot, but the cardboard and aluminum foil were not. How could this be?
One of the men exclaimed, "We could make our tea with this!" The others nodded enthusiastically. If they only used the CooKit for heating tea water, they would still dramatically reduce the biomass consumption of their village.
I have told this story and given solar cooker presentations many times at the U.S. State Department, the Peace Corps, USAID and elsewhere since my return from Afghanistan. Currently the U.S. government is partially funding only one solar cooker project, with Solar Household Energy (SHE) in Mexico. I plan to continue working to convince my colleagues in the government to support the spread of solar cooker technology around the world.

<Continue reading the full article>