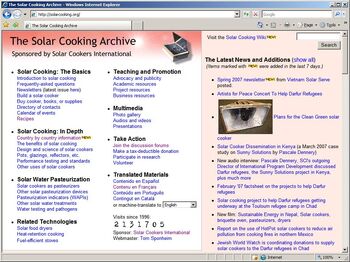 On April 23, 2007, the Solar Cooking Wiki changed its name to the Solar Cooking Archive Wiki to emphasize the close relationship between the wiki and the Solar Cooking Archive. Both sites are sponsored by Solar Cookers International (SCI), and much of the material on the wiki's first 500 pages came from the archive. SCI part-time staffer Tom Sponheim has personally made almost 3000 edits on the wiki, more than twice as many as everyone else put together!
We (SCI staff and volunteers and anyone else who is interested) are still discussing exactly how to use the wiki – what should be on the archive vs the wiki vs the interactive forums – and no doubt this will change over time. We invite your comments and suggestions; please submit them on the discussion forum. We also encourage you to make additions and corrections to the wiki and to participate in the other discussion forums.
Continue reading the full article
Ad blocker interference detected!
Wikia is a free-to-use site that makes money from advertising. We have a modified experience for viewers using ad blockers

Wikia is not accessible if you've made further modifications. Remove the custom ad blocker rule(s) and the page will load as expected.