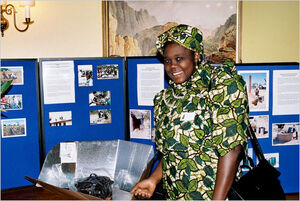 Solar cooking in Kenya is helping people improve their nutrition. Some inexpensive but nutritious foods require hours of cooking. One of the many advantages of solar cooking is that these may be cooked without the purchase or gathering of fuelwood.
Prior to the advent of the Solar Cookers International (SCI) Sunny Solutions project in Nyakach, Kenya, Seline engaged in small trade, which earned her very little income. With four children to feed, she found it very difficult to make ends meet. As a result, her family mostly ate ugali, or maize meal, and vegetables except on the few occasions when they could afford fish. Her children were chronically malnourished; her third-born child, Ras, was nicknamed "a quarter" because her husband said one could carry the child in one palm and not feel any weight.
Seline started solar cooking in March 2003 when the project began. She was one of the most active cooks from the Mbogo Women Group and was trained to teach others to solar cook. Life has changed for Seline and her family. She is now a solar cooker representative (SCOREP) in North Nyakach. Her husband says: "I now eat delicious meals. Look at Ras.... He looks very healthy." Seline says all her children are healthy. The children love solar-cooked foods -- they ask for it every day, she says.

<Continue reading the full article>
Ad blocker interference detected!
Wikia is a free-to-use site that makes money from advertising. We have a modified experience for viewers using ad blockers

Wikia is not accessible if you've made further modifications. Remove the custom ad blocker rule(s) and the page will load as expected.