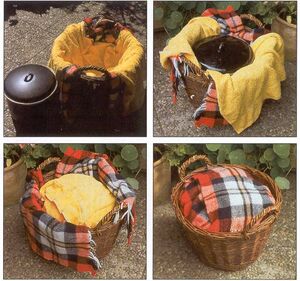 Heat-retention cooking (or retained-heat cooking) saves cooking fuel because after food has been heated to cooking temperature, it is placed into an insulated box where it will continue to cook until it is done. Retained-heat cooking is often introduced along with solar cooking since it further reduces the use of traditional fuels such as firewood, and the use of this method allows much more food to be cooked each day in a solar cooker. This method of cooking is also known as fireless cooking, haybox cooking, or wonder box cooking.
<Continue reading the full article>
Ad blocker interference detected!
Wikia is a free-to-use site that makes money from advertising. We have a modified experience for viewers using ad blockers

Wikia is not accessible if you've made further modifications. Remove the custom ad blocker rule(s) and the page will load as expected.