Archived news
2010
December 2010: Coming in the new year, there will be 'An Afternoon of Darfur Awareness' on Sunday, January 30, in Port Washington, New York from 1:30-4:30 p.m. The Community Synagogue and the Port Washington Public Library are pleased to co-sponsor a special event to raise consciousness about the Darfur situation in Sudan. The acclaimed documentary film "The Devil Came on Horseback" will be shown at the library at 1:30 PM. The film will be followed by a presentation by Susan Burgess-Lent, Program Director of Darfur Peace and Development Organization, Washington, DC who has recently returned from her fifth mission in Darfur. A question and answer period will follow her presentation. Information on the part solar cooking is having to help in the area, and a display of solar cookers, will be provided by Solar Cookers International.
November 2010: Sharon Cousins, board member of Solar Cookers International, recently gave an update on the Eldoret Student Projects in Kenya. She has been involved as a long-distance advisor to the program. Under the local direction of Camily Wedende, twenty grade school students each constructed a model of a new solar panel cooker design, to take home to the camps where they live, where each cooker will benefit an entire family. They also received the necessary pots and cooking bags as well. Each student has been provided with a notebook and pen to keep records of their progress and further experiments, and Camily will keep in touch to check on their progress. Now a lot more students want to be involved with the project to study solar cooking science, and more adults are taking a fresh look at solar cooking's potential.
November 2010: At 15, Noah Kwicklis has invented a solar water desalinator that recently won an innovation award from the nonprofit Climate Change Leadership Institute, located in Santa Fe, New Mexico, USA. CCLI is an all-volunteer group devoted to raising funds and designing action projects to help the environment. It was noted that, "Your project brilliantly demonstrates an integrated solution to two of the most vital needs of our society — access to drinking water and clean energy deployment,". Kwicklis said he was surprised by the award. He plans on donating the money to Solar Cookers International, which provides inexpensive solar ovens to villages in developing nations. More Information...
November 2010: Clean Currents, a mid-Atlantic states provider of wind power through the electric grid, announced it is partnering with Solar Cookers International for its annual holiday giving campaign. From now through January 12, 2011, which is the one-year anniversary of Haiti's devastating earthquake, they will donate a portion of proceeds from every residential wind power enrollment to the purchase and distribution of solar cookers in Port-Au-Prince, Haiti. According to the Pan American Health Organization (PAHO), only 12% of Haiti's population had piped, treated water before the earthquake, and now the situation is worse. Access to pasteurized drinking water is the most effective deterrent to cholera, which is spreading quickly throughout Port-Au-Prince's slums and displaced persons camps. Solar cookers are an effective way to provide water safe for drinking, off-grid, and without fuel other than abundant sunshine.
June 2010: We have a Haiti update! First, we want to thank all of you who have donated so we could train and equip displaced families with solar CooKits, pots and Water Pasteurization Indicators (WAPIs) in Haiti. So far, $16,000 has been raised, securing 400 CooKits for the earthquake relief effort. Thank you again! The journey was long for the first shipment of solar cooking kits: the freighter took about a month to arrive in Haiti, and a month was lost due to a backlog of supplies at customs. Nevertheless, the kits you funded were distributed as soon as it was possible. The CooKits are benefiting displaced families living in the community of Pigeon, Haiti. As a part of our project, 135 people were taught proper use and care of solar cookers. During the training, solar meals were prepared by the new solar cooks using CooKits and Global Sun Ovens. Trainings were led by a team of three Haitian solar experts and a representative from a partner agency, Sun Ovens International. Over a period of time, each recipient family will document its solar cooker use, emphasizing reductions in charcoal use and expense. This type of data is valuable when explaining the benefits of solar cookers to families and community leaders. Much of Haiti's extreme deforestation is due to trees being used for cooking fuel, and we believe that expanded and continued use of solar CooKits will help to keep more trees in the ground. Our next shipment of CooKits to Haiti will be used in schools run by the Free Methodist Mission. Teachers at these schools are working to incorporate solar cookers into the curriculum. Students will learn how to cook food and pasteurize drinking water — potentially life-saving skills — using free, clean solar energy. With new solar cooking kits provided with your funds, these students will be able to pass skills and fuel savings on to their parents, benefiting entire families. We understand that Haiti relief is a long-term commitment, and are working with our funders and partners for a sustainable solar cooking culture in Haiti. We are also working to create a stronger presence that will not only promote solar cooking but also create employment opportunities for the local community. Your help and support will be needed to ensure the success of this program.
May 2010: A pilot project has begun in Tamoung Pha-em, Cambodia to introduce CooKit solar cookers to the local community. Similar to many other regions, residents have relied on wood for cooking. The area once surrounded by jungle, has mostly been turned into palm oil fields, leaving scarce wood for cooking. Families have started to rely on kerosene, or walk long distances to get wood. The project will be a joint effort of Solar Cookers International and Global Roots. Patrick Firouzian recently traveled to Tamoung Pha-em with the first cooker to demonstrate it's potential. Dany Pan, a village school teacher, will use the cooker regularly and experiment to adapt local food recipes.
April 2010: The April 2010 issue of Solar Cooker Review is now online.
2009
October 2009: The long awaited solar cooking training for the Zalingei refugee camp in Sudan took place. Faustine Odaba and Simon Ogutu flew from Kenya and conducted a training for fifty trainers. Assisting them was Kharama who had been trained here in Kenya in 2007. The whole experience was heart lifting as the sound of music was heard once again amongst the refugee women who has suffered so much due to the civil war in Sudan. materials. In the end everyone received a certificate and a UNHCR representative presented each trainee with a solar cooker. These trainers were expected to train others and disseminate the remaining 1,750 CooKits. Solar Cookers International appreciated the efforts of the Danish Refugee Council, the sponsors, as well as UNHCR.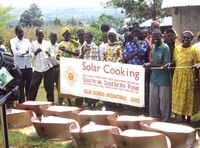 September 2009: In September 2009 Solar Cookers International East Africa Office trainers traveled to the Kimilili District, Maeni Location, Kamusinde village of Kenya to train 36 community leaders involved with the Kamusinde Christian Community Based Organization in the use of solar cookers for cooking and water pasteurization.
August 2009: The Workers Education Association of Zambia sent Victor Phiri to be trained as a trainer in solar cooking and expose him to other cooking energy technologies. This was in recognition that they needed to build the capacity of at least one trainer, and afford him a hands-on experience and a to visit on-going projects so that he could learn more, both in theory and in practice. This training was a lead up to a training of trainers, in Shapi village, Mansa. The weekend of November 20-21, 2009 was a busy one for the selected trainers. A training of trainers was facilitated by Solar Cookers International trainer, Faustine Odaba assisted by Victor Phiri, National coordinator of the Workers Education Association of Zambia. A total of 46 men and women were trained. The following foods were solar cooked; Isima (Ugali) groundnuts, cabbage, rice, meat stew and solar water pasteurization. They also learned how to use fireless cookers and how to recycle plastic waste materials into useful items.
April 2009: National Geographic covers the work of Solar Cookers International and others:
March 2009: As Solar Cookers International (SCI) expands its reach in eastern Africa and beyond, it must grow and strengthen its collaborations with community-based and nongovernmental organizations (NGOs), as well as governmental entities. During a trip to eastern Africa in January Karyn Ellis was fortunate to meet with a number of like-minded organizations, nurturing valuable relationships in SCI's efforts to expand its influence in the Lake Victoria region. She also met extensively with SCI's Nairobi staff, led by Margaret Owino, about goals for the year and plans for project expansion out of SCI's new Kenya offices in Kisumu, Kakamega and Machakos. While in Nairobi I attended two inspiring solar cooking demonstrations: the first was in the Kangemi slum outside Nairobi, where children from the Hamomi Children's Centre were served a solar lunch — their first lunch in many months; the second was for a women's group in the new SCI community of Machakos, where young mothers learned to use the sun to cook food and save money normally spent on cooking fuel.
February 2009: The photo on the right shows a community group in the Siaya District of western Kenya that just had a demo by the Solar Cookers International East Africa Office. The demo was given in a local market place with local authority figures present and these wonderful "guardians" of nearly 350 orphans. More information...
2008
December 2008: WISER Brings Solar Cookers International to Muhuru - The WISER Muhuru Bay Advisory Board recently hosted Solar Cookers International for a full day solar cooking demonstration for the community. In just two hours, the team had cooked an entire meal full of fish, ugali, eggs, potatoes, beans, peanuts, vegetables and even a cake for more than 250 people in attendance with simply the sun. Solar cooking is easy, convenient, environmentally friendly, and in area where there is no electricity or running water, will literally save lives in Muhuru.
November 2008: Solar Cookers International's (SCI) recent collaboration with Uganda's Solar Connect Association (SCA) was inspired by 13-year-old Max Ozimek, an 8th grader from Ohio, USA. Last year, Max researched solar cookers for a science fair project, and learned how the simple devices can make a huge difference for people that lack cooking fuel. Max volunteers at a hospice, where he befriended Father Alexander Inke, a priest from Obia, Uganda. While listening to Father Inke's stories of life in Obia, Max was reminded of the African communities he had learned of while researching solar cookers and SCI's projects abroad. Max thought solar cookers could help the women of Obia, many of whom must walk several miles to gather cooking fuel and household water. Max felt the need to help the small village of Obia, so he and his mother, Mary Lou, began raising funds and contacted SCI about how to proceed. Per SCI's suggestion, Max and Mary Lou contacted SCA, which has promoted solar cookers in Uganda since the mid-1990s. SCA agreed to provide a five-day integrated cooking training for 22 women that Father Inke identified as community leaders capable of teaching others. Kawesa Mukasa and Olivia Kanyesigye instructed the group (and dozens of onlookers) how to build and use solar cookers and how to cook effectively with the least amount of fuel possible by supplementing solar cookers with fuel-efficient stoves and Heat-retention cooking retained-heat devices]] when the sun isn't shining. Longtime SCI friend and supporter Mark Cotham volunteered his time to assist with this effort, and also provided a much-needed vehicle to be used for further trainings in Uganda. Max and SCI staff tested five local water sources in Obia. Participants were shocked to find that most of their water sources were contaminated with Escherichia coli and unsafe to drink. SCI taught them how to cheaply and effectively pasteurize the water with a solar cooker and a Water Pasteurization Indicator (WAPI). Some of the new solar cooks had already initiated small trainings in their regions just weeks after the workshop. Max is working to ensure these efforts continue by raising funds to purchase materials for extended trainings in Nebbi district, and keeping in close contact with SCI and SCA for follow-up visits over the next few years. SCI and SCA plan to team up again on an integrated cooking and safe water workshop in 2009.
November 2008: Solar Cookers International (SCI) plans to assist with efforts to bring safe water and integrated cooking methods to the central town of Copargo. The pilot project is being initiated by Gabriel Kpadonou, sanitation and public hygiene officer at the Ministry of Health in Cotonou, and executive director of the nonprofit organization Environmental Engineering Group (EEG). Through increased visibility and furthered collaborations with health and water professionals in neighboring countries such as Niger, Togo and Burkina Faso, SCI hopes that this opportunity will provide a gateway to increased activities in West Africa. The coming year looks to be an exciting one, with the expansion of programs to three new countries and the inclusion of integrated cooking methods and water testing into current and future projects. Trees in rural areas cannot replenish themselves as quickly as they are being cut down for fuel, and contaminated water cannot purify itself at the rate that microorganisms are causing disease, and so our mission continues.
November 2008: Solar Cookers International recently collaborated with the upstart solar organization TanzSolar to provide a comprehensive solar presentation to 20 local professionals in Musoma. Founded by Marianne Walpert of California, USA, TanzSolar provides affordable photovoltaic solar panels to rural internet companies, individuals and small businesses in northern Tanzania, and is interested in working with SCI to spread solar cooking and solar water pasteurization in northern Tanzania. SCI's eastern Africa staff members are currently planning a five-day solar cooking and water treatment workshop at the TanzSolar facilities in Musoma, as well as future collaborations in the region. In addition, TanzSolar has become a distributor of solar lanterns that SCI hopes to utilize in some of its project areas in the future.
August 2008: Solar Cookers International is seeking experienced solar cooks to conduct solar cooking demonstrations in communities across the U.S. as part of the ASES National Solar Tour the largest solar energy event in the world. Saturday, October 4, 2008. More information
2007
November 2007: Solar Cookers International (SCI) will undertake a two-year pilot project to increase water quality awareness and introduce the Portable Microbiology Laboratory and the Safe Water Package to communities in western Kenya. The effort will be led by SCI founder and board member Dr. Bob Metcalf, professor of Biological Sciences at California State University, Sacramento. (More information.)
2006
August 2006: Solar Cookers International (SCI) is partnering with The KoZon Foundation, a Dutch charitable group, to assist Darfur refugees living in Chad. In 2004, KoZon volunteer Derk Rijks trained fifteen women in the capital, N'Djamena. He returned in early 2005, after getting approval from the United Nations High Commissioner for Refugees (UNHCR), to start a solar cooker demonstration project at Iridimi refugee camp, one of the camps hosting Darfur refugees. Marie-Rose Néloum, one of the previously trained women, took the plight of the refugees to heart and joined Rijks to train refugee women to use solar CooKits and teach others, starting in early 2005. Women responded very enthusiastically and those who learned to solar cook fulfilled their promise to teach others. CooKits were soon assembled on-site by refugee women, who earn an income through this activity. A production workshop was completed in early 2006. The workshop is located in a neutral zone of the camp, close to the offices of the camp administrator, CARE. Refugee women from each of the camp's ten zones take turns training new groups of five to six people. The refugee women at Iridimi camp, as well as head trainer Néloum and two other staff, have persevered in promoting solar cooking even as the security situation has grown increasingly unstable since April 2006. As of July 2006 Iridimi camp had 32 certified solar cooking trainers, 21 CooKit assemblers, 566 trained families, and 1200 CooKits distributed, two to four per tent. Fifty-four women were interviewed in July 2006. Thirty-nine of them solar cook every day; twelve solar cook five to six days a week; and three solar cook two to four days a week. To minimize their reliance on firewood, many families would like to maximize use of all their CooKits. However, about a quarter of the families have sold one or more of their cooking pots in exchange for precious food. SCI and The KoZon Foundation are working together to provide supplies to make CooKits, training, monitoring and accountability to brighten the lives of Darfur refugees at Iridimi camp in Chad. Groups and organizations such as the Darfur Assistance Project and Jewish World Watch, both based in southern California (USA), and many individuals have donated to SCI in support of this project. Additional logistical and communications support from UNHCR and CARE International is invaluable in continuing project operations. Barring significant disruptions, each Iridimi camp household will have two or more CooKits by early 2007.