Deutsch, Ελληνικά, Español, Français, Indonesian, Italiano, Kiswahili, Kreyòl ayisyen, Magyar, Melayu, Português, Русский, Soomaaliga, Tagalog, Tiếng Việt, Türkçe, தமிழ், नेपाली, 中文, اردو, 한국어, 日本語, العربية, فارسی, עִברִית, हिन्दी, ไทย, বাংলা, తెలుగు, ગુજરાતી, ລາວ
Welcome to the Solar Cookers International Network (SCInet) Wiki, the world's premier resource for solar thermal cooking and related technologies. The articles on this site are consulted more than a quarter million times each month as people seek in-depth information on these topics. This wiki-based site can be edited by everyone and thus offers a global platform for information sharing. Learn about solar cooking field projects, research, design, and promotion. Groups and individuals directly involved in these efforts are invited to join SCInet and work with us to improve this resource and to further solar cooking around the world. For more information, contact info@solarcookers.org.
October 2014Edit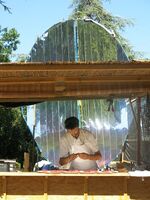 August 2014: Pierre-André Aubert used a mobile solar kitchen unit with an 8m² Scheffler Reflector, mounted on a trailer, in summer 2014 to cook for various events in the south of France. He is a professional gourmet cook and is currently developing his own concept of solar catering. More info... - (English version)
September 2014Edit
05:04

Cal Poly San Luis Obispo Solar Cooker Research
02:12

Dr. Bing Gu, CEO California Sunlight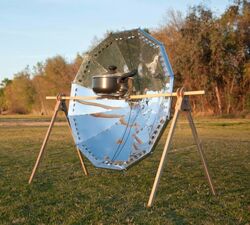 Successful Kickstarter for the Sun Juicer - Congratulations to Leonel Gotlibowski and the Sun Juicer on their successful Kickstarter campaign! They set a goal of $15,000 and raised a total of $19,152. They describe the Sun Juicer as an emergency ultralight, compact, parabolic solar cooker. Read more...
August 2014Edit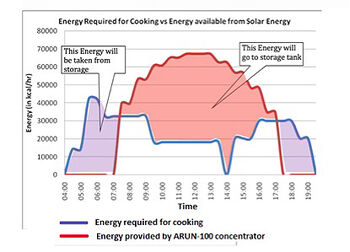 Institutional solar cooker with heat storage allows cooking after sunset - Commissioned on October 26, 2013, the steam-based ARUN®100 solar cooking system at the Ram Krishna Mission Student's Home, Mylapore, Chennai in India now allows early morning and evening cooking. The accompanying graph shows when they need to cook and when the mid-day sun recharges the system. Read more about it at: ARUN®100 with Thermal Storage at Ramkrishna Mission, Chennai - Ajay Chandak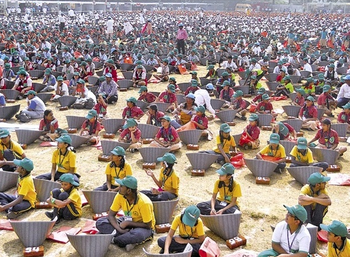 The stage is set for the next world's largest solar cooking workshop - A Bhayander, India based NGO, Keshav Srushti, in a bid to spread awareness on solar cooking, will be gathering 25,000 students from 500 schools across Mumbai on January 15, 2015 to cook solar-powered dishes. Read more...
Solar Cookers International contributes data for US-Africa Leaders Summit - President Barack Obama announced August 6th, 2014 that the U.S. NGO community invested over $1.5 billion in Africa in 2013 and anticipates investing another $4 billion over the next three years. Solar Cookers International (SCI) was one of the members of the InterAction network collaborating to collect data on U.S. NGO aid spending in Africa. See information on SCI's current projects and the news release.
Solar Cookers International is hiring! - Based on needs identified at the recent SCInet Solar Cooking Convention, SCI is hiring a full-time Monitoring & Evaluation Specialist to promote data collection and project evaluation practices within the global solar cooking sector. Read full job description.
July 2014Edit
New video from Pat McArdle where people from all around the world tell why they solar cook: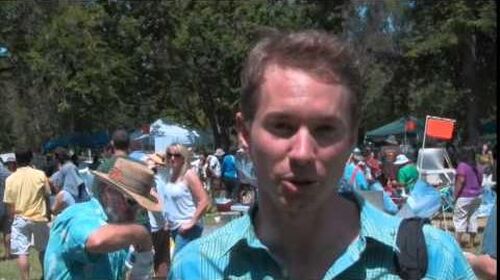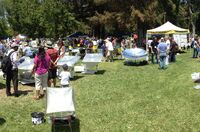 Solar cooking conference extols virtues of cookers to developing world (Sacramento Bee) - Hundreds of people Saturday cooked using only the power of the sun – a practice little used in the United States, but considered a liberating tool for women in developing countries that also helps curb greenhouse gas emissions. Read more...

For older news, please see Solar cooking news archive.
Solar Cookers International Network
Solar cooking basics
See all...
Teaching and promotion
Solar cooking in depth
Related technologies

Questions and comments: webmaster@solarcooking.org