Deutsch, Ελληνικά, Español, Français, Indonesian, Italiano, Kiswahili, Kreyòl ayisyen, Magyar, Melayu, Português, Русский, Soomaaliga, Tagalog, Tiếng Việt, Türkçe, தமிழ், नेपाली, 中文, اردو, 한국어, 日本語, العربية, فارسی, עִברִית, हिन्दी, ไทย, বাংলা, తెలుగు, ગુજરાતી, ລາວ
Welcome to the Solar Cookers International Network (SCInet) Wiki, the world's premier resource for solar thermal cooking and related technologies. The articles on this site are consulted more than a quarter million times each month as people seek in-depth information on these topics. This wiki-based site can be edited by everyone and thus offers a global platform for information sharing. Learn about solar cooking field projects, research, design, and promotion. Groups and individuals directly involved in these efforts are invited to join SCInet and work with us to improve this resource and to further solar cooking around the world. For more information, contact info@solarcookers.org.
August 2014Edit
Solar Cookers International is hiring! - Based on needs identified at the recent SCInet Solar Cooking Convention, SCI is hiring a full-time Monitoring & Evaluation Specialist to promote data collection and project evaluation practices within the global solar cooking sector. Read full job description.
July 2014Edit
New video from Pat McArdle where people from all around the world tell why they solar cook: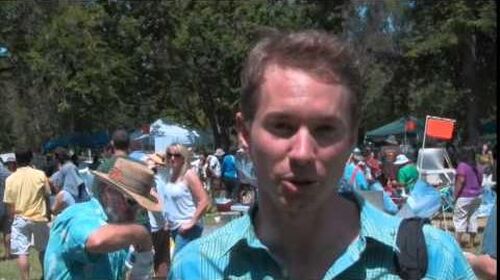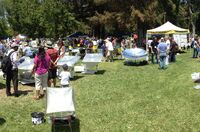 Solar cooking conference extols virtues of cookers to developing world (Sacramento Bee) - Hundreds of people Saturday cooked using only the power of the sun – a practice little used in the United States, but considered a liberating tool for women in developing countries that also helps curb greenhouse gas emissions. Read more...
June 2014Edit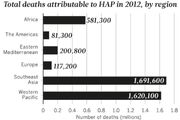 Household air pollution from cooking fires kills more people than malaria, tuberculosis, and AIDS combined - The journal Nature reports on a recent World Health Organization (WHO) report that states that 4.3 million people die annually from household air pollution caused by polluting biomass stoves used by one-third of the global population. However, efforts to introduce more efficient biomass stoves are failing. Read article in Nature: Global health: Deadly dinners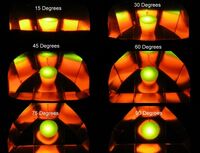 Solar cooking advocate in Iran trains high school students - Soheil Salimi, a twenty-two year old civil engineering student, has started a chapter of Engineers Without Borders - Iran, and has begun organizing solar cooking workshops in his free time. His latest class was at the Hafez high school for girls. Read more about his projects on his personal page.
April 2014Edit
March 2014Edit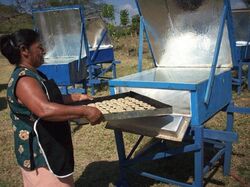 How solar energy empowers women, youth in rural Nicaragua - Forty years ago Sabana Grande was ravaged by war. Now you will find people sitting under solar-powered lights, eating solar-cooked chicken, and drinking smoothies made by a bicycle-powered blender. Sabana Grande has embraced a solar culture that has transformed the community. Read more... (See also other solar restaurants and bakeries.)
NGO initiates second phase of solar bakery project in Burundi - Regions 20 continues its efforts to help local bakers organize their solar bakery. More information... Update: The deadline to submit proposals to supply the solar ovens has been extended.. Interested parties will find more information here: Invitation to Tender For Solar Bakery Project, Burundi. The scale of the project may be rather small, but the funding and implementation is coming from world leaders in the field of economic and environmental relief.
February 2014Edit
French solar cuisine done with style - Sun and Ice shares photos of one of their reflectors incorporated into a portable solar kitchen, created by one of their customers in France. The small, trailered construction is a rolling work of art. See more photos on the facebook page.

For older news, please see Solar cooking news archive.
Solar cooking basics
See all...
Teaching and promotion
Solar cooking in depth
Related technologies

Questions and comments: webmaster@solarcooking.org