Deutsch, Español, Français, Indonesian, Italiano, Kiswahili, Kreyòl ayisyen, Melayu, Português, Русский, Soomaaliga, Tagalog, Tiếng Việt, Türkçe, Ελληνικά, தமிழ், नेपाली, 中文, اردو, 한국어, 日本語, العربية, فارسی, עִברִית, हिन्दी, ไทย, বাংলা, తెలుగు, ગુજરાતી, ລາວ
| | |
| --- | --- |
| | |
Solar cooking around the worldEdit
June 2015
---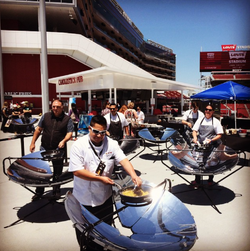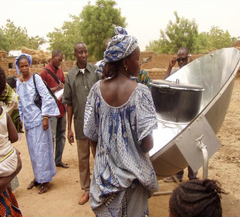 UNDP trains blacksmiths to build solar cookers - In its recently published Annual Report, the United Nations Development Programme (UNDP) highlighted its program in rural Mali that trained local village blacksmiths to build solar cookers, solar dryers, and water heaters. Local residents also had solar photovoltaic panels installed on their homes. Approximately 30,000 people have benefited from this program.
Dozens of pupils at the Fray Luis de León school in Valladolid, Spain built their own solar cookers and displayed them on Spanish TV.
May 2015
---
EVENT: Regional Solar Cookers International Conference coming in July - Registration is open to attend SCI's Regional Convention (North America) event on July 19, 2015 in Sacramento, California – focusing on Regional trends for the solar cooking sector. Be sure to register early. SCI Network Associates and other partners worldwide are invited. Unsolicited requests for travel funding will not be accepted. More information... Contact SCI directly about submitting an abstract or session idea for the Regional Conference. The deadline for submission is Friday, June 5th, 2015.

World Health Organization passes resolution on air pollution: The WHO passed a resolution to combat global air pollution. According to the press release, "every year 4.3 million deaths occur from exposure to indoor air pollution and 3.7 million deaths are attributable to outdoor air pollution." The resolution calls for a strong focus on clean cooking technologies among other solutions such as improved monitoring of air pollution conditions and illnesses related to indoor and outdoor air pollution. Read more...
Long time solar cooking advocate, CASEP, is recognized by Nature magazine - William Lankford, founder and president of CASEP, and Laura Brown, program coordinator, explain that after many years of coordinating solar cooking projects they have learned to focus their programs more on women's needs rather than the cooking technology. Read more...

Chef José Andrés discusses the importance of solar and efficient cooking - In an interview with MUNCHIES, Chef José Andrés describes when he first got excited about solar cooking, how solar and efficient cooking technology can help those in developing countries, and what he is doing to promote these technologies around the world. Read more...
Featured presentation from the SCInet Solar Cooking Convention 2014: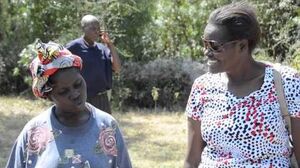 The Solar Cooking Solution: Solar Cookers International has produced a new video called The Solar Cooking Solution which explores how solar cooking can help minimize deforestation, improve the health of those who cook indoors with traditional cook stoves, and reduce reliance on non-renewable fuels, specifically in developing countries.

April 2015
---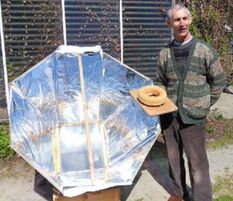 You can now see all new content as it is added to the site by visiting this page: New content
June 2015
---
Soroptimist International announces second solar cooker installation - On June 17th, Soroptimist International announced that they completed their second solar cooker installation in Fiji. The installation, which included training for the community on how to use the cooker, is located at the Nelson Palmer SDA Primary School in Navosa, Fiji. Read more...
03:51

Solar cooking and handicraft 2002 Zanzibar
Faustine Odaba presents solar cooking in Norway - On June 10, Faustine Odaba gave a presentation on solar and fireless cooking to a women's initiative in Ringsaker, Norway after being invited by several NGOs.
Solar trekking in Nepal November 2015 - James Dean Conklin of Solar Punch has announced plans for a return solar trekking trip to Nepal in November 2015, and a second possible trip planned for November 2016. Those interested in participating should contact Solar Punch.
04:28

Simsimee Pani Ma Solar Punch
May 2015
---
Solar heated water saves firewood in the Philippines - Inmates at the Davao City Jail in the Philippines, have begun to use solar preheated water for cooking. Not directly solar cooking, but none the less, a type of integrated cooking that is saving firewood. By preheating the water, cooking time is reduced 20 - 30 minutes. The system was provided by the International Committee of the Red Cross. A guard said the facility used to have a truckload of firewood delivered three times a week. Now, it needs only a single delivery every two weeks. Read more...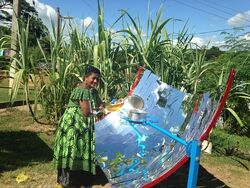 New solar cooking for Fiji - Soroptimist International completed the first solar cooking installation in Fiji as part of their "See Solar, Cook Solar" program. The goal of the program is to provide a cleaner and more environmentally friendly cooking solution for women in rural and island locations. Read more...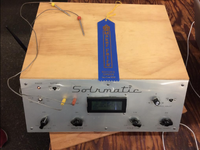 Six liters of water brought to a boil with only 350 g of wood - Dieter Seifert writes: Today I have made tests with the Ben 2 and 3 Ben Firewood Stoves. It is almost unbelievable, but the efficiency is always higher than 40% and if one does not heat up too fast (i.e., the power under 1.5 kW is), the result is almost no smoke and approximately 350 g thin wooden sticks can bring 6 liters of water to a boil in 25 minutes. Of course cooking is much more convenient with a large parabolic solar cooker (We have used the AlSol 1.4 for many years.). The Ben ovens are so easy to prepare (2 sheets provided with holes and bending, drilling a ring and three legs and turn, turn 4 bars hairpin-shaped and assemble everything) that the cost in firewood crisis regions would be well below $10 USD. The combination of heat-retention cooking and Fuel-efficient wood stoves with the solar cooker is ideal. The solar cooker can do much more than just cooking. It is a peace-creating technology that is so urgently needed.
April 2015
---
A Development and Information Center, DevICe, has been established in Tatum, Kumbo, north of Bamenda in Cameroon. After two weeks of training, the staff continues to test different types of solar ovens, provide information about water hygiene, and help with simple water quality analysis. They will also look into solar cooking. The center is run by voluntary work with a small budget. However, they are able to use a professional pyranometer from Kipp & Zonen. The project is run in partnership with Engineers Without Borders - Sweden, and sponsorship by Inpsecta, a technical consulting company in Sweden.
AFRES moves forward with solar cooking initiative - According to Joseph Odey, Chairman of the Association for the Reduction of Carbon Emission, the initiative is being sponsored at present by the Global Environmental Facility Small Grant Programme, GEF-SGP under the support of UNDP to provide alternative energy source for use in place of firewood in New Bussa community of Niger State. Under the first phase of the project, 50 youths were trained in building solar cookers. Some members of the communities who took part in a demonstration on how the solar cooker works in Tungan Ibrahim, Salamatu Maigari and Salamatu Sale, said using the solar cooker was faster and better than using firewood. Read more... - allAfrica
March 2015
---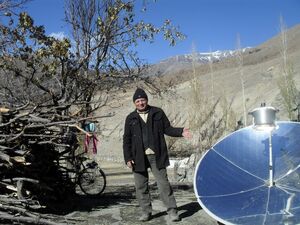 Solar cookers for Tajikistan - Little Earth, a Tajik environmental NGO, provided a solar cooker to the village of Roshorv (located at an altitude of more than 3000m) in the Bartang Valley of Tajikistan's Gorno-Badakhshan Autonomous Oblast. Sadarbek Tohirbekov, a teacher of Russian language at the local school, took delivery of the parabolic cooker though the each resident of the village has access to it. Tohirbekov said, "to prepare a lunch or dinner [without a solar cooker], we use about half a kilo of bush kindling and then a couple of kilos of firewood and three kilos of dried manure or coal. For example, just to boil five to seven liters of water requires about three to five kilos of bush. A solar kitchen can greatly reduce the consumption of firewood and other fuels, even if you use it only once a day." Read more...
Solar cookers for Women's Day in India - To recognize Women's Day on March 8th, Sanjib Rout, Chairman of the C.V. Raman College of Engineering organized a workshop on "Solar Cooking for a Healthy & Better Life" at the Bhubaneswar Club in Odisha, India. Its purpose was to create awareness among housewives, hoteliers and commercial organizations to adopt solar cooking as an alternative method for cooking.
Solvatten reports that their water heating system is currently being used 180,000 people in over 60 countries.
02:19

Solar Cooker
German group produces parabolic assembly video - The Comenius Multilateral Project 2012-2014 is a collective effort between seven secondary schools located across Europe, with the objective to show respect for the earth, and to change people's perception of how alternative energy can now be easily incorporated into our daily lives. The Staatliche Realschule in Bad Tölz, Germany, has put together a video showing the assembly of a parabolic solar cooker using simple tools.
New CooKits being made more durable in Kenya - Friends of the Old (FOTO) staff members bind the edges of new CooKits to make them more durable in Katito, Lower Nyakach, Kenya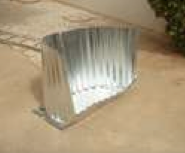 Innovative cooking and sheet metal solar cookers - Solar Clutch, under the supervision of Steve Harrigan, explored new ways to adapt local materials to create effective and inexpensive solar panel cookers. Local cooks in Mauritania have developed ways to mimic frying fish with their solar cookers. Several variations of CooKit style cookers were created from locally available and durable water resident cardboard and sheet metal. The material for each of these versions cost less than $5USD. Mauritania has also instituted a ban on local plastic bag production due to the trash waste created. The group then experimented with Sterlite brand food containers for the green house enclosure with great success. The box material is clear polypropylene, food grade and is the same material as the autoclave bag material. Read more...
June 2015
---
New page: GoSun Grill
EVENT: July 27-30, 2015: (Kampala) The United Nations High Commissioner for Refugees (UNHCR) and the Global Alliance for Clean Cookstoves would like to invite you to participate in a Safe Access to Fuel & Energy (SAFE) Humanitarian Workshop on July 27-30, to be held at the Metropole Hotel in Kampala, Uganda. The objective of this workshop is to provide technical training for humanitarian staff on energy technology selection, fuel selection and processing, forestry management, monitoring and evaluation of energy programs, and more. More information if you wish to participate. Hopefully the schedule will include solar cooking options.
EVENT: Saturday, July 11, 2015: (Barstow, CA) The Desert Discovery Center located at 831 Barstow Road will host a solar cooker workshop from 1:30 to 3:30 p.m. Cost is $8 per person. More information...
EVENT: Tuesday, June 23, 2015: The International Solar Energy Society is holding a free webinar on solar thermal technology with a focus on new business models and commercial-scale projects. Speakers will include Tobias Schwind, Managing Director of the Fresnel collector manufacturer Industrial Solar, David Hoedeman, Director of Solar Sales of Nextility, Nicholas Wagner, Analyst at the International Renewable Energy Agency (IRENA), and Christian Holter, Managing Director of the Austrian solar thermal turnkey system supplier SOLID. More information...
EVENT: July 13-17, 2015: (San Bernardino) Elementary school students who take part in a math and science summer camp in July at California State University San Bernardino will get a chance to build a solar oven and a wind engine as they learn about green energy, mechanical engineering and other fields. More information...
19:08

Bunker Roy Learning from a barefoot movement
EVENT: Saturday, June 13, 20, 27, 2015: (Boynton Beach, Florida) A monthlong series of seminars will show how to make a solar cooker, how to build a solar fan, how to make a solar battery charger and how to purify water using solar energy. Attendees will use recycled materials, such as old batteries, glass and plywood, to create solar cookers, fans, battery chargers and water purifiers. The seminars, held at HackLab, at 3491 High Ridge Road, will continue each Saturday through June 27. Hosting them are HackLab and Living Art Meta Programs, another nonprofit focused on sustainability. More information...
05:23

Four solaire en Inde
May 2015
---
EVENT: Saturday, June 6, 2015: (Bisbee, Arizona) The Bisbee Farmers' Market will host the 13th annual Solar Cook-off and Expo at the market from 9 a.m. to 1 p.m. at Vista Park Plaza in Warren, next to the Historic Warren Ballpark. Bring your own oven and participate or purchase one at the market and enjoy the many benefits of going solar. There will also be a workshop on building and using a solar dehydrator, along with plenty of recipes and all types of sustainable info. More information...
EVENT: Friday, June 5, 2015: is World Environment Day. The UNEP theme is "Seven Billion Dreams, One Planet.Consume with Care." Kitchen waste is still at alarming levels. More needs to be done to promote composting unused food items.
EVENT: Monday, June 15, 2015: (Manila) The Asian Development Bank, ENERGIA, and the Global Alliance for Clean Cookstoves invite you to a deep dive session on Unlocking Energy Access Impact, Investment, Scale and Sustainability through Gender-Sensitive Approaches. It will take place at Asian Development Bank Headquarters, 6 ADB Avenue, Mandaluyong City from 2 p.m.- 6p.m. Addressing gender issues is central to achieving energy access goals; gender-informed approaches are imperative for scaling adoption of energy services and technologies. More information and registration...
EVENT: Dimanche 07 juin, 2015: (Rouen) Un déjeuner solaire en Normandie! Dans le cadre d'Alternatiba, participez au déjeuner solaire qui aura lieu sur le Quai Rive Droite. Vous pourrez aussi assister aux démonstrations de cuisson solaire et écologique. Consultez le programme! Prix libre. Renseignements et inscription au déjeuner (obligatoire): repas.solaire@gmail.com
EVENT: Mercredi 10 juin, 2015: (Angers): Les goûters du DD : les solaires ! Retrouvez nous à la Maison de l'Environnement de 14h à 17h, et participez à un atelier de cuisson écologique avec marmite norvégienne, cuiseur à bois économe et four solaire, pour confectionner un goûter pris ensuite en commun. Vos papilles apprécieront.
EVENT: Saturday, June 20, 2015: (Faro) Celestino Ruivo at the School of Engineering, University of Algarve, Campus da Penha will hold an open meeting of the Solar Kitchen from 9:30a.m. - to the closing at 1 p.m. He will comment on there weaknesses and strengths of various types of solar cookers and their possible applications in restaurants and canteens. The idea is to bring together many enthusiasts of solar cooking, and provide a moment of conviviality after the meeting of solar cooking with a shared lunch. More information and registration...
EVENT: Sunday, July 19, 2015: (Sacramento) Registration is open to attend SCI's Regional Convention (North America) event – focusing on Regional trends for the solar cooking sector. Be sure to register early. SCI Network Associates and other partners worldwide are invited. Unsolicited requests for travel funding will not be accepted. More information...
Also: SCI is still seeking conference abstracts and proposed sessions that highlight innovation, and scalable project and production models. Submissions should be consistent with the SCI's focus on global promotion of solar cooking and sustainable development. Deadline: Friday, June 5th, 2015. Submissions should be no longer than 150 words. The abstracts and proposed sessions should be related to an organization's current or recent work in the solar thermal cooking sector with a focus on lessons learned. Joint submissions from multiple organizations proposing sessions are allowed and welcomed. Preference will be given to submissions from SCI partner organizations. Contact SCI
For older news, please see the Solar cooking news archive.
Solar Cookers International Network
Solar cooking basics
See all...
Teaching and promotion
Solar cooking in depth
Related technologies

Questions and comments: webmaster@solarcooking.org