Home
Talk

68
1,784pages on
this wiki
Deutsch, Ελληνικά, Español, Français, Indonesian, Italiano, Kiswahili, Kreyòl ayisyen, Melayu, Português, Русский, Soomaaliga, Tagalog, Tiếng Việt, Türkçe, தமிழ், नेपाली, 中文, اردو, 한국어, 日本語, العربية, فارسی, עִברִית, हिन्दी, ไทย, বাংলা, తెలుగు, ગુજરાતી, ລາວ
Welcome to the Solar Cookers International Network (SCInet) Wiki, the world's premier resource for solar cooking and related technologies. The articles on this site are consulted more than a quarter million times each month as people seek in-depth information on these topics. This wiki-based site can be edited by everyone and thus offers a global platform for information sharing. Learn about solar cooking field projects, research, design, and promotion. Groups and individuals directly involved in these efforts, as well as solar cooker manufacturers and vendors, are invited to join SCInet and work with us to improve this resource and to further solar cooking around the world. For more information, contact webmaster@solarcooking.org.
---
January 2015
Celebrity chef José Andrés wants to cook cleaner this year - Writing in National Geographic, José Andrés discusses his New Year's Resolutions which include the goal to "cook cleaner"! Read article...
Available sunshine in the Sahel region of Africa documented - Authors, Beth Newton, Sophie Cowie, Derk Rijks, Jamie Banks, Helen Brindley, and John h. Marsham have published a well-documented analysis of the potential sunshine available for solar cooking in the Sahel region, particularly in northern Chad where a number of Sudanese refugee camps are located. TchadSolaire has been training both refugees and the indigenous population to solar cook in the region since 2005. Even along river population centers where clouds tend to form, solar cooking is possible for over 330 days a year. Read more: Solar Cooking in the Sahel - NOWCAST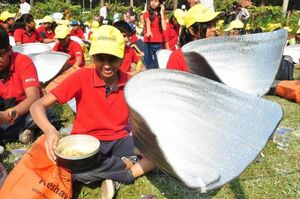 15,000 students in Mumbai solar cook and set world-record - In an event organized by Keshav Srushti, 15,000 students from 80 schools in Mumbai, India set a new world record for the largest-ever solar cooking gathering. Each student was given a solar cooker and taught how to assemble and use it as part of a national campaign to spread awareness of the importance of solar technology. C Vidyasagar Rao, governor of Maharashtra and Ashish Shelar, minister of state, Power, Coal & New Renewable Energy, attended the record-setting gathering. Read more at: Over 15,000 students create a new world-record in solar cooking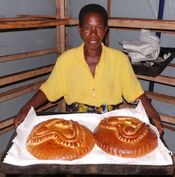 December 2014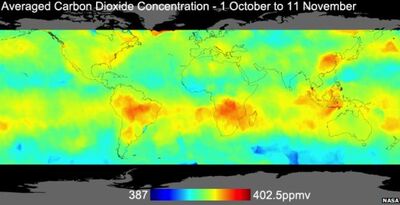 Latest Nasa data shows elevated CO2 levels over Africa and South America - According to this BBC article, "Also apparent are the higher concentrations over South America and southern Africa. These are likely the result of biomass burning in these regions."
Solar Cookers International remembers Rabbi Harold M. Schulweis - As co-founder of Jewish World Watch, Rabbi Schulweis was a visionary behind efforts like the Solar Cooker Project to empower and protect refugee women fleeing the Darfur crisis. He will be missed. His obituary is available online.
José Andrés details his use of solar cookers at Life is Beautiful event in National Geographic - In an article for National Geographic, Chef José Andrés writes about his pop-up restaurant, Sunny Day, which he opened at the Life is Beatufiul event in Las Vegas, NV. Sunny Day used solar cookers to cook their signature dish, vegetarian tacos, during the day and clean-burining ethanol in the evening. Read article...
Lapin Kulta Solar Kitchen Restaurant featured in The Guardian - Lapin Kulta Solar Kitchen Restaurant, the traveling solar restaurant from Catalan designer Martí Guixé, Chef Antto Melasniemi and Lapin Kulta beer, was featured in an article in The Guardian as an innovative user of solar energy. The piece discusses the journey of this experimental solar restaurant, including how they were able to cook in Finland in -15°C. Also featured are new innovations in photovoltaic technology, a new apartment in Hamburg, Germany which grows algae for fuel with solar energy, and simple method for water disinfection. Read article...
Another business uses solar cooking to prepare their product - New-member Bjorn Qorn located in New York, USA, has created a large In-the-ground solar cooker to cook their locally-harvested corn for sale as popcorn.
November 2014
José Andrés discusses solar and efficient cooking in Time Magazine - As part of the "What I'm Thankful For" series, celebrity chef, José Andrés, explains that he is thankful that his family has a simple and safe method to cook their food, and how solar cooking and other fuel-efficient cooking methods are bringing this benefit to the world's poor, for whom access to traditional cooking fuels is becoming more difficult and expensive every year. Read more...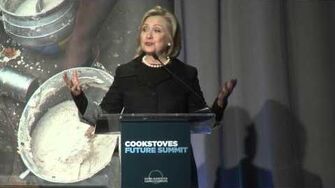 Hillary Clinton acknowledges solar cooking's role in solving cooking fuel crisis - In her keynote speech at a Global Alliance meeting, Hillary Clinton stated that students from the Clinton School of Public Service had traveled overseas to teach solar cooking.
Create an account and log in to turn off most of the ads on this site.
EG Solar has created a clever animated video short explaining the benefits of solar cooking - Visit EG Solar.
02:15

The Solar Cooker by EG Solar e.V.-0
For older news, please see Solar cooking news archive.
For all news added to any page on the site see News log.
Contact
Solar Cookers International Network
Solar cooking basics
See all...
Teaching and promotion
Solar cooking in depth
Related technologies

Questions and comments: webmaster@solarcooking.org