Deutsch, Español, Français, Hausa, Igbo, Indonesian, Italiano, Kiswahili, Kreyòl, Malagasy, Melayu, Português, Русский, Soomaaliga, Tagalog, Việt, Türkçe, Yorùbá, Ελληνικά, தமிழ், नेपाली, 中文, اردو, 한국어, 日本語, العربية, فارسی, עִברִית, हिन्दी, ไทย, বাংলা, తెలుగు, ગુજરાતી, ລາວ, ਪੰਜਾਬੀ, සිංහල, پښتو

400px|right|thumb|National Geographic covers the work of Solar Cookers International Solar Cookers International (SCI), the sponsor of this site, is a 501(c)(3) nonprofit, non-governmental organization that spreads solar cooking awareness and skills worldwide, particularly in areas with plentiful sunshine and diminishing sources of cooking fuel. SCI has enabled 30,000 families in Africa to cook with the sun's energy, freeing women and children from the burdens of gathering wood and carrying it for miles. Tens of thousands of individuals and organization from all over the world have learned about solar cooking through SCI's international programs, education resources, and information exchange network.
SCI has consultative status with the UN Economic and Social Council.
SCI sponsors the Solar Cookers World Network website, an internationally recognized Internet resource for solar cooking information.
SCI publishes Solar Cooker Review, a thrice-yearly newsletter covering solar cooking developments throughout the world.
SCI is headquartered in Sacramento, California.

Solar Cookers International continues in 2013 to provide grant funding to current partners with solar cooking programs in Kenya. They are Friends of the Old (FOTO), Dinah Chienjo with Sustainable Use of Renewable Energy (SURE), John Amayo of Natural Resources and Waste Management Alliance (NAREWAMA), and Faustine Odaba. The funds allow the distribution of solar cookers, Safe Water Packages, provide training in their use, and a follow-up program to help insure continued use of the new technologies.
If you would like to promote the work that SCI does locally and around the world, please consider becoming a member and submitting a donation on-line or to the address below. Interested in buying a solar cooker or cooking accessories? Shop at the SCI marketplace, the proceeds will help fund activities. The majority of SCI's funding comes from individual donors and environmentally conscious people such as yourself. We will put your contribution to very good use by helping gain a better quality of life for people in communities much less fortunate than yours. Only with your continued support can SCI meet the ever-expanding needs of the worldwide solar cooking community.
See SCI's organizational site for detailed information about SCI.
News and recent developments
April 2013: Again, SCI wishes to thank the many volunteers that have recently provide support. Read more about upcoming events and requests in the SCI Volunteer Newsletter, April 2013. We are looking for volunteers to demonstrate solar cooking at events in the Sacramento, CA area. There have been requests for solar cooking demonstrations, but not enough trainers to meet the need. julie@solarcookers.org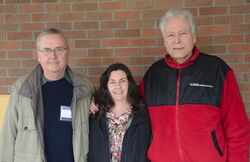 January 2013: SCI Executive Director and SCWNet Administrators attend the 2013 ETHOS Conference - Julie Greene, SCI Executive Director, and Tom Sponheim and Paul Hedrick, SCWNet Administrators, attended the recent ETHOS Conference in Bellevue, Washington, USA. The national conference is held to exchange design technologies and promotion strategies for fuel-efficient wood and biomass cookstoves. It is encouraging that there seems to be more acceptance of solar cooking in this traditionally fuel-burning cookstove community, and that combining various cooking approaches will ultimately help more people and the environment. Julie was asked directly if Solar Cookers International would be interested in preparing a presentation for next year's conference.
November 2012: "Anywhere under the Sun" is a recently released solar cooking eBook featuring recipes from around the world. Heather Stevens, Australian solar enthusiast and editor of the book invited solar chefs from around the world to submit their favorite recipe, photos and comments on solar cooking. The book is a visually stunning and comphrehensive, with recipes from around the world. The book can be downloaded as an eBook for $1.99(AUD) from http://www.thesunskitchen.com. 100% of the sale price is donated to Solar Cookers International to assist with their work encouraging solar cooking in the developing world.
Former SCI board member Pat McArdle is interviewed on Emerald Planet - During the interview Pat McArdle discusses the history and mission of Solar Cookers International, the importance of increasing access to solar cooking technology, Bob Metcalf's Portable Microbiology Laboratory for testing water in remote locations, the work of Jewish World Watch in Chad, and more.
October 2012: Recent natural disasters abound: Bangladesh floods and landslides, June 2012; Assam floods July, 2012; Haiti floods and mudslides August, 2012; India floods September, 2012; Vietnam, Philippines, Southern China typhoon, October 2012; Eastern United States hurricane October, 2012. All of these natural events disrupted people's lives, even changing them forever. In the recovery stages after natural disasters, people's basic needs don't change: they still need clean water, food, safety, and shelter. In the bleakest situations, solar thermal power can begin to meet two important needs: a solar oven can pasteurize water and cook food. If you are an experienced solar cook, please contact people in your circle of influence in these affected areas. Share your knowledge of solar cooker construction and use with people who need it most. This YouTube video shows solar cooking done in the snow after power was lost in northern Virginia in a February 2010 storm.
March 2012: For almost twenty years, Solar Cookers International has supported branch operations in Kenya. Our field projects have served tens of thousands of families in various East African countries. Due to the overwhelming logistical and financial challenges SCI has encountered in its efforts to effectively manage and restructure an operation 9,000 miles away from its home office in California, the Kenya operations have now been suspended. We are confident that SCI's many years in that country have educated and inspired individuals and organizations in Kenya to continue with the very important work of spreading the use of solar cookers throughout Eastern Africa.
October 2011: Patricia McArdle, of Solar Cookers International, demonstrated solar cooking with Afzal Syed and volunteers, Sherry and Cecily, at the TIDES exhibit on the campus of the National Dense University. Afzal brought several pots of raw ingredients for Pakistani dishes that were prepared by his wife Samina, including: masoor dall, spiced potatoes, okra, and chawal rice. Patricia baked a loaf of banana bread, which was consumed in less than five minutes. They used the parabolic SK10 (similar to the SK12), purchased from Deepak Gadhia several years ago, to keep a pot of water boiling from 9 a.m. in the morning until the event ended at 5 p.m. There were a number of senior military visitors from other countries. Several have expressed an interest in learning more about solar cooking technology and how it can be used in their countries. The most surprising visit yesterday was from a Vietnamese general, the most senior Vietnamese military officer to visit the U.S. since before the war with Vietnam started in the sixties. Several 'very important people' who came to the demonstration assumed that it would take us 10 to 12 hours to cook food in a panel or box cooker. They were astounded that the food was cooked in less than three hours--in October-- in Washington D.C.--which is 40 degrees north of the equator.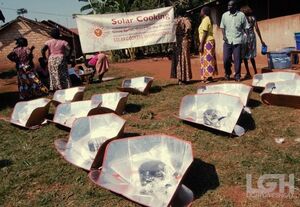 July 2011: The Solar Cooker Project from Light Gives Heat is moving full-force ahead. Just recently, John and Julius from the Solar Cookers International in Kenya, traveled to Jinja, Uganda to continue the training on the maintenance of the solar cooking products and creating outlets for our Suubi women and Epoh tailors to sell products to their friends and local community.
July 2011: Solar ovens, renewable energy offer hope for Afghanistan (Reuters) - At first, she noticed Afghan children hauling brush. Then, in Afghan family compounds, she noticed women tending small fires and trying to cook over them. But it wasn't until U.S. diplomat [and Solar Cookers International Board Member] Patricia McArdle realized how often it was sunny in Afghanistan that she put it together with a youthful memory of cooking with solar ovens and realized this was a low-tech option offering long-term hope to the war-torn nation, which is preparing for a draw-down of U.S. troops. At first, she noticed Afghan children hauling brush. Then, in Afghan family compounds, she noticed women tending small fires and trying to cook over them. But it wasn't until U.S. diplomat [and SCI Board Member] Patricia McArdle realized how often it was sunny in Afghanistan that she put it together with a youthful memory of cooking with solar ovens and realized this was a low-tech option offering long-term hope to the war-torn nation, which is preparing for a draw-down of U.S. troops. Read more...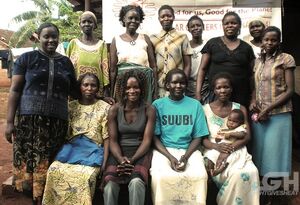 July 2011: Light Gives Heat on their solar cooking workshop in Uganda: "We have given up any notions that we can bring about health simply by stumbling upon it in the same way that we stumbled upon destruction. There must be changes in the way that we think and live. To bring about these changes we teamed up with Solar Cookers International (SCI). With the help of SCI we are enabling the SUUBI and EPOH artisans to cook their food and boil their water with the free power of the sun. This reduces the emissions of charcoal that the women would normally use, benefiting the women monetarily and environmentally. One artisan reported that she spends $5 a week on charcoal. With the help of LGH, she can make a one-time purchase of a solar cooker for about $5, and save on the weekly expense of charcoal." Read more...
June 2011: Solar Cookers International is now an official Partner in the Global Alliance for Clean Cookstoves - SCI is delighted to be working with the Global Alliance on its goal of enabling 100 million households to adopt clean and efficient cooking solutions.
June 2011: Solar Cookers International is proud to partner with the Aprovecho Research Center and join their Summer Stove Camp "Fuels of the Future" on the grounds of the Aprovecho Labs in Cottage Grove, Oregon, USA. Those committed to improving the use of fuel for cooking will gather to spend one week learning, innovating, and creating improved designs and prototypes. Event details...
May 2011: Proceeds from plastic bottles or aluminum cans in Truckee, California will help purchase solar cookers for people in economically disadvantaged countries, thanks to the efforts of Sierra High School seniors. "Sierra High School requires all seniors to participate in a service learning project," explains principal Jane Loomis. "The school has a long history of service learning that has benefited our community over the years including the Humane Society, Tahoe Forest Hospice, a student clothing bank and literacy awareness." This year's service learning project is a community effort that benefits Solar Cookers International (SCI). Seniors are asking local businesses, agencies and schools to participate in the program by placing recycling containers at their site. Proceeds derived from the recycling will go to SCI, which will in turn purchase solar ovens for needy countries such as Haiti, Pakistan, India, Africa. The SCI website explains that refugees and other displaced people frequently lack access to sufficient cooking fuels and safe drinking water. When infrastructures are in ruins and no energy or gas is available, solar cooking utilizes the sun to cook hot food. Additionally, when fuel is scarce, cooking with the sun offers a clean, workable solution. Importantly, solar cookers fight cholera by heating water to pasteurization temperatures. And finally, using a solar cooker requires only the sun, and does not necessitate searching for other forms of fuel. "It's really convenient for Truckee businesses to participate," Loomis said. "A senior is assigned to each site. They are responsible for delivering the recycling box to each business, monitoring and collecting the contents." Sierra High School seniors are actively searching for businesses and public entities that have room for a 32-inch by 18-inch recycling container. Those interested in participating should call Sierra High School at +1 (530) 582-2640.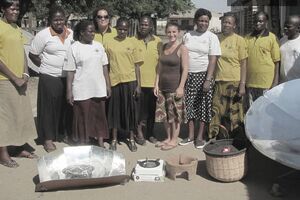 March 2011: Light Gives Heat visits Solar Cookers International demonstration in Kisumu, Kenya - Light Gives Heat is a non-profit promoting grass-root economic sustainability and creative endeavors in Africa. Ugandan Director, Amberle Reyes and a staff member recently visited a demonstration of sustainable cooking methods sponsored by Solar Cookers International. It included traditional fixed and portable earthenware stoves, called upesi in Kiswahili, which more efficiently use charcoal or wood as fuel, CooKit solar panel cookers, and Heat-retention cooking baskets. They were most interested in solar cookers and fireless baskets. Locals were initially attracted to solar cooking not because of the possibility of saving money by buying less fuel, or the health benefits of indoor smoke reduction, but because solar cookers can bake cakes. Cake is seen as a "rich person food", and LGH saw an entrepreneurial opportunity: Cakes are sold for weddings and birthdays. Most people cannot make high quality cakes because of the irregular temperatures of charcoal and wood stoves, but solar cookers bake perfect, moist cakes with very little worry of burning or overcooking. At the end of March, SCI staff will bring CookIts and fireless baskets to Jinja and demonstrate first-hand their effectiveness to all their employees. Light Gives Heat has received an 8,000 USD grant to supply their Uganda Artisans with these solar cookers. More Information and photos...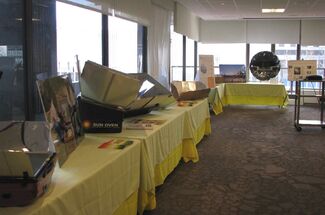 January 2011: Solar Cookers International exhibition and reception at the Untied Nations a success! Representatives from non-governmental organizations and interested supporters attended the three-hour, open-house event on January 18th. The concept of solar cooking is so important, that representatives from Nigeria, the Middle East, Pakistan, Bangladesh, and Somalia made it through freezing, blowing rain to attend the exhibition. A wide variety of solar cookers were on display with informational material accompanying the cookers. Video loops played throughout the evening showing real people around the world cooking with the sun and training others to do so. There was a real urgency at the exhibition that the message of solar cooking be strong, unified, and be present in global discussions of development and progress for people around the world.
January 2011: Clean Currents Donates 100 Solar Cookers to Primary Schools in Port-au-Prince Joining the movement to train primary school students and provide them a solar cooker is Clean Currents, a Mid-Atlantic green energy provider. Announced on Jan. 12th, it will be purchasing 100 solar cookers to benefit schools in Port-au-Prince, Haiti. Solar Cookers International will be distributing the solar cookers and will provide on-site training through its network of staff and volunteers in Haiti. "Reaching students in their classrooms and teaching them a new lifestyle habit like solar cooking is a positive and accessible way to improve lives and the global environment," said AmyJo Mattheis, Executive Director of Solar Cookers International.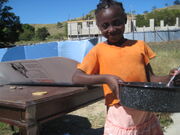 January 2011: Haiti - One year later: Haiti continues to benefit from solar cooking. Solar Cookers International (SCI) and International Child Care Ministries (ICCM) are working to expand a project in the schools around Port Au Prince to integrate solar cooking into the 5th grade science curriculum. The goal is that each student will receive a CooKit to use each day in preparing and cooking their lunch, all the time learning about science. Training and certification of teachers continues, as do SCI's efforts to secure funding to provide 2000 more CooKits for this school project. To date, SCI has provided 200 CooKits, pots and Water Pasteurization Indicators (WAPIs) for four schools. With your help, we will achieve our goal of 2000 more! Reaching students in their classrooms, teaching a new lifestyle habit, while at the same time providing environment education is a winning program. Background: SCI, in collaboration with Sun Ovens International and ICCM, distributed over 400 CooKits in Haiti immediately following the devastating earthquake there. Near the community of Pigeon, 135 Haitians were trained in solar cooking by Programme Energie Solaire. Each participant received a CooKit, a pot and a WAPI, giving these earthquake survivors a method to cook their food and pasteurize their water without need of scarce and expensive fuel. Solar cooking is technology that offers relief in disaster situations: 1) When infrastructures are in ruins and no energy or gas is available, solar cooking utilizes the sun to cook hot food; 2) When fuel is scarce, cooking with the sun offers a clean, workable solution; 3) Solar cookers fight cholera by heating water to pasteurization temperatures (65°C or 150°F); and 4) Using a solar cooker requires only the sun, and does not necessitate searching for other forms of fuel. Families can stay together and remain safe. SCI thanks you for your ongoing support for solar cooking in Haiti.
December 2010: Coming in the new year, there will be 'An Afternoon of Darfur Awareness' on Sunday, January 30, in Port Washington, New York from 1:30-4:30 p.m. The Community Synagogue and the Port Washington Public Library are pleased to co-sponsor a special event to raise consciousness about the Darfur situation in Sudan. The acclaimed documentary film "The Devil Came on Horseback" will be shown at the library at 1:30 PM. The film will be followed by a presentation by Susan Burgess-Lent, Program Director of Darfur Peace and Development Organization, Washington, DC who has recently returned from her fifth mission in Darfur. A question and answer period will follow her presentation. Information on the part solar cooking is having to help in the area, and a display of solar cookers, will be provided by Solar Cookers International.
November 2010: Sharon Cousins of Solar Cookers International, recently gave an update on the Eldoret Student Projects in Kenya. She has been involved as an long-distance advisor to the program. Under the local direction of Camily Wedende, twenty grade school students each constructed a model of a new solar panel cooker design, to take home to the camps where they live, where each cooker will benefit an entire family. They also received the necessary pots and cooking bags as well. Each student has been provided with a notebook and pen to keep records of their progress and further experiments, and Camily will keep in touch to check on their progress. Now a lot more students want to be involved with the project to study solar cooking science, and more adults are taking a fresh look at solar cooking's potential.
November 2010: At 15, Noah Kwicklis has invented a solar water desalinator that recently won an innovation award from the nonprofit Climate Change Leadership Institute, located in Santa Fe, New Mexico, USA. CCLI is an all-volunteer group devoted to raising funds and designing action projects to help the environment. It was noted that, "Your project brilliantly demonstrates an integrated solution to two of the most vital needs of our society — access to drinking water and clean energy deployment,". Kwicklis said he was surprised by the award. He plans on donating the money to Solar Cookers International, which provides inexpensive solar ovens to villages in developing nations. More Information...
November 2010: Clean Currents, a mid-Atlantic states provider of wind power through the electric grid, announced it is partnering with Solar Cookers International for its annual holiday giving campaign. From now through January 12, 2011, which is the one-year anniversary of Haiti's devastating earthquake, they will donate a portion of proceeds from every residential wind power enrollment to the purchase and distribution of solar cookers in Port-Au-Prince, Haiti. According to the Pan American Health Organization (PAHO), only 12% of Haiti's population had piped, treated water before the earthquake, and now the situation is worse. Access to pasteurized drinking water is the most effective deterrent to cholera, which is spreading quickly throughout Port-Au-Prince's slums and displaced persons camps. Solar cookers are an effective way to provide water safe for drinking, off-grid, and without fuel other than abundant sunshine.
August 2010: Global Roots pursued a number of solar cooking and water purification activities within Kenya, done in conjunction with Solar Cookers International. Training occurred in five communities with 85 individuals. See more details..

June 2010: We have a Haiti update! First, we want to thank all of you who have donated so we could train and equip displaced families with solar CooKits, pots and Water Pasteurization Indicators (WAPIs) in Haiti. So far, $16,000 has been raised, securing 400 CooKits for the earthquake relief effort. Thank you again! The journey was long for the first shipment of solar cooking kits: the freighter took about a month to arrive in Haiti, and a month was lost due to a backlog of supplies at customs. Nevertheless, the kits you funded were distributed as soon as it was possible. The CooKits are benefiting displaced families living in the community of Pigeon, Haiti. As a part of our project, 135 people were taught proper use and care of solar cookers. During the training, solar meals were prepared by the new solar cooks using CooKits and Global Sun Ovens. Trainings were led by a team of three Haitian solar experts and a representative from a partner agency, Sun Ovens International. Over a period of time, each recipient family will document its solar cooker use, emphasizing reductions in charcoal use and expense. This type of data is valuable when explaining the benefits of solar cookers to families and community leaders. Much of Haiti's extreme deforestation is due to trees being used for cooking fuel, and we believe that expanded and continued use of solar CooKits will help to keep more trees in the ground. Our next shipment of CooKits to Haiti will be used in schools run by the Free Methodist Mission. Teachers at these schools are working to incorporate solar cookers into the curriculum. Students will learn how to cook food and pasteurize drinking water — potentially life-saving skills — using free, clean solar energy. With new solar cooking kits provided with your funds, these students will be able to pass skills and fuel savings on to their parents, benefiting entire families. We understand that Haiti relief is a long-term commitment, and are working with our funders and partners for a sustainable solar cooking culture in Haiti. We are also working to create a stronger presence that will not only promote solar cooking but also create employment opportunities for the local community. Your help and support will be needed to ensure the success of this program.
May 2010: A pilot project has begun in Tamoung Pha-em, Cambodia to introduce CooKit solar cookers to the local community. Similar to many other regions, residents have relied on wood for cooking. The area once surrounded by jungle, has mostly been turned into palm oil fields, leaving scarce wood for cooking. Families have started to rely on kerosene, or walk long distances to get wood. The project will be a joint effort of Solar Cookers International and Global Roots. Patrick Firouzian recently traveled to Tamoung Pha-em with the first cooker to demonstrate it's potential. Dany Pan, a village school teacher, will use the cooker regularly and experiment to adapt local food recipes.
April 2010: The April 2010 issue of Solar Cooker Review is now online.
October 2009: The long awaited solar cooking training for the Zalingei refugee camp in Sudan took place. Faustine Odaba and Simon Ogutu flew from Kenya and conducted a training for fifty trainers. Assisting them was Kharama who had been trained here in Kenya in 2007. The whole experience was heart lifting as the sound of music was heard once again amongst the refugee women who has suffered so much due to the civil war in Sudan. materials. In the end everyone received a certificate and a UNHCR representative presented each trainee with a solar cooker. These trainers were expected to train others and disseminate the remaining 1,750 CooKits. Solar Cookers International appreciated the efforts of the Danish Refugee Council, the sponsors, as well as UNHCR.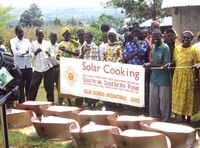 September 2009: In September 2009 Solar Cookers International East Africa Office trainers traveled to the Kimilili District, Maeni Location, Kamusinde village of Kenya to train 36 community leaders involved with the Kamusinde Christian Community Based Organization in the use of solar cookers for cooking and water pasteurization.
August 2009: The Workers Education Association of Zambia sent Victor Phiri to be trained as a trainer in solar cooking and expose him to other cooking energy technologies. This was in recognition that they needed to build the capacity of at least one trainer, and afford him a hands-on experience and a to visit on-going projects so that he could learn more, both in theory and in practice. This training was a lead up to a training of trainers, in Shapi village, Mansa. The weekend of November 20-21, 2009 was a busy one for the selected trainers. A training of trainers was facilitated by Solar Cookers International trainer, Faustine Odaba assisted by Victor Phiri, National coordinator of the Workers Education Association of Zambia. A total of 46 men and women were trained. The following foods were solar cooked; Isima (Ugali) groundnuts, cabbage, rice, meat stew and solar water pasteurization. They also learned how to use fireless cookers and how to recycle plastic waste materials into useful items.
April 2009: National Geographic covers the work of Solar Cookers International and others:
March 2009: As Solar Cookers International (SCI) expands its reach in eastern Africa and beyond, it must grow and strengthen its collaborations with community-based and nongovernmental organizations (NGOs), as well as governmental entities. During a trip to eastern Africa in January Karyn Ellis was fortunate to meet with a number of like-minded organizations, nurturing valuable relationships in SCI's efforts to expand its influence in the Lake Victoria region. She also met extensively with SCI's Nairobi staff, led by Margaret Owino, about goals for the year and plans for project expansion out of SCI's new Kenya offices in Kisumu, Kakamega and Machakos. While in Nairobi I attended two inspiring solar cooking demonstrations: the first was in the Kangemi slum outside Nairobi, where children from the Hamomi Children's Centre were served a solar lunch — their first lunch in many months; the second was for a women's group in the new SCI community of Machakos, where young mothers learned to use the sun to cook food and save money normally spent on cooking fuel.
February 2009: The photo on the right shows a community group in the Siaya District of western Kenya that just had a demo by the Solar Cookers International East Africa Office. The demo was given in a local market place with local authority figures present and these wonderful "guardians" of nearly 350 orphans. More information...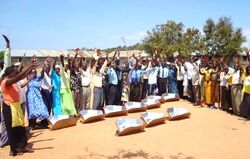 December 2008: WISER Brings Solar Cookers International to Muhuru - The WISER Muhuru Bay Advisory Board recently hosted Solar Cookers International for a full day solar cooking demonstration for the community. In just two hours, the team had cooked an entire meal full of fish, ugali, eggs, potatoes, beans, peanuts, vegetables and even a cake for more than 250 people in attendance with simply the sun. Solar cooking is easy, convenient, environmentally friendly, and in area where there is no electricity or running water, will literally save lives in Muhuru.
November 2008: Solar Cookers International's (SCI) recent collaboration with Uganda's Solar Connect Association (SCA) was inspired by 13-year-old Max Ozimek, an 8th grader from Ohio, USA. Last year, Max researched solar cookers for a science fair project, and learned how the simple devices can make a huge difference for people that lack cooking fuel. Max volunteers at a hospice, where he befriended Father Alexander Inke, a priest from Obia, Uganda. While listening to Father Inke's stories of life in Obia, Max was reminded of the African communities he had learned of while researching solar cookers and SCI's projects abroad. Max thought solar cookers could help the women of Obia, many of whom must walk several miles to gather cooking fuel and household water. Max felt the need to help the small village of Obia, so he and his mother, Mary Lou, began raising funds and contacted SCI about how to proceed. Per SCI's suggestion, Max and Mary Lou contacted SCA, which has promoted solar cookers in Uganda since the mid-1990s. SCA agreed to provide a five-day integrated cooking training for 22 women that Father Inke identified as community leaders capable of teaching others. Kawesa Mukasa and Olivia Kanyesigye instructed the group (and dozens of onlookers) how to build and use solar cookers and how to cook effectively with the least amount of fuel possible by supplementing solar cookers with fuel-efficient stoves and Heat-retention cooking retained-heat devices]] when the sun isn't shining. Longtime SCI friend and supporter Mark Cotham volunteered his time to assist with this effort, and also provided a much-needed vehicle to be used for further trainings in Uganda. Max and SCI staff tested five local water sources in Obia. Participants were shocked to find that most of their water sources were contaminated with Escherichia coli and unsafe to drink. SCI taught them how to cheaply and effectively pasteurize the water with a solar cooker and a Water Pasteurization Indicator (WAPI). Some of the new solar cooks had already initiated small trainings in their regions just weeks after the workshop. Max is working to ensure these efforts continue by raising funds to purchase materials for extended trainings in Nebbi district, and keeping in close contact with SCI and SCA for follow-up visits over the next few years. SCI and SCA plan to team up again on an integrated cooking and safe water workshop in 2009.
November 2008: Solar Cookers International (SCI) plans to assist with efforts to bring safe water and integrated cooking methods to the central town of Copargo. The pilot project is being initiated by Gabriel Kpadonou, sanitation and public hygiene officer at the Ministry of Health in Cotonou, and executive director of the nonprofit organization Environmental Engineering Group (EEG). Through increased visibility and furthered collaborations with health and water professionals in neighboring countries such as Niger, Togo and Burkina Faso, SCI hopes that this opportunity will provide a gateway to increased activities in West Africa. The coming year looks to be an exciting one, with the expansion of programs to three new countries and the inclusion of integrated cooking methods and water testing into current and future projects. Trees in rural areas cannot replenish themselves as quickly as they are being cut down for fuel, and contaminated water cannot purify itself at the rate that microorganisms are causing disease, and so our mission continues.
November 2008: Solar Cookers International recently collaborated with the upstart solar organization TanzSolar to provide a comprehensive solar presentation to 20 local professionals in Musoma. Founded by Marianne Walpert of California, USA, TanzSolar provides affordable photovoltaic solar panels to rural internet companies, individuals and small businesses in northern Tanzania, and is interested in working with SCI to spread solar cooking and solar water pasteurization in northern Tanzania. SCI's eastern Africa staff members are currently planning a five-day solar cooking and water treatment workshop at the TanzSolar facilities in Musoma, as well as future collaborations in the region. In addition, TanzSolar has become a distributor of solar lanterns that SCI hopes to utilize in some of its project areas in the future.
August 2008: Solar Cookers International is seeking experienced solar cooks to conduct solar cooking demonstrations in communities across the U.S. as part of the ASES National Solar Tour the largest solar energy event in the world. Saturday, October 4, 2008. More information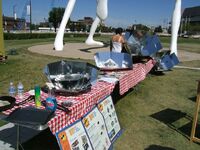 August 2008: Susan Corbett writes, " A few pictures from the New Energy Station at the Democratic National Convention in Denver. We had about 10 ovens, perfect weather for solar cooking and lots and lots of people. The SunEdison aprons were donated from a local company along with the cookie dough. I wore my Solar Cookers International T- shirt and the yellow SCI hat from Kenya that Bob Metcalf sent to me. Patty and I talked a lot about SCI. Barbara Stribling (the one in the blue cowboy hat), one of SCI's early founders, also came to help. We had about 6-8 volunteers every day from 10am to 4pm. SCI provided water and snacks for the volunteers and will be picking up some of the food demo costs. The first Sunday was by far the most crowded with well over a thousand people. The rest of the week, we had several hundred a day go by. Lots and lots and lots of SCI cards, brochures, and newsletters were given away."
June 2008: Solar Cookers International (SCI) has begun the Safe Water Project in Kenya led by SCI founder and board president Dr. Bob Metcalf, a professor of Biological Sciences at California State University, Sacramento. Bob's development of a Portable Microbiology Laboratory (PML) will allow rural health workers and community members to test water quality in the field by assessing levels of Escherichia coli contamination. The revolutionary PML can be used anywhere by practically anyone, and it will liberate government ministries in charge of water analysis who have had difficulties gauging water quality in rural areas due to travel limitations and technical expenses. Anticipated outcomes from the project include significant reductions in the incidence of waterborne diseases in over 20 communities, and broader community awareness of simple and effective water testing and water pasteurization techniques. A training was begun in June 2008 with officials and representatives from the Kenya Water Resources Management Authority and the Kenya Ministry of Health. This is the first time that these two government ministries have collaborated on a project like this, and we are thrilled to have their participation and support. Major funding for this program has come from the Richard and Rhoda Goldman Fund, for which we are very grateful! See August 2008 article in Solar Cooker Review. A photo blog of this project is also available.
June 2008: SCI was recently honored by the Center for African Peace and Conflict Resolution (CAPCR) at California State University Sacramento (CSUS) for bringing the benefits of solar cooking and water pasteurization to over 30,000 African families. Bob Metcalf, president of the SCI Board of Directors and professor of microbiology at CSUS accepted the award at the center's 17th annual Africa Peace Awards dinner. Other honorees included Jeanette Ndhlovu, consul-general of South Africa; Pastor Daniel Gebreselassie, a prison reform advocate from Addis Abba, Ethiopia; and Faye Kennedy of the Sacramento-area Black Caucus/Center for Collaborative Planning. CACPR was established to provide conflict resolution and reconciliation services for agencies, governments, organizations, businesses communities and groups through training, education, research and intervention.
February 2008: SCI was contacted by two members of the Convoy of Hope, a U.S. based NGO in Nairobi. As a result of that visit, the following took place as reported by Margaret Owino and Faustine Odaba: Faustine and the Convoy of Hope members went to the Limuru Police Station which was the temporary home of six thousand refugees. The space is small and there was congestion everywhere. People in the camp were from the BATA shoe factory, and the tea farms and they belong mainly to the Luhyia and Luo communities. The camp was organized on the basis of area of origin, for example Luos from Siaya, from Kano, Luhyias from Kakamega, from Bungoma etc. There were many missionary groups working there and pastors ministering to camp residents as well. Food donations were available and accessible and group cooking took place, in huge cooking vessels using firewood by volunteer cooks. There was a great spirit of cooperation in the camp and leaders for food distribution, leaders of water, non food items (clothes) distribution etc. Faustine and the volunteers arrived with 25 CooKit sets at 10:30 A.M. and used six CooKits for rice, seven for cabbage, two with French beans and one with water. The demonstration according to Margaret was for the leaders and other interested people. All the foods cooked by 3 P.M. Only the French beans were not well done and everyone was shocked that foods can cook without using charcoal or firewood.
November 2007: Solar Cookers International (SCI) will undertake a two-year pilot project to increase water quality awareness and introduce the Portable Microbiology Laboratory and the Safe Water Package to communities in western Kenya. The effort will be led by SCI founder and board member Dr. Bob Metcalf, professor of Biological Sciences at California State University, Sacramento. (More information.)
August 2006: SCI to receive World Renewable Energy Award
August 2006: Solar Cookers International (SCI) is partnering with The KoZon Foundation, a Dutch charitable group, to assist Darfur refugees living in Chad. In 2004, KoZon volunteer Derk Rijks trained fifteen women in the capital, N'Djamena. He returned in early 2005, after getting approval from the United Nations High Commissioner for Refugees (UNHCR), to start a solar cooker demonstration project at Iridimi refugee camp, one of the camps hosting Darfur refugees. Marie-Rose Néloum, one of the previously trained women, took the plight of the refugees to heart and joined Rijks to train refugee women to use solar CooKits and teach others, starting in early 2005. Women responded very enthusiastically and those who learned to solar cook fulfilled their promise to teach others. CooKits were soon assembled on-site by refugee women, who earn an income through this activity. A production workshop was completed in early 2006. The workshop is located in a neutral zone of the camp, close to the offices of the camp administrator, CARE. Refugee women from each of the camp's ten zones take turns training new groups of five to six people. The refugee women at Iridimi camp, as well as head trainer Néloum and two other staff, have persevered in promoting solar cooking even as the security situation has grown increasingly unstable since April 2006. As of July 2006 Iridimi camp had 32 certified solar cooking trainers, 21 CooKit assemblers, 566 trained families, and 1200 CooKits distributed, two to four per tent. Fifty-four women were interviewed in July 2006. Thirty-nine of them solar cook every day; twelve solar cook five to six days a week; and three solar cook two to four days a week. To minimize their reliance on firewood, many families would like to maximize use of all their CooKits. However, about a quarter of the families have sold one or more of their cooking pots in exchange for precious food. SCI and The KoZon Foundation are working together to provide supplies to make CooKits, training, monitoring and accountability to brighten the lives of Darfur refugees at Iridimi camp in Chad. Groups and organizations such as the Darfur Assistance Project and Jewish World Watch, both based in southern California (USA), and many individuals have donated to SCI in support of this project. Additional logistical and communications support from UNHCR and CARE International is invaluable in continuing project operations. Barring significant disruptions, each Iridimi camp household will have two or more CooKits by early 2007.
Focus
SCI promotes solar cooking and solar water pasteurization worldwide, especially in developing countries where their use can literally save lives. According to the their website, SCI's mission is to assist "communities to use the power of the sun to cook food and pasteurize water for the benefit of people and environments" by focusing in the following areas:
Influencing others in support of solar cooking and water pasteurization/testing.
Developing programs, in partnership with others for the purpose of promoting solar cooking, and water pasteurization and testing. In addition, in parts of Kenya, the focus is to achieve independent spread of solar cooking and water pasteurization/testing.
Facilitating broader access to solar cooking and water pasteurization/testing knowledge, including marketing educational materials and solar products.
Partnering with other relief agencies to assist refugees and disaster relief with solar cooking and water pasteurization/testing training and support.
SCI is paving the way for mass solar cooker acceptance and use through promotion of such products as the CooKit solar cooker and the WAPI water pasteurization indicator; field projects in communities and refugee camps; development and dissemination of education resources; and advocacy with the United Nations and other governmental and non-governmental institutions.
Why solar cookers?
Depending on need and climate, there are many types, sizes and designs of appropriate solar cookers; however,
SCI's
simple and effective
CooKit
is a low-cost cooker that is especially well suited for the developing world since it is made of cardboard and foil which are readily available materials in most communities.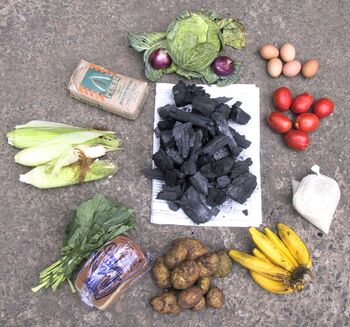 Solar cooking is beneficial to anyone who lives where there is an abundance of sunshine, and especially where traditional cooking fuels are progressively being depleted. Women in developing countries often walk many miles to collect wood to cook with, or must purchase cooking fuel with meager incomes and/or trade food or goods for cooking fuels. In addition to this physical and monetary stress, women and children who habitually cook inside are subject to severe upper respiratory problems caused by
indoor air pollution
from smoky fires. Perhaps most disturbing is the fact that women and girls living in refugee camps risk injury, rape and even death when forced to forage for wood outside the compound.
In many cases, fuel wood is too scarce to use to boil water as well as cook with, so people drink water from contaminated water sources, causing millions to get sick and/or die every year from preventable waterborne diseases. An estimated 1.5 billion cases of diarrhea occur each year, resulting in the death of nearly 2 million children. Solar cookers provide a practical method of heating water to the point of pasteurization, requiring only time and the sun to kill the most common waterborne pathogens and making water safe to drink.
When there's no sun
SCI promotes the Integrated Cooking Method, whereby solar cookers are used in conjunction with fuel-efficient stoves and heat retention devices (sometimes called hay baskets) to cook food and pasteurize water with a minimum of fuel. By using the sun when possible, and supplementing with fuel-efficient cooking technologies, fuel wood consumption and subsequent deforestation around the world can be drastically reduced.
Water testing
In addition to the basic fundamentals of solar cooking and water pasteurization that SCI has promoted for years, SCI has developed a revolutionary method of simple scientific water testing that requires no electricity or refrigeration. Most rural areas are unable to adequately test their water because the process of gathering samples and transporting them to a certified laboratory in an urban area is simply too expensive. SCI's Portable Microbiology Laboratory (PML) contains laboratory materials small enough to fit in a Ziplock bag, and has already been adopted by the Kenyan Ministry of Health and Water Resources Management Authority. We are working closely with these government institutions to bring accurate and reliable water testing to rural areas that previously had no practical resources available with which to test their water sources.
Programs and projects
SCI's programs and projects fall into the following areas: international program development, education resources, humanitarian assistance, and advocacy. Several are described below:
Advocacy
SCI builds awareness for solar cooking and solar water pasteurization among policy makers including promoting closer collaboration with United Nations agencies. SCI was instrumental in the formation of the Solar Cookers International Association later renamed Solar Cookers World Network which is a association of an estimated 100 non-governmental organizations and government agencies, and 160+ individuals promoting solar cooking, water pasteurizing, and food processing. As this association grows and its system of regional networks takes hold, promoters in many regions should find it easier to get regionally-specific information and guidance. SCI has hosted regional and international solar cooking conferences, most recently the Solar Cookers International Conference held in Granada Spain in 2006.
International Program Development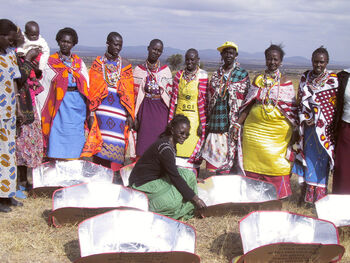 The goal of the Sunny Solutions pilot program, begun in 2002, was to introduce and create a market for solar cookers in the Nyakach district, Nyanza province, Kenya. Partnering with Nyakach Community Development Association (NYACODA), SCI demonstrated solar cooking introducing the CooKit solar cooker and the WAPI water pasteurization indicator. Continued demonstration and marketing of solar cooking products was passed on to motivated local women trained as solar cooker representatives. SCI sponsored the project for 5 years with the goal that the program would become self-supporting which did not occur; nevertheless, there were several positive outcomes, including saving of time and of money (for new CooKit users), entrepreneurial outlet and additional income (for the solar cooker representatives), and experience in commercialization of the Cookit (for SCI). One year after the final evaluation of the project several solar cooker representatives have continued to share their knowledge and to make solar cookers available in the Nyakach district.
Education Resources
SCI's focus on education is evident in the solar cooking and related information available on their organizational website and the website of the Solar Cookers World Network, which SCI sponsors. The latter is a wiki-based collaborative website that allows Network members to share information. This English-language wiki started in 2006 was joined by Spanish-language and French-language wikis in 2007. The English wiki includes over 1800 articles categorized by country, who's who, NGOs, manufacturers and vendors, solar cooking basics, and solar cooker designs. Also included is information regarding related technologies such as heat-retention cooking; water pasteurizing, solar food processing, solar food drying, solar autoclaving, and solar canning.
If you are interested in starting a solar cooking and/or water pasteurization project, please see Promoting solar cooking. You can also connect with people and programs in your own country by visiting our pages about solar cooking in each country. Basic information on solar cooking, frequently-asked questions and instructions on how to build various solar cooker models are also available. Large sections of the Solar Cookers World Network site have been translated into French, Spanish, Catalan, and Portuguese, and translations of articles can be found in languages as varied as Farsi, Chinese, Vietnamese, German, Italian, Urdu, and Arabic.
Also available via the Internet are several key booklets published by SCI to help solar cooking promoters succeed. Our plans booklet, Solar Cookers: How to Make, Use and Enjoy, provides step-by-step construction plans for panel-type and box-type solar cookers. Our field guide, Spreading Solar Cooking, helps promoters plan solar cooking projects. Our trainer's manual, Teaching Solar Cooking helps solar cooking instructors stay on task and monitor their students' progress. All three booklets are available for download on the Solar Cookers World Network site, or for sale — along with solar cookers, cookbooks and related supplies on SCI's web site. Booklets are mailed free of charge to select individuals and groups in developing countries where Internet access is difficult.
SCI's Solar Cooker Review is another tool aimed at helping independent solar cooking promoters everywhere. In it, promoters exchange stories about solar cooker technology and dissemination, and learn from the successes and challenges of others. Thanks to you, our members and donors, each Solar Cooker Review is mailed free of charge three times per year to over 2,000 promoters and supporters outside the United States.
Last, but certainly not least, is SCI's query response service. With custom responses to over 100 inquires each month, SCI has helped thousands of people answer important questions, find local experts, and access critical resources needed to successfully achieve their solar cooking goals.
Humanitarian Assistance
Starting in 2006, SCI was one of several non-governmental organizations introducing solar cooking to the refugees in the Iridimi and Touloum refugee camps in Darfur, a region in Sudan. The primary goal was to reduce the neccessity of women and children leaving the camps to collect firewood.
Events
See Calendar of events.
History
SCI, originally called Solar Box Cookers International was founded in 1987 by 17 solar cooks residing in the sunny Central Valley of California. Among the founders were
Bev Blum: first president and executive director of SCI from 1989-1999 and 2003-2006. She developed a mass-producible, foldable box cooker in 1992, and coordinated the development of the CooKit solar cooker. In 2009 she was the secretariat of the Solar Cookers World Network.
Barbara Kerr: co-developer of the Kerr-Cole solar box cooker built from two nested cardboard boxes. She co-founded the Kerr-Cole Sustainable Living Center in Taylor, Arizona, USA. She received the "Women in Solar Energy" award from the American Solar Energy Society in July, 2006.
Dr. Bob Metcalf: professor of microbiology at California State University at Sacramento and was selected as the 2000-2001 Outstanding Teacher in the College of Natural Sciences and Mathematics. He is well known for his work on solar water pasteurization.
SCI produced and distributed manuals describing construction and use of solar box style cookers. Also they became advocates of how solar cooking could be incorporated into development and relief agency programs. SCI's role evolved into networking with other solar cooking organizations worldwide. They hosted forums for dialog including co-sponsoring three international solar cooking conferences with the University of the Pacific, USA in 1992; the National University of Costa Rica in 1994; and the deemed university, Coimbatore, India in 1997.
SCI also administered a series of solar cooking field projects. Since 1995, SCI has managed or co-managed solar cooking projects in the Nyakach district, Kenya; in the Kakuma refugee camp, Kenya; in the Aisha refugee camp, Ethiopia; in various communities, Zimbabwe; and in Dadaab refugee camp, Kenya. See Programs & Projects section above for a description of the Sunny Solutions program in Nyakach, Kenya. For information about refugee camp work in Darfur, Sudan, refer to the refugee camp article.
SCI supported the development of the CooKit, a mass-producible, foldable solar cooker in the 1990s.
Organization
SCI is a 501(c)(3) nonprofit non-governmental organization with headquarters in Sacramento, California, USA with an additional office in Nairobi in Kenya. According to their website, SCI has a membership of 6,000 people and a paid staff of 10. According to the 2008 Annual Report, revenues for fiscal year, July 1, 2007 through June 30, 2008, exceeded US$890,000 with administrative costs below $91,000 and fundraising costs below $127,000. Net assets at the end of that fiscal year exceeded $403,000. Analyses of prior year's finances are found at the Charity Navigator website.
Resources
Newsletter: Solar Cooker Review
Back issues
| | | | |
| --- | --- | --- | --- |
| Year | Spring | Summer | Fall / Winter |
| 2014 | PDF | PDF | PDF |
| 2013 | PDF | PDF | PDF |
| 2012 | PDF | | PDF |
| 2011 | PDF | | PDF |
| 2010 | HTML, PDF | PDF | HTML, PDF |
| 2009 | HTML, PDF | HTML, PDF | HTML, PDF |
| 2008 | HTML, PDF | HTML, PDF | HTML, PDF |
| 2007 | HTML, PDF | HTML, PDF | HTML, PDF |
| 2006  | HTML, PDF | HTML, PDF | HTML, PDF |
| 2005 | HTML, PDF | HTML, PDF | HTML, PDF |
| 2004 | N/A | HTML, PDF | HTML, PDF |
| 2003 | HTML, PDF | HTML, PDF | HTML, PDF |
| 2002 | HTML | HTML | HTML |
| 2001 | HTML | | HTML |
| 2000 | HTML | HTML | HTML |
| 1999 | HTML | HTML | HTML |
| 1998 | | | HTML, PDF |
| 1997 | PDF | | HTML, PDF |
| 1996 | PDF | PDF | PDF |
| 1995 | PDF | PDF | PDF |
March 2012 update: For almost twenty years, Solar Cookers International has supported branch operations in Kenya. Our field projects have served tens of thousands of families in various East African countries. Due to the overwhelming logistical and financial challenges SCI has encountered in its efforts to effectively manage and restructure an operation 9,000 miles away from its home office in California, the Kenya operations have now been suspended. We are confident that SCI's many years in that country have educated and inspired individuals and organizations in Kenya to continue with the very important work of spreading the use of solar cookers throughout Eastern Africa.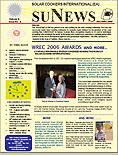 suNews was published twice a year by Solar Cookers International East Africa Office:
Communiqués
Educational materials from SCI
Annual reports
Reports
Articles in the media
Blog posts
Audio and video
thumb|400px|left|Providing better access to pasteurized water in developing countries. [[Video:SolarCookersInternational|thumb|400px|left|Margaret Owino, director of Solar Cookers International East Africa Office updates activities.]]

October 2007: Suncookers - A DVD showing the work of Solar Cookers International in Kenya
Becoming a member of SCI
There are few important tangible benefits to being a member of Solar Cookers International. Most of our members join because of their philanthropic desire to support the work which SCI does. About the only tangible benefit to membership is receipt of our newsletter, the Solar Cooker Review. However, we provide free subscriptions to interested parties outside the United States.
There are two methods for becoming an official member of SCI. One method is to make a donation. Membership is considered valid throughout the calendar year in which the donation is made. Our standard suggested donation is US $50 per year, but any amount, larger or smaller, is sufficient. We can receive donations from outside the United States only under certain methods of payment: we can accept VISA and Mastercard credit card payments; we can accept checks written for US dollars on a US bank; we can accept International Money Orders and International Postal Money Orders if they are payable in US dollars. Such checks or money orders should be made out to "Solar Cookers International" or "SCI." Mail to:
Solar Cookers International
1919 21st Street, Suite 101
Sacramento, CA 95811
USA
You can also join or make a donation online.
The second method was devised to meet the needs of solar cooking activists and their organizations located in countries outside the USA. It was developed because we understood that in many countries the ability to donate money, particularly in US dollars, to an organization outside one's country, is limited or restricted by a variety of factors. In this method, we request two things from organizations (or individuals) who are petitioning for membership. We request a letter in which the petitioner requests membership. Along with that letter, we request some materials from the organization that relate to its activity in the solar cooker field. Some examples of these types of materials are: studies on the need for or interest level in solar cooking in the region served by the organization requesting membership; educational materials about solar cooking produced by that organization, possibly in languages local to the region the organization serves; solar cookbooks appropriate to the languages and cuisine of the region served; reports on solar cooker dissemination activities by the organization requesting membership; reports on the results of these activities, particularly number of people or families who become users of solar cookers and their comments on the benefits of solar cooking, the foods they solar cook, problems they have had with solar cooking and solutions they have invented to solve those problems. Other materials relating to the solar cooking activities of the requesting organization can also be used. To be clear, we do not ask that a petitioner send ALL these types of information—simply a sample of documents, cookbooks, etc. that the petitioner has available.
Donating to SCI
Contact
Solar Cookers International
1919 21st St., Suite 101


Sacramento, CA 95811-6827 USA
Tel: +(1) 916-455-4499
Fax: +(1) 916-455-4498
info@solarcookers.org




Organizational website: http://solarcookers.org
Twitter: http://twitter.com/SolarCookersInt
Facebook: http://www.facebook.com/group.php?gid=16213904406
Newsfeed: http://solarcooking.org/newsfeed.rss
US Tax Exemption ID: 68-0153141
See also
External links