Over 2 million people are displaced and living in displacement/refugee camps. The ongoing conflict has brought close to 400,000 deaths in the past 4 years. Dispite UN intervention and humanitarian relief efforts the situation has gone from bad to worse. Solar Clutch has been working with local agencies on the ground to promote solar cooking in the regions where trees are scarce. The risk of rape and death face the women and children searching the remote country side for firewood. Agencies like Darfur Peace and Development Organization, Samartian's Purse, World Vision, World Relief, Action Contra Faim, World Food Program, and the International Red Cross are all working to bring relief to this region of the world.
News and recent developments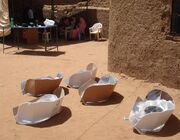 April 2010: Stephen Harrigan runs a U.S.-based nonprofit organization called Solar Clutch that designs and produces solar cookers for distribution to impoverished parts of the world. His cookers include a corrugated plastic solar box cooker called the Sun Scoop and a panel-type solar cooker made from woven baskets and modified clay water pots common in Sudan, called the Borma. Through Solar Clutch, Harrigan also offers consultation and training services to organizations wishing to set up solar cooker programs. In 2006, Harrigan helped the Darfur Peace and Development Organization (DPDO) begin a solar cooker training program for women displaced due to persistent conflict in Darfur. After much research and experimentation, he prepared a solar cooking training model for DPDO. Harrigan selected Solar Cookers International's cardboard and foil solar CooKit as the primary solar cooker to be used due to its low cost and simplicity. Though the solar cookers are being made locally in Sudan, DPDO has also imported several hundred more durable corrugated plastic versions made by volunteers in the United States. Volunteers in Fort Wayne, Indiana (USA) are making corrugated plastic solar cookers for displaced families in Darfur, complete with uplifting personal messages written on the backs (photo: Solar Clutch) From the beginning, Harrigan believed that DPDO's infrastructure and ongoing work in internally displaced persons (IDP) camps would be useful in promoting solar cooking. Solar cookers make a lot of sense in these camps because traditional cooking fuels, especially firewood, are in short supply, and the women that forage outside the camps for firewood must not only walk ever greater distances to find firewood, but also risk their personal safety. DPDO reports having trained 321 IDPs to solar cook from 2006 through mid-2009. Workshops have taken place in a number of camps and towns, including: Kalma and Sakali IDP camps in South Darfur, El Fasher town and Kassab IDP camp in North Darfur, and Omdurman and Haj Yousif towns in Khartoum. Women spend less time and energy foraging for firewood outside of IDP camps when they use solar CooKits (photo: DPDO) According to DPDO's Web site, "workshop participants quickly recognized the time- and money-saving benefits of the cookers, and learned to prepare all of the traditional Sudanese foods. [They] … continue to experiment with recipes, develop cooking-time charts, and conduct training workshops within their communities. DPDO subsidizes training workshops and provides supplies and training expertise, manuals, and follow-up assessment of use." Future trainings have been scheduled for DPDO women's centers in Kassab and Abu-Shouk camps, the latter of which was visited by U.S. Special Envoy to Sudan Scott Gration in September 2009. Many of the women at the center had previously been trained and were solar cooking when Gration visited. DPDO reports that Gration "was impressed with [the women's] efforts and tasted rice that had been cooked with a solar cooker."
January 2009: In Ethiopia Steve Harrigan made solar cookers with the Ethiopian and Somali people at the Agape Reading Center. The Somali people are already refugees in Ethiopia and in great financial need. Solar cooking is a free source of energy to that allows them to cook without having to use firewood. An Ethiopian couple also was excited to learn how to make solar cookers because they run an orphanage near the Somali boarder and have 30 little mouths to feed 3 times a day! We made cookers from the wheel chair boxes that had been donated to the handicap people of Ethiopia. A double use of the resources God has put at our disposal. If you would like to help provide solar cookers for this orphanage please contact us.
Audio and Video
See also
External links
Contact
Solar Clutch
Tel.: +1 (260) 418-6699
Email: Solarclutch@gmail.com
Web: http://solarclutch.com